Barrie v Terry: Pair go head-to-head with their Super League predictions
Barrie McDermott and Terry O'Connor go head-to-head with their Super League predictions...
Last Updated: 16/05/14 9:41am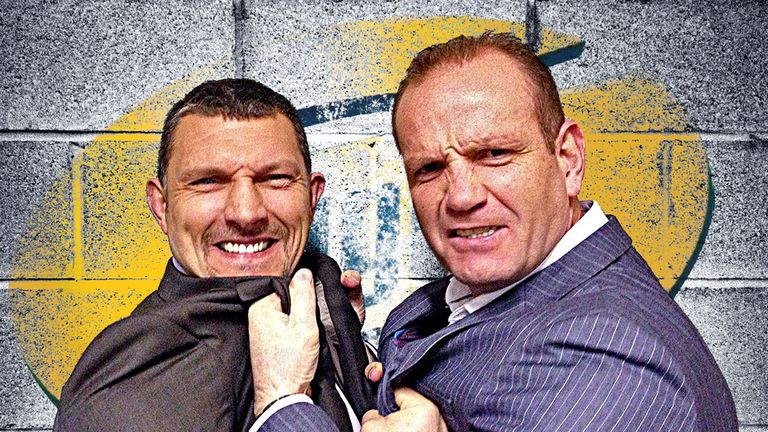 Last season Terry pipped Barrie to the post and proved to be the most successful tipster - but Barrie is determined to make amends in 2014!
Each week they will give their predictions for the Super League games - the boys will score one point for a win, while if they both pick a winner, then the pundit with the closest score gets an extra point.
Current standings
BARRY - 69
TERRY - 71
London Broncos v Catalan Dragons: 12.30pm, Sat, Sky Sports 3
Barrie says: The Broncos put in a creditable performance against Huddersfield Giants, going down 16-30, and they will want to reproduce that against the Dragons. Catalan, however, came up well short against Warrington where they conceded 42 points. I believe that the Catalan outfit can produce some scintillating stuff when they are on top form, but that form rarely makes the trip over the channel. They will need to imagine the sun in Manchester and pretend they are in Catalan!
Prediction: Catalan to win by 14
Terry Says: A number of people are actually tipping London to win this game. Catalan have not got a good reputation on the road and their defeat by Warrington was their worst performance for a number of years. After losing 12 games, London will not be a confident side but surely having lost so many games they are closer to winning one. I am expecting a bit of a backlash from Castleford. They did not have much commitment or desire, and their body language did not look confident. So I am expecting big changes in the side and big changes in the minds of the players. It's a game London will think they can win but I think Catalan will just have something up their sleeve despite the fact that they don't travel well.
Prediction: Catalan to win by 12 points.
Widnes v Salford: 2.45pm, Sat, Sky Sports 3
Barrie says: Widnes were agonisingly beaten by the Wildcats last week when Denis Betts felt his side had done enough to at least get a draw from the game. Jack Owens, Declan Hulme and Jon Clarke need to lead from the front and with Kevin Brown struggling, it could just open the door to a determined Salford. They got a draw against Hull KR in the rain at home. They are not that far away but still a bit erratic. My best memory of the magic weekend was a try by Adrian Morley and his team-mates diving all over him, the Red Devils will be hoping that Moz will inspire his team.
Prediction: Widnes to win by six.
Terry says: Widnes were very disappointed last week and Jon Clarke said that the players let themselves down. Over the last two years they have looked very good when they have played at home. But when things go against you, you expect a bit of a response. I can remember going back to 2008 that there was always a bit of rivalry between these two sides. Whenever they have played each other there has always been a bit of spice. I presume it will be Tommy Lee who will play in the halves Rangi Chase, may be even Martin Gleeson. So there's a bit of disruption for the Salford side but if Chase is the dominant force as the 6/7, he will control the ball and it will be danger times for Widnes. But I will go with Widnes for this.
Prediction: Widnes to win by six points.
Hull KR v Hull FC: 5pm, Sat, Sky Sports 3
Barrie says: FC are in a rut at the minute and will look at this game as a chance of getting back on track, but the Robins won't lie down. It's bigger than two points, it's bigger than a win and it's crucial in this rugby league mad city that your team are the victors! The Robins are level with the Black and Whites on 10 points but have only won four games to FC's five. I am predicting that this will be a cracking game and will be as competitive as ever, especially with the injustice the the Robins suffered last year. As a rugby league fan I absolutely love these games and will be on the edge of my seat.
Prediction: FC to win by four.
Terry says: Lee Radford has addressed his players in public and behind closed doors and he's been very disappointed - and rightly so. Of the seven games they have lost this year, five have been by seven or less. Just a missed tackle, a throw of the dice and play they did not make - that's all it comes down to. It is not good enough for Hull FC. This is the game that has always had the talking points and the controversy. Both sides love playing in this fixture at the Magic Weekend and it could be another thriller. Hopefully the Hull FC and KR fans will turn out and not watch the football on the TV.
Prediction: I'm going with Hull FC - a big shout as many will go with Hull KR - but I think they can come up with the goods.
Wigan v Leeds: 7.15pm, Sat, Sky Sports 3
Barrie says: Wigan have a whole host of injuries, including to the influential Sean O'Loughlin, and when these teams met on May 2 it was the Yorkies who were the victors 16-24. But Wigan dispatched Hull FC last week and Dan Sarginson showed why Wigan brought him up north. The formula that Leeds use is play fast, run hard and hit hard. Wigan are monotonous and execute the same offensive structure over and over again with with clinical precision. It's the perfect way to end the first day.
Prediction: Leeds by 12.
Terry says: Leeds have a lot of quality in that side, such as Jamie Peacock. I don't know how he does it. Last week he made 220m with the ball and the week before he made 200m with the ball. They have got some really good old workhorses up against the young guns from Wigan. Wigan will be well and truly up for this game. When you talk about passion, I automatically think of Shaun Wane because when he talks people listen. If the Wigan players believe they can go out there and win this game, then they have a chance. But I think they will struggle with the amount of injuries they have. They'll miss O'Loughlin especially.
Prediction: I am going to go with Leeds and by 14.
Wakefield v Castleford: 12.30pm, Sun, Sky Sports 1
Barrie says: Wakey's recent game against Widnes was a real thriller and it took them above Salford in the table. Some believe that effectively guarantees Super League at Belle View next year. I think that Cas are a formidable side. They are higher up the league than in recent years and are challenging the big boys on regular basis. With the right bounce of a ball, a fit squad and Sneyd, Hubby and Clarke at the forefront this could be the best year for the Tigers fans ever!
Prediction: Cas to win by 12.
Terry says: Another brilliant game and another derby game. Wakefield got that win against Widnes last weekend against all the odds. I have talked over the years in this column about how Wakefield find ways to win - by unsettling the opposition, by slowing them down or by getting under their skins. That is what they will need to do against this Castleford side that is riding high. There were people at the start of the year tipping Castleford to be down at the bottom. I don't think you can question what Darryl Powell has done over the last 12 months at that club. He has been instrumental along with Danny Orr and Ryan Sheridan. This will be an absolute thriller, but it will only go one way. I can't see past Castleford because they are playing that well and deserve to be high up there in the table.
Prediction: Castleford by 18.
Huddersfield v Bradford: 2.45pm, Sun, Sky Sports 1
Barrie says: The Giants have stumbled their way though six of their 12 fixtures so far and that's why the 2103 league leaders are currently fifth on the ladder. Bradford are off the bottom of the league ladder and working really hard to get up to the all important 12th spot by the round 27, last week's nilling was a set back but they can't and won't spend too much time dwelling on results like that. The Giants are as good as any team on their day and will want Ukuma Ta'ai and Jason Chan to attack Bradford on their fringes, a tactic that was the difference last week. Danny Brough and Shaun Lunt will need to play better than Danny Addy and Matt Diskin.
Prediction: Hudds to win by 16
Terry says: Probably the most disappointing result last weekend was the Bradford result against St Helens, where they failed to score a point and conceded 50. Things like that really hurt you as a player. Huddersfield were tested down in London. It was not their best performance. You have to make sure that when you play on these big occasions, like Magic Weekend, that you bring your A game. The big venues make players play out of their skin and it makes others crumble as well. So Bradford need to put last weekend's horrific defeat behind them. It will come down to how desperate both sides are to take the two points. You can have all the talent and all the skills, but if you don't turn up focused and with the right attitude then you will get beaten.
Prediction: Huddersfield by 22
Warrington v Saints: 5pm, Sun, Sky Sports 1
Barrie says: This has mouth-watering match-ups in this game: Wharmsley v Hill, Lomax v Russell, Walsh v Bridge, Roby v Higham, Joel Monahan and Ormsbury v Swift and Makinson. I cannot wait for this last match. Wolves are like a bag of revels you're not sure whether you'll get a toffee, minstrel or peanut but you're very likely to get a yucky coffee! Saints seem to be riding the injury crisis and with games against London and last week's shellacking of Bradford, they look ready for a rumble...
Prediction: Saints win by six.
Terry says: The big one. The one everyone is looking forward to. I was talking to a couple of the Saints players and they were saying that they don't really like going in the last game of the weekend. They have to wait around for that final game. Personally, I really can't wait for this game. Over the years both these sides have entertained, scored lots of tries and probably averaged 30-40 points each in this fixture. I am sure this will be an entertaining game. I was very impressed with Warrington last weekend. They are now getting back to where they should be. The battle will be between the two halves, Stefan Ratchford and Luke Walsh , and the monster trucks down the middle. We will see a bit of class and speed on the outside as well.
Prediction: I am going with Saints to win this by 14.