Barrie v Terry: Pair go head-to-head with their Super League predictions
Barrie McDermott and Terry O'Connor go head-to-head with their Super League predictions...
Last Updated: 15/05/14 3:26pm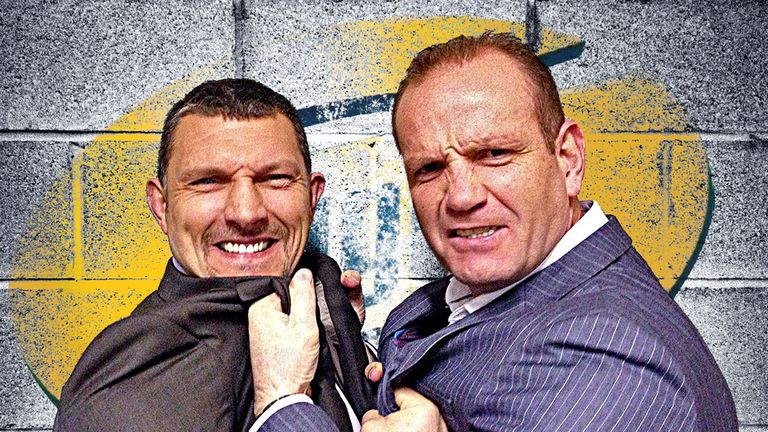 Last season Terry pipped Barrie to the post and proved to be the most successful tipster - but Barrie is determined to make amends in 2014!
Each week they will give their predictions for the Super League games - the boys will score one point for a win, while if they both pick a winner, then the pundit with the closest score gets an extra point.
Current standings
BARRY - 64
TERRY - 66
Castleford v Leeds: 8pm, Thurs, Sky Sports 3
Barrie says: This is going to be a great game. Castleford are coming off the back of a very narrow defeat to Huddersfield Giants. It was such a close game and I am sure Daryl powell has analysed every aspect of that defeat that will make Cas just a little more confident heading into this game. Leeds were in another intense contest against Wigan which for me was one of the games of the season. The speed and potency of the Leeds wingers was superb and just a joy to watch. Zak Hardaker in my opinion is the best fullback in the game bar none. This all adds to what should be a fantastic game.
Prediction: The vociferous crowd will be really cheering on Cas at the Mend-A-Hose Jungle but I think the speed and the class of Leeds should be just enough for them to get the win. Leeds by six points.
Terry Says: The big city slickers travel to play former Rhinos favourite Darryl Powell. The Tigers lost their third game of the year last week and sit in third place, just three points behind the Rhinos. Leeds are the only side in the competition to not have conceded over 100 points. The Rhinos are conceding an average of eight points per game, but they are up against the team who has scored the most.
Although Castleford have surprised most this year and are quite rightly the team everyone is talking about, I fancy the Rhinos. They have it all, form is temporary, class is forever. They dismantled Wigan with ease last week and had an 84% completion rate. If they can complete high again I think they will win this bruising battle.
Prediction: Leeds by 10.
Warrington v Catalan Dragons: 8pm, Fri, Sky Sports 2
Barrie says: We are all looking at Warrington wondering when they are going to kick into gear. They were in a see-saw battle last time out against Bradford at Odsal and certainly had enough to win the game on a couple of occasions. But that seemed to be taken away from them from a really stubborn and determined Bradford. I think there is some anxiety on the terraces of the Haliwell Jones stadium and the Wolves fans will turn up hoping that the real Warrington turn up and not the one that has been coughing and spluttering so far. Catalans were sensational against Salford, Morgan Escaré for me is the best young player in the game and Éloi Pélissier is loving his time he is getting on the pitch,. He has had to play second fiddle to Ian Henderson for a while but he is in great form. Leon Pryce has the class to get them into the right place - if he plays well and Warrington play well then it should be a great game.
Prediction: I am going for a Catalan win by eight points.
Terry says:I wouldn't want to upset Tony Smith this week. The Wolves have lost four in the last six games. After leading at half time at the Bulls what did they change? They only missed 11 tackles in the whole game but gave away twice as many penalties than Bradford did. Add to that they only completed 23 sets of six with the ball that means the other 11 sets they had they failed to get easy meters from a kick. I don't think they will pull back from what makes them good, they will still look to throw the ball around and ask enough questions. When Warrington play on the front foot they are a difficult side to defend against because they send more attackers at less defenders.
Catalan held out last week against Salford in a thriller in the south of France. Leon Pryce has a huge responsibility on his shoulders and he looks like he's thriving and enjoying the roll. The test for Catalan is whether they can withstand the backlash from Warrington for the duration. The longer they can stay in front on the scoreboard against Warrington (if they can get in front) the more doubt it will put in Tony Smith's men.
Prediction: Warrington in eighth on points difference and Catalan are nipping on the heels in ninth spot, so this is a huge encounter for both. I think an upset could be on the cards with the French side flying back over the channel with the points in the bag. Catalan by eight
Hull v Wigan
Barrie says: Both sides coming of defeats and Hull coach Leed Radford was scathing in his criticism of his side. He said that they lacked enthusiasm which is always a big dig. Sometimes teams are not good enough but if you get effort on the park then you can handle everything else. Radford is really trying to shake his side up and hopefully they will react. Wigan were involved in the massive tussle against Leeds. They were not outplayed; they just came up against a very good Leeds side. Wigan will go into this knowing that there will be a backlash from Radford's comments and will react accordingly.
Prediction: I think Wigan have enough to get this game but it is another close one. Wigan by six points.
Terry says: A disappointed Lee Radford was clearly upset after last week's game, when he said: "I don't know what the answer is. I could have gone blazing in there but I decided not to." That's the sign of a good coach. It's far too easy to coach or manage on emotion but a clear mind will help solve the problem. Lee also spoke about enthusiasm or lack of it, that's personal and not something you can coach. Sitting in seventh spot you'd think he may be happy with that but Hull are a huge club with huge potential. I bet he's ripped in this week. I love the honesty from the coaches in SL and we have two former English forwards who are tough to please and tough as old boots.
Leeds Rhinos produced a professional performance to end Wigan's eight-match winning run. Wigan suffered their third defeat of the domestic season and in each of those losses Sean O'Loughlin didn't feature. I believe that Ben Flower is another big loss. At times they just lacked that go forward v Leeds. One player who did stand out for Wigan was Blake Green. Any half that is willing to run at a defensive line is a good one, he keeps defenders guessing.
Prediction:I think Wigan will turn Hull over, but I wouldn't be surprised if it got a touch nasty. Wigan have two players every opposition fan loves to hate, but most players in the comp would love to play with them. John Bateman and Mickey mc are brilliant at unsettling players they bring a brutality to the sport and if the challenge is met by an opponent neither will back down. Wigan by 12.
Widnes v Wakefield
Barrie says: I thought Widnes were outstanding last weekend. Kevin Brown scoring a hat-trick does not tell you the tale of his dominance or the way he picked apart everything that Hull KR did - it was a real master class from him. He was aided and abetted by Jon Clarke - their understanding of each other borders on the telepathic. Wakefield came up with a victory against the odds against Hull FC which will surely give them some confidence.
Prediction: Widnes will be comfortable at home and will win by 14 points.
Terry says: It's a home fixture for Denis Betts' men after a stunning fight back in the last five minutes against Hull KR. The Viking scored two tries after the game looked like it was beyond them. This is a big call but I believe Kevin Brown is showing international form and if he keeps playing like that surely a call up is on the cards. Another player who plays above his weight, belts people on suspicion and always offers himself, is Macgraff Leuluia. He had a brilliant game against Hull KR (the city he was born in) making two line breaks which set up good field position. The club is definitely on the up and performances are showing that. Confidence in a side is contagious.
Wakefield fought back from 16-0 down to beat Hull 23-16, how does that happen? If you look at the stats, the telling one was the completion rate. You can add to that the work rate in defence of Scott Anderson, Danny Washbrook and Danny Kirmond. Sometimes when you don't have a star studded side you have to play as a team and the biggest component you need is enthusiasm. Any side that plays with that gives themselves a chance. Richard Agar (a former Widnes player) will leave no stone unturned as he seeks to make it back to back wins.
Prediction: I'm sure the fans that turn up will see some points scored from both sides, but I believe Widnes will score more, a good side at home and yet to taste defeat in 2014 at the select stadium. Widnes by 14
London Broncos v Huddersfield
Barrie says: Barrie says: we shall see the true impact of Tony Rea's departure I fear. Many times in sport we see a team who have lost their manager, coach or leader go out and win however I think they will have to go a fair way to get over Huddersfield who came out the victors in that close game against Cas.
Prediction: I cannot see anything but a Huddersfield victory by 14 points.
Terry says: When a coach walks away or gets sacked from his job you normally get a response from the players. I'm sure we will see a gritty determined effort but can they beat Huddersfield. New coach Joe Grima will talk about character and energy in the lead up to this game but do they genuinely believe they can compete and win this game. Huddersfield had to come from 12-0 down to win last time out and at times this season that's a game that could have got away. I'm sure that Paul Anderson will want his team to be more composed. They seem to have a knack of giving the opposition a leg up when they are in control. All that does is give your opponents confidence. Even with a new coach I back the quality that the Giants have.
Prediction: Huddersfield by 22
Salford v Hull KR
Barrie says: Hull KR are coming off the back of that loss to Widnes. Salford may have lost to Catalans but they will be hoping that the likes of Gareth Hock, Harrison Hansen, Adrian Morley and Lama Tasi turn up and put in the same sort of performance. They will need to stand up against what is one of the best sets of forwards in the game. If Salford manage to give Rangi Chase the space and time to weave his magic then they will win - if it is the other way round Travis Burns and Kris Keating get on the front foot then KR will take the spoils.
Prediction: This looks like a cracking game, great entertainment as two fabulous teams who enjoy throwing the ball around go head-to-head. It could go either way but I think Salford at home will have enough to get this one by eight points.
Terry says: Two teams coming into this game on the back of a defeat and after watching both games both teams had chances to get the right result. Salford looked incredible during the game but lost focus at times which led to them conceding a few tries. I thought Gareth Hock was immense his power and overall rugby ability is unquestioned. I also like the fact that he has had a pop at a few of his team-mates for not buying into what Iestyn Harris is trying to do. It's not that they are defiant it's simply that he's asking them to do more, the little one per cent efforts instead of the big play.
Michael Weyman was at it again. His support play earned him his fourth try of the season and he has turned out to be a superb signing. When you watch KR play it's tough to have a pop at any individuals as they are all playing well, from Cockayne to Hodgson to the try scoring freak Weyman.
Two talented sides that just need that extra effort with and without the ball. A great game in prospect for a much needed two points.
Prediction:
Salford by 10.
Bradford v St Helens
Barrie says:Bradford were great last week and bringing in Antonio Kaufusi to booster their pack really made a difference. St Helens have so many injuries - particularly in the forwards. While they have important and key players side-lined it is probably best for them to have fixtures against the likes of Bradford. Will Saints play in the same expansive way they played against London Broncos? I don't think so. They will really need to tighten up their defence.
Prediction: I think Saints will be made to work really hard for this but I think they will win by six points.
Terry says: The win of the round 11 has to go to the Bulls. They signed Antonio Kafusi on loan earlier in the week and that gave Francis Cummings a big lift as they have a number of big men missing. Adam Sidlow probably outplayed Kafusi though. His go forward was the best on the field and it helped lay the platform, he made 160 meters in 21 carries along with making 30 tackles. It was also the Bulls first win in eight games. It's amazing what happens to a group of individuals when you lose some of your troops, players take on more responsibility and work hard to fight through the different battles that lie ahead.
Luke Walsh scored 16 points as saints beat London convincingly. The players had come in for a bit of stick but they responded in the correct manner by getting their first win in four games. Good teams play with a purpose and a focus. Saints led the way up to the Easter period until the wheels went flat for three games. They are a quality team that's now focused on the Super League and Old Trafford. They won't have any distractions like the CC so Nathan Brown's men will want to get back to the performances pre-Easter.
Prediction: Two big sides that have set SL alight over the years, a big game for both for different reasons, Saints want to win the company and Bradford want to stay in the comp. Saints by 18.