Barrie v Terry: Pair go head-to-head with their Super League predictions
Barrie McDermott and Terry O'Connor go head-to-head with their Super League predictions...
Last Updated: 01/05/14 4:16pm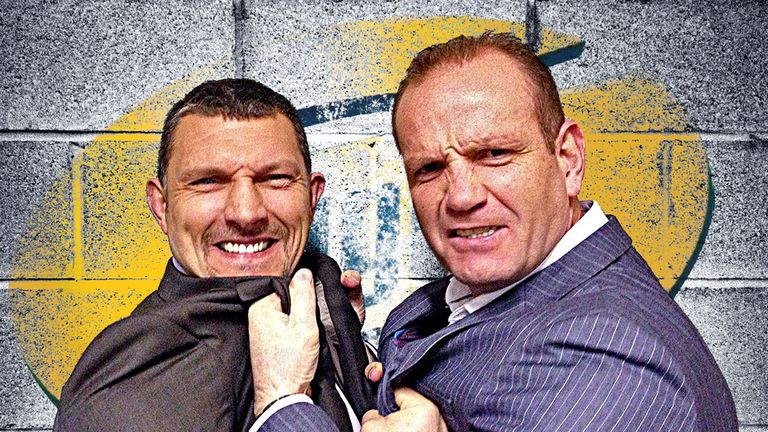 Last season Terry pipped Barrie to the post and proved to be the most successful tipster - but Barrie is determined to make amends in 2014!
Each week they will give their predictions for the Super League games - the boys will score one point for a win, while if they both pick a winner, then the pundit with the closest score gets an extra point.
Current standings
BARRY - 61
TERRY - 62
St Helens v London Broncos: 8pm, Thurs, Sky Sports 3
Barrie says: St Helens have been the standout performers for the first third of the year but are now in unfamiliar territory having lost three games on the trot. This period is a real test for them because they have a long injury list which got even longer after Kyle Amor and Jordan Turner got injured in last weekend's loss to Leeds. Their youth policy is going to be really tested as players who are not first choice are going to be given massive responsibility. It will be a big job for Saints but it could not be a better opposition for them then London. The Broncos are winless so far and they could find themselves on the end of a Saints backlash here.
Prediction: Phil Clarke believes that London will win over the next few weeks and I agree, however I don't think it will be this week. Saints to win by 36 points.
Terry Says: Saints have lost just six games v the Broncos/Harlequins and won 36 since Super League started back in 1996 and I cannot see them losing after last week's defeat v Leeds. Many people fancied Saints to get to the final (or was it just me) but they got outplayed in every department and that performance will spur them on. Don't forget that the defeat against the Rhinos was the third on the bounce, however, good teams bounce back and sometimes you feel sorry for the opposition the following week.
London's season reads played 10 lost 10 and if they want to avoid a further defeat they will need to take some chances. Don't head to Saints to defend, head north with a competitive spirit.
Prediction: Sheer passion and determination are worth a few points, but I cannot see the Broncos getting a result against many peoples favourites for the title. Saints by 28.
Leeds v Wigan: 8pm, Fri, Sky Sports 1
Barrie says: This is going to be a brilliant game and I cannot wait to see these two on the same pitch. Both are in scintillating form and there will be key battles all over the field. Leeds have lost their inspirational hooker Rob Burrows who is out with a broken collar bone. Kevin Sinfield has played for both club and country at hooker and is the logical replacement, but that means he won't be as influential in the open field. Wigan have a relatively clean bill of health - Sean O'Loughlin is one of the front runners for Man of Steel for me - his influence on the team is very special. When he plays well, Wigan play well.
Prediction: this will be tighter than a submarine door but I think it will be a home win. Leeds by six points.
Terry says: This is the fixture that makes every neutral tune in.
Wigan have scored 136 points in their last two games (Bradford and Hunslet) and have conceded just 14. Leeds on the other hand are the best defensive team in the comp and you have to work hard to break them down.
I'm sure the Wigan lads will be up for this. It was a fixture I looked forward to when I played because of the sheer noise and atmosphere and also that I nearly always walked away with a win which made Barrie a loser (it's hard to shake that tag isn't it Baz). Leeds have two of the best wingers in the comp, but then again so do Wigan. My stand-outs for Leeds would be Watkins and Moon, they are world class. For Wigan two players stand out. First we have the inspirational Sean O'Loughlin who comes up with huge plays but he also mops up all the dirty work at the back is back in the squad after his Challenge Cup rest. We then have Matty Bowen who scored a hat-trick in last Sunday's Challenge Cup win over Hunslet, that took his tally to eight in nine appearances, not a bad return from the former North Queensland player.
Prediction: I'm going head-to-head with tubs on this! Wigan by eight points.
Catalans v Salford
Barrie says: Catalan had a real set back against Bradford in the Challenge Cup last week. They were 16-0 up but then an injury to key player Elliott Whitehead who seemed to be the catalyst for them to lose their grip on the game and Bradford knocked them out of the Cup. That would have really dented their confidence. Salford also bowed out of the Cup when they were given a lesson on the pitch by Widnes and given some stern words off the pitch by Iestyn Harris and the good doctor! I believe Salford are marginally favourites in this game because of that motivation.
Prediction: Catalan have had a kick in the pants from losing their best player and will suffer from it, Salford have had a kick in the pants but will respond to that and get the win by eight points.
Terry says: Not many saw Catalan's shock defeat in the Cup coming. Their recent league form was very good, and I'm sure they are hoping it was a blip. Are Salford under pressure? Iestyn Harris talked about attitude and culture after they were defeated by Widnes last weekend. Three losses in a row has not pleased Dr Koukash, he took to the social networks to tell everyone of his disappointment. I think that the players are not used to the pressure of the expectations everyone has placed on them. If you are the coach, little steps forward will lead to big gains over the next few years. Salford's last win in the South of France was in 2011, if they are to win they will need to improve dramatically. Harris will be shielding the players from all the awkward questions from the press so that means they can just focus on the game. This is a difficult game for Salford and I'm hearing that a one or two of the big boys are struggling to be fit for this game.
Prediction: I'm going with the Dragons to win this game by seven points! (Stevo will love the drop goal)
Bradford v Warrington
Barrie says: Warrington had a game against Doncaster last week and won at a canter. Bradford had that moral boosting victory over Catalan. There is not much to encourage you to back Bradford - other than their fighting spirit and the desire that they continue to show. Warrington have got better quality that have not quite clicked into gear this season but I think they will have enough in this game.
Prediction: Bradford will put up a big fight but will go down to Warrington by 12 points.
Terry says: Two teams coming into this game after qualifying for the next round of the Cup. Bradford did it tough against one of the form sides in the Super League, whilst Warrington scored plenty and didn't concede a try.
Tony Smith will be doing battle against a former player he helped to get onto the coaching ladder. Both will know each other's thoughts on how the game should be played. Who will win this game? On paper you'd say this game was Warrington's and I'd agree. Warrington have won their last 10 games v Bradford and also won on each of their last six visits to Odsal.
Bradford is a fantastic traditional ground and when you stand on the pitch you just see space. Teams with speed excel on this great surface and surroundings. Leeds scored 46 whilst Huddersfield scored 66 earlier this year.
Prediction: Warrington by 14.
Huddersfield v Castleford
Barrie says: This is a good one - probably the game of the weekend after Leeds v Wigan. This is my upset too! Cas have been going really well, the pack of forwards they have got together are really laying the foundation for players like Liam Finn to play off. However I think that Huddersfield, with no Challenge Cup distractions will be fresher for the week off and more focussed on the League.
Prediction: I think Huddersfield will win this one by 12 points.
Terry says: Daryl Powell goes into this game struggling up front. It's a game that you could do without if you've lost some of your big blokes. What Huddersfield have in abundance is size, speed and athleticism. Giants coach Paul Anderson is a Cas lad and he will know the threats that his home town side have. They beat Warrington after a tough victory over near neighbours Wakefield, that's impressive, backing up a performance after a good win in a derby. People should take Castleford seriously and those who don't you do so at your peril. Huddersfield have won their last four home meetings with Castleford, yet Cas have won 19 out of 31 fixtures in Super League. I'd like to see how both teams line up. I think Cas are one of the top performers in SL and have scored some of the best tries in this year's comp..
Prediction: My only concern is that Cas will find it difficult to stop the monster forwards from the Giants? Huddersfield by six.
Hull KR v Widnes
Barrie says: I like the look of Hull KR, they are starting to get some confidence and get some reasonable fluency on the pitch. They look like they are settling into some really good patterns. Widnes had a tremendous win over Salford and that could well distract them - the Challenge Cup quarter-finals may only be in a month's time but they won't be the first of the last teams to lose focus because there is a good prize ahead.
Prediction: At home I think Hull KR are even more formidable and will win by 14 points.
Terry says: The Robins lost to Catalan but had previously won their previous four games. Former NSW prop Michael Weyman has led from the front and he is backed up by another former state of origin prop Justin Poore. The forwards are a big set and also an aggressive set. Many people were surprised when Craig Sandercock let Greg Eden go out on loan to Salford, the reason for that was that Ben Cockayne is playing out of his skin. I've not seen his football ability until this year but I must say he has played exceptional in the full back role, his battle with Rhys Hanbury will be worth the admission fee alone. Widnes held on last week in the final minute against Salford, in fact it was a last ditch tackle from the Vikings that prevented Salford progressing to the next round. A much needed win v St Helens on Easter Monday after back to back losses which derailed the Vikings for a few weeks. The Widnes club have signed a number of their players for next season and beyond and are focussing on continuing developing both on and off the field.
Prediction: I'm sure this game will see lots of points, two attacking sides with an ability to score from anywhere on the field. A difficult game to call but I'm going for Widnes by six.
Hull FC v Wakefield
Barrie says: Hull FC played London in the Cup last week and beat them without too much effort. They have a number of tough fixtures coming up but I think this one will be the start of a good period for them. Wakefield have not won in six games and their confidence is really low.
Prediction: An 18 point victory for the Black and Whites to set them up for the month ahead.
Terry says: Richard Agar heads back to the KC to plot the downfall of one of his former players in Lee Radford. Wakefield have a number of ex-Hull players who will be trying extra hard to get this win. Danny Washbrook needs just one appearance to reach 200 for his career. Joe Westerman is really to live up to his potential. Joe can play anywhere on the pitch and can play pre-line or post. I'm sure Gareth Ellis' attitude around the Black and Whites has helped a number of players' games and let's not forget Wakefield is the club that gave Ellis his first professional contract.
Prediction: This game will be a good old bash up, I'm going for Hull to win this by 18 points.