Barrie v Terry
Barrie McDermott and Terry O'Connor go head-to-head with their Super League predictions...
Last Updated: 13/02/14 8:33am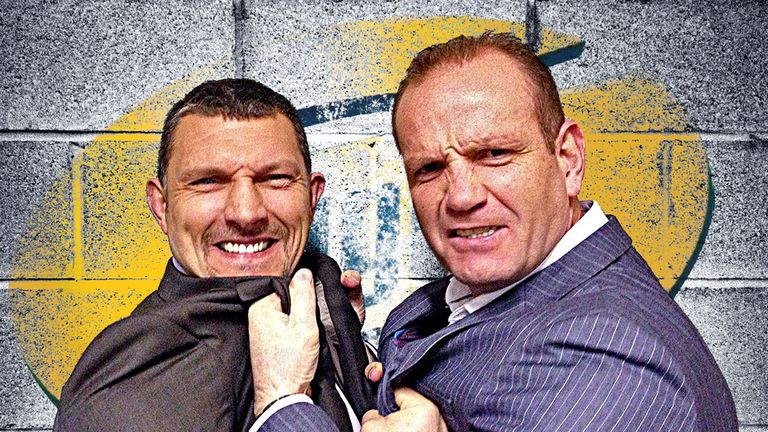 Barrie and Terry are back to tear into each other once more as they go head-to-head in their Super League predictions.
Last season Terry pipped Barrie to the post but Barrie is determined to make amends in 2014.
Each week they will give their predictions for the Super League games, scoring a point for a win and if they both pick a winner then the one with the closest score gets an extra point!
Terry already has a one point lead after he predicted that Huddersfield would beat Wigan in last week's only game, but with the rest of the round one fixtures being played this week, Barrie is determined to claw that point back!
Warrington v St Helens
7.30pm, Thu, Sky Sports 1
Barrie says: This is always one of those fixtures that you really look forward too. Both sides like to play with the ball and there are always plenty of tries on offer. Warrington have lost some key players like Adrian Morley and Brett Hodgson but the likes of Roy Asotasi who has 217 career NRL game behind him and Matty Russell are able replacements. Stefan Ratchford also has the unenviable job of replacing Lee Briers. It's a younger wolf pack with the likes of Ben Currie and Glenn Rielly pushing for regular spots this year. However I really fancy Saints to take this game, they finished very well in fifth after all the trauma of last season for only the second time in the last 18 years. Expectations will be high as they have never finished outside the play-offs since 1998. Saints have recruited well and I expect them to put a marker down although Warrington have won six from the last nine meetings. I think with the platform that the new dynamic Saints pack will lay, Luke Walsh will bring another dimension to Saints.
Barrie predicts: Another high scoring game from these two, but I take Saints to win by eight points.
Terry says: Like Barrie says, these games are always thrillers! Over the years we have seen some classics from these two and let's hope we get another one. Warrington have come off the back of two Grand Final defeats and I am sure they will be pretty determined. However I am not sure what to expect from the Wolves - I cannot quite imagine them without Lee Briers. He was the heartbeat of that side and it will be interesting to see how he gets on. Wolves already have some injury concerns so Tony Smith may have to reshuffle his side a bit. For me, Saints will be the champions this year. They were missing some key players last season but finished very strongly. Luke Walsh is not a halfback we are used to seeing. He is tough as teak and no matter how matter how many times he gets hit, he still produces. He has a terrific kicking game and the way Saints play with the speed of their big men going forward and with Walsh kicking on the front foot, Saints will be hard for most teams to cope with.
Terry predicts: I am going to go for a Saints win but only by four points.
Hull FC v Catalan Dragons
7.30pm, Fri, Sky Sports 1
Barrie says: This should be another equality game. Both sides would have been disappointed with the way they finished last season especially Hull FC who were humbled at Wembley in the Cup Final and didn't perform in the playoffs to their own high standards. This season is a chance to make amends - Hull FC have only made a few changes to their personal but local hero Lee Radford steps into the coaches role. He was a tough uncompromising player and I expect Hull FC to play that way this season. Catalan have really bulked up their squad in the off season - the former Wigan prop Jeff Lima and a player who I rate very highly big Ben Pomeroy who signed from Cronulla is a huge threat on the flanks and will score and set up plenty for the Dragons this year.
Barrie predicts: It is going to be a tough start for Catalans and will be hoping to catch FC cold, they will go into this game thinking they have enough to get the two points. Catalan by six.
Terry says: I am looking forward to the seeing the Paea brothers tearing into each other! Lopini plays for Catalans while Mickey has just moved from Hull KR to Hull FC. You want to see a team who plays with passion, commitment and desire and that fighting spirit - new Hull FC coach Lee Radford will have his team playing with that in abundance. For Catalan, well I am looking forward to seeing Scott Dureau play a full season! He was missed last year. They also have some big men but I hope they do not over step the mark as far as aggressive play goes. I am hoping they will be very skilful and I am looking to see how Ben Pomeroy goes.
Terry predicts: I think it will be Mickey's day and Hull FC to win by six points.
Widnes v London
Barrie says: Widnes had another season of progress last year and finished with a lot of positivity around the camp. Their impressive youngsters like Danny Lawton, Jack Owens and Danny Craven are all a year older, doing really well in the pre-season games and the coaching staff have high hopes for this season. They have signed a young hooker from Wigan called Liam Carberry who has come through their system and was always a very promising prospect and I am expecting big things from him. London are in the rebuilding process, they are coming into the 2014 with a lot of on-loan players and a lot of young players.
Barrie predicts: I am not sure the Broncos will be ready to take on Widnes and I think the Vikings will win by 16 points.
Terry says: I am not going to jump on the Broncos bandwagon. Everyone saying they will go down and that they have had their chance in Super League. They are like one of those squad players who keeps on turning up to practice - a bit like Barrie at Leeds - and now and again had a good game. Over the years Broncos have had a good game and turned a team over. When people write you off, that is when you are at your most dangerous. Six months ago we did not know if London would be playing in Super League but they have managed to put together a team and they are still trying to sign players. You want them to do well but it is going to be difficult, especially against Widnes who are going from strength to strength. I am looking forward to seeing how some of the Vikings youngsters who have had some experience of the Super League push on in 2014. Widnes must focus this season on defence - they scored the third most tries last season but their defence let them down.
Terry predicts:
there is stability at Widnes while London are still on shaky ground, I think Widnes will win this by 22 points.
Hull KR v Leeds
Barrie says: Hull KR have brought a lot of players over from the NRL and I really like the look of the forward Michael Weyman. They also have players with plenty of experience - Costigan, Poore, Langley and the Walker brothers make the pack one of the toughest in the game. Their coach Craig Sandercock has spoken about the player leadership in the change room has been lacking, so he is looking for his senior players to really take control. Leeds have a different look too - with the likes of Paul Aiton and Tom Briscoe coming in. There is going to be plenty of competition for places - especially in the back line and Brian McDermott will have to make some tough selection choices which may keep international players on the bench - but that just adds to the healthy competition within the side.
Barrie predicts: It will be interesting times for Leeds and I am looking to see how they get on. Everyone is fit and healthy and I am going for the Rhinos back division to secure a win by ten points.
Terry says: The fans have really got behind Hull KR - they have apparently sold more season tickets than ever before. They have lost some players but have brought in some really big boys to shore up the middle and to play really aggressively. The Rovers have always liked to entertain their fans and they have done that - they have never had a problem scoring points but they need to tighten up their defence. It's tough when you are kicking off your season against Leeds! There are some real 'old dogs' in that side - players who just keep on impressing me, Jamie Peacock Kylie Leuluai just keep on going and going. Then they have their youngsters coming through a well as some of the best wingers in Super League.
Terrys predicts: I think it's going to be another good year for Leeds, every year people write them off and they keep on proving them wrong. Saying that, I am going to go for Hull KR! I know Barrie is backing Leeds for one, and secondly playing at home in front of a mega crowd with eight new signings will give Hull KR the edge by six points.
Salford v Wakefield
Barrie says: Salford have created the most interest in the off-season. Their owner Marwan Koukash has really tried to 'devilutionise' Super League! He has re-branded the club and has asked for a different mind set this season. They have recruited heavily and their halfback pairing of Rangi Chase and Tim Smith are very good players, it will be interesting to see how these two play together. Their pack has some real devils in Morley, Hock, Tasi, Griffin and Hanson who left Wigan to follow in this father Shane Hansen's footprints to don the Salford jersey. Wakefield will find a real stubborn Salford who will be desperate to put out a real statement from the first whistle. Wakefield will bring the best out of the mercurial Paul McShane and his teammates will have learn how to play to his strengths as they did with Tim Smith before that.
Barrie predicts: Brian Noble knows how to get the best out of players and I think he will get the Salford Superstars firing. Salford to win by ten points.
Terry says: every fan in Super League wants to see this one! Salford have a class outfit across the board, they have spent the maximum noney that they could have spent for these stars. The player to watch is Jake Mullaney, the fullback from Parramatta Eels, who is a very exciting player. The question is can everyone play as part of a team? I feel for Wakefield, Richard Agar has had his team sold from underneath him and I think they will battle this year.
Terry predicts: Salford should win this just on the amount of skill and talent they have on show. I expect them to win by 22 points.
Bradford v Castleford
Barrie says: Both these teams have to get it right this season. The exciting new structure means that teams will get relegated and the battle at the bottom is going to be very fierce indeed. They both need a good start to 2014 or they could get dragged down into that dogfight - a good start and plenty of results is the main priority for both teams. If you don't get off to a good a start then you are chasing the rest from the off! There has been a lot of uncertainty surrounding Bradford with their financial problems. Cas have lots of choice in the pivots with Dorn, Sneyd, Ellis, Finn and Brett Seymour all trying to command the team. Whilst the Bulls have last years pairing of Gale and Sammut in post for this year. In the past the Bulls players have used their financial woes to their benefit as they have come together in a sort of siege mentality but will that be enough?
Barrie predicts: I think Castleford will show plenty of ingenuity to win away at Odsal by six points!
Terry says: This is a tough one and I am not sure what to expect from these two sides. Bradford losing Garreth Carvell without him playing a game is a big blow to them and will have an impact on how they play. Both sides have players who are well travelled but I really don't know how they are going to go.
Terry predicts: I am going to go for Castleford because I think they will start the better and win by eight points.