Barrie and Terry get the Super League season underway with their predictions for Wigan v Huddersfield
Barrie and Terry start the Super League season with their predictions for Wigan against Huddersfield.
Last Updated: 07/02/14 9:14am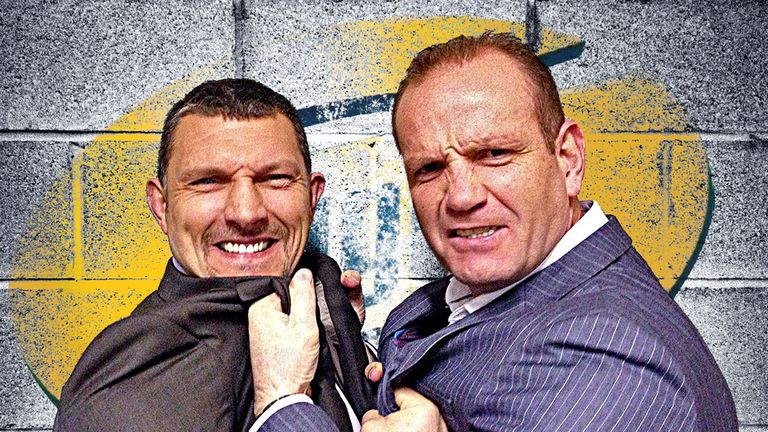 Terry pipped Barrie to the post in last year's competition but Barrie is determined that 2014 will belong to him.
Each week Barrie and Terry will go head-to-head with their Super League predictions. They will score a point for every prediction they get correct and if they have both backed the same winner, then the man who got the score difference the closest gets another point.
Let the games begin!
Wigan v Huddersfield, Fri, 8pm, Sky Sports 1 HD
BARRIE SAYS: These are the two sides who, on form, should have met in last year's Grand Final! Huddersfield were exceptional and won the League Leaders Shield but unfortunately could not keep that going in the play-offs. Wigan kept their momentum throughout and their win against Warrington in the Grand Final was a real tasty game.
A lot was said about Wigan's physicality and I don't see that changing in 2014. They like to play in a certain way. Huddersfield are also a very physical side so this should be a real bruiser of a game.
The task for Huddersfield is to keep the consistency they found in 2013 and then to make sure that they win the crunch game like the play-offs. Jodie Broughton has joined the Giants' ranks from Salford and he really is a fantastic player - he has pace to burn and will add even more attacking options into that Giants' backline. They have always had a good pack but now they have something extra in the backs too.
For Wigan the big question is how will they react to the loss of Sam Tomkins? It's not just Tomkins though - they have lost Pat Richards, Lee Mossop and Chris Tuson; that is four significant losses. They have signed Matt Bowen who is a fantastic player but he plays nothing like Sam Tomkins so anyone expecting a like-for-like replacement is going to be disappointed. He is an exceptional player in his own right and does some wonderful things with the ball.
I think the significant thing we will see from Wigan this year is the emergence of some young players. Those youngsters who are on the fringe of the first team will become regulars. Joe Burgess is one of those players and I expect him to grab everyone's attention this season.
PREDICTION: Wigan have some big things on the horizon with the World Club Challenge down in Australia; you would forgive those players if they were not wholly focussed on Huddersfield. If they are slightly off the pace and don't give it 100 per cent then the Giants will start off with a win. However I think the team that will get off to the best start will win this game and despite their big game coming up, I think Wigan will pinch this one. Wigan by eight points.
TERRY SAYS: This time last year I think everyone was writing Wigan off because they had lost some of their key players. This year everyone is waiting to see how they will get on without the likes of Pat Richards, Lee Mossop and, of course, Sam Tomkins. The jury is still out a bit as to where they will finish but we shall have a better idea of where they are after Friday night.
When players leave the club, one of the things to ask is 'are the new players coming in as good as or better than the ones who have left?' That means the pressure is really on Matty Bowen to step up and win some games for his new club. He is a very talented player and I am sure the Wigan fans will really take to him and he should produce some super rugby league football. There are people who are tipping Wigan to finish sixth or seventh. I don't think they will finish that low but I do think that this is a building year for them where they will bed in some new players into the Wigan philosophy and bring some of their younger players on.
Huddersfield were everyone's surprise package last year and we were all waiting for them to fade away but they stuck in there. They are renowned for starting strongly and then tapering off but last year they kept it up. I'm expecting them to start strongly again; they have not lost that many players -Dale Ferguson went to Bradford - so they are very settled and the players who took them to the league leaders shield will start this year a lot more confident. They have the coach of the year in Paul Anderson and the Man of Steel in Danny Brough. What's not to like?
TERRY PREDICTS: This game will be a huge test for Wigan and I think Huddersfield will be confident that they can start with a good win. I expect Paul Anderson's men to turn up in the right frame of mind and while I very rarely go against Wigan, I think Huddersfield will win this by six points.