Barrie v Terry
Barrie McDermott and Terry O'Connor go head-to-head with their Super League Grand Final predictions...
Last Updated: 04/10/13 3:59pm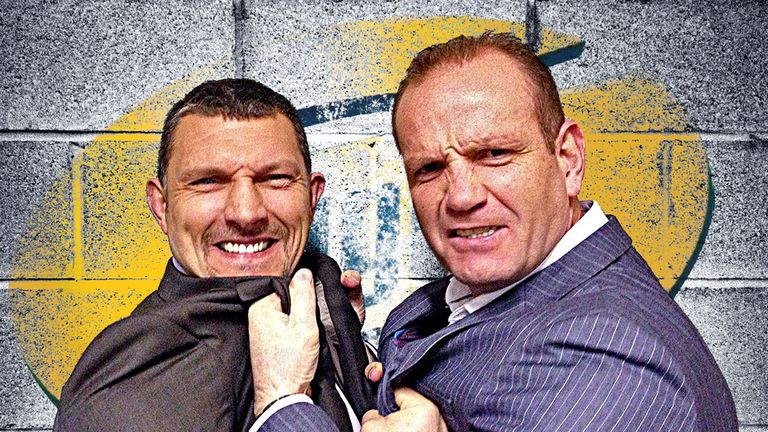 On the pitch Barrie McDermott and Terry O'Connor liked nothing better than tearing into the opposition.
They may have hung up their boots but that competitive streak still runs strong and we have found a way to channel their energies.
Each week they have been previewing the live televised Super League games, providing predictions for the rest of the action - and we've been keeping track of who's called the most matches right.
It's one point for a win and if they both pick a winner then the one with the closest score gets an extra point!
Terry stretched away after the semi-finals having called the Wigan match correctly (as well as the 10-point gap) so the difference between the two rivals has stretched to four points. Pride is at stake though with the Grand Final upon us.
Current standings
Round
Barrie
Terry
Round 1
6
6
Round 2
5
3
Round 3
5
7
Round 4
1
6
Round 5
3
4
Round 6
2
3
Round 7
6
5
Round 8
5
7
Round 9
4
5
Round 10
9
5
Round 11
6
7
Round 12
7
5
Round 13
7
5
Round 14
8
7
Round 15
8
7
Round 16
6
6
Round 17
5
7
Round 18
8
5
Round 19
5
5
Round 20
3
6
Round 21
6
11
Round 22
5
8
Round 23
10
8
Round 24
5
8
Round 25
4
3
Round 26
8
6
Round 27
7
5
First round play-offs
4
3
Second round play-offs
3
1
Semi-finals
1
2
Total
162
166
Wigan Warriors V Warrington Wolves
5pm, Sat, Sky Sports 2HD
Barrie says: When was the last time these two teams last met in a final? It was the famous Challenge Cup 89/90 when Shaun Edwards broke his cheek bone and played virtually the full game with it. In the history of Rugby League there has never been a boring game between these two and the Grand Final will follow suit. Both coaches Tony Smith (Wolves) and Shaun Wane (Warriors) instill into their players the need to WIN a game and not wait for the other side to lose. There will be plenty of innovation from both teams and it will require exceptional defence to nullify the attacks. Players will be exhausted and will find out a bit more about their own character as the final minutes tick away. Who will handle the pressure the best? I believe it will be the Warrington Wolves. The main reason being that they have an 'ad hoc' style of play that negates the pressure of performing the 'set plays', while Wigan have lethal set plays they rely on to move up the field. Many of the Warriors breaks when returning the ball come from their opponent's mistakes in defence, where the Wolves have the ability to take advantage of poor concentration from the opposition in defence and have the likes of Micky Higham, Stefan Ratchford and Michael Monaghan to exploit these opportunities. Matty Smith and Blake Green, the Warriors 7 and 6 respectively, work well together (many good judges believe Smith is unlucky not be in the England squad) but the team heavily relies on a flash of inspiration from their enigmatic full back Sam Tomkins to actually score, while any of the Wolves players are likely to score from anywhere on the field. A half back pairing of Lee Briers and Richie Myler will mean the Warriors will be on the back foot defending and won't have that many chances.....but of those chances, they are more than capable of converting into tries. Warrington often make mistakes with their adventurous style of play and Wigan can exploit that. The Wolves can sometimes be guilty of indiscipline and that leads to penalties and when their concentration deteriorates they make more mistakes. So watch out for an aggressive attitude from the Wigan pack who will take the rules of the game to the limit as they try to entice the Wolves to retaliate and lose composure.
BARRIE PREDICTS: I've been saying for a while that we are due the first extra-time play-off game and it may well come in the Grand Final because the two teams are really that good. Although they have contrasting styles they are incredibly well matched which makes it difficult to pick a winner. The heavens have just opened as I write this, and if the rain continues the weather will make a difference in how the teams approach the game. If it's dry on Saturday the Wolves will win 23-22 but if it rains, the Warriors are the specialists in wet weather and they will win 32-28. Enjoy the game, it will be a cracker.
Terry says: The bookies have Warrington favourites, but I'm not so sure. Is this the start of a new era for both clubs? Greats from both sides will be playing their last game for their respected club - two in particular, Adrian Morley and Sam Tomkins. Sam is looking to emulate Adrian and make a name for himself in the NRL. The big man played in three Grand Finals whilst wearing a roosters shirt. I'd like to see both teams do well because of those fellas. Warrington are flying at the minute with 12 wins from the last 13 shows what they can do. Wigan's form isn't as good but they did win the pressure games to get to the Challenge Cup final. The end of season visit to Old Trafford is normally a wet occasion. My mind automatically takes me back to the Challenge Cup at Wembley. It was pouring and Matty Smith had his kicking boots on and performance were impeccable. The attitude from the Warriors on that day was outstanding - control the ball, finish the sets on our terms and kick long. When you trap your opposition close to the try line you've got them - especially in wet conditions. Warrington have lost games this year because they didn't respect the ball. The quality that Tony Smith has available is first class. If they can control the ball they can challenge and beat most in the world. The kicking game from both will be key.
TERRY PREDICTS: Leeds have lifted the trophy over the last few years because of the magical Kevin Sinfield. Old Trafford can inspire or break you. It's important your first contribution is a positive one. They are two fantastic teams who both start well and are coached by two of the best in Super League, but if I've got to pick, I'm going against the bookies. Wigan win by 10.
Don't miss the Grand Final live on Sky Sports 3 HD and Sky Sports 2 HD from 5pm or you can watch all the action unfold with a 24-hour Sky Sports Day Pass from NOW TV. For more information visit click here