Barrie v Terry
Barrie McDermott and Terry O'Connor go head-to-head with their Super League play-off predictions...
Last Updated: 12/09/13 11:24am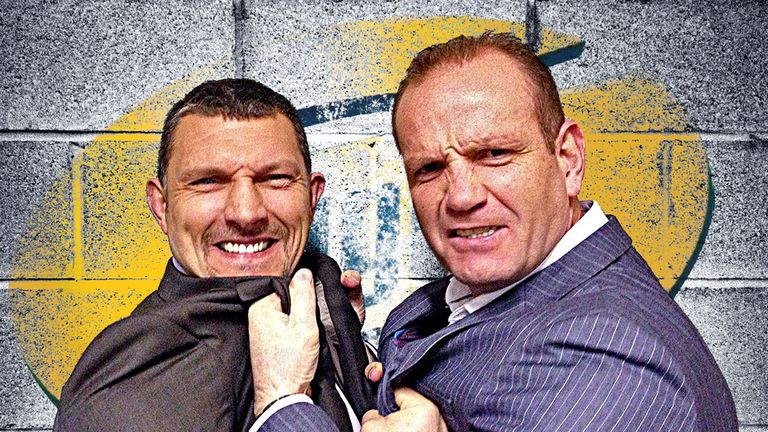 On the pitch Barrie McDermott and Terry O'Connor liked nothing better than tearing into the opposition.
They may have hung up their boots but that competitive streak still runs strong and we have found a way to channel their energies.
Each week they will preview the live televised Super League games and provide predictions for the rest of the action - and we'll keep track of who's called the most matches right.
We will award one point for a win and if they both have picked a winner then the one with the closest score will get an extra point!
Barrie managed to claw back two points but Terry managed to hold on and claim the League Leaders' Shield - but the only prize is the Grand Final title and it boils down to the play-offs.
Barrie will, no doubt, be calling on the Leeds spirit to come from behind and claim the glory!
Current standings
Round
Barrie
Terry
Round 1
6
6
Round 2
5
3
Round 3
5
7
Round 4
1
6
Round 5
3
4
Round 6
2
3
Round 7
6
5
Round 8
5
7
Round 9
4
5
Round 10
9
5
Round 11
6
7
Round 12
7
5
Round 13
7
5
Round 14
8
7
Round 15
8
7
Round 16
6
6
Round 17
5
7
Round 18
8
5
Round 19
5
5
Round 20
3
6
Round 21
6
11
Round 22
5
8
Round 23
10
8
Round 24
5
8
Round 25
4
3
Round 26
8
6
Round 27
7
5
Total
154
160
Huddersfield v Wigan - Qualifying fixture
8pm, Thu, Sky Sports 1
Barrie says: This should be the biggest attendance of the season so far for the Giants, and, for once, they will not be hoping that Wigan have a few players injured; they will want them to be at their very best. Paul Anderson, the Huddersfield coach, will say let Shaun Wane, the Wigan coach, pick his best players for us to beat, for if we meet them again we have the psychological advantage. The Warriors have suffered from key players being injured and not being able to get a decent run of games under their belts since halfway into the season. The Giants, on the other hand, have been blessed with their key men playing 90 per cent of the game time available to them. Anderson rested these players last week, was it wise? We will know at 10pm on Thursday evening, won't we? It would be disrespectful to think Wigan won't give the League Leaders trouble but with a few Super League Dream Team players and a possible Man of Steel in the Giants' ranks it will be a hard fought close win for the home side.
BARRIE PREDICTS: Giants to win by seven points. Danny Brough and Shaun Lunt. of course. showing the way.
Terry says: Wigan go to Huddersfield on the back of only two wins out of their last nine league games. They also travel to the birth place of RL knowing that they haven't beaten Paul Anderson's men in 2013. The game will be difficult but Wigan have proved themselves in the other knockout competition this season (Challenge Cup). Huddersfield rested all their star players against Bradford so don't be fooled by the scoreline. The only player that the Giants may not have available is Ukuma Ta'ai. It's quite incredible really that after 27 bruising league games the Giants can still field a near full-strength side. That's one of the reasons they have never really faltered, they've had a settled side who are growing as a team and with confidence. Wigan will not have Sean O'Loughlin, so what you see is more or less what you'll get. Shaun Wane will have the lads totally focused and motivated for this enormous task. The side will also be missing Darryl Goulding, who is another big loss.
TERRY PREDICTS: I've not backed against Wigan many times his season but I just think the Giants, at home and in form, will have it.
Hull v Catalans - Elimination fixture
8pm, Fri, Sky Sports 1
Barrie says: There are some who will say that the elimination games are more exciting than the qualifying games purely because it is a straight knockout, no second chances - perform on the day or lose. Some might say there is nothing to persuade potential sponsors of the club to become involved with a team that's not winning but for some it's all about effort and commitment in other words 'If you go out.... Go down fighting!' I don't think that the Dragons are ready this year, they have too many things to fix; ball control, discipline with and without the ball, concentrating for the full 80 minutes and they will be away from home. I think Hull FC have a far better opportunity to get to the final using the experience, however horrible it might have been, of how they lost in the Challenge Cup Final.
BARRIE PREDICTS: It will be another home win by what will look like a comfortable win of 16 points, but it won't be comfortable at all for the nervous Hull players, coaches and supporters.
Terry says: They were unlucky last week versus Warrington but I'm sure Cataland have now moved on. They had 14 penalties but couldn't create enough chances. When you get that much free possession and position you need to convert it into points. Instead of scoring points they kept coughing the ball up. Lots of similarities between both sides as Hull looked and played the same last week. I'm not sure whether it was poor attack from Hull or great defence from Saints, probably a bit of both. They seemed to lack a touch of class at crucial parts of the game and although they forced three goal-line drop-outs, and won six penalties close to Saints line, they couldn't put the game to bed. They do have the tools, though, but will they get them out against a very physical French side? Both sides need to be positive and not nervous. If it's on back yourself and the others around you, you don't get many chances throughout your career to play in these type of games so make sure you have fond memories. I still regret games we lost, or I lost 10 years ago, I think it's time to stop blaming Brian Carney for dropping all those balls...
TERRY PREDICTS: Hull by six.
Warrington v Leeds - Qualifying fixture
3pm, Sat, Sky Sports 3
BARRIE SAYS: Both coaches, Tony Smith and Brian McDermott, have to have their feelings and thoughts dragged out of them in interviews at this time of year as strategies and team philosophies are a closely guarded secret. However, they are both honest men so when they say that they putting out their strongest team out you can bet they mean it. Just like last season it is hard to pick a winner but, of late, the Rhinos have the 'Wood' over the Wolves and will win this one, too. Jamie Peacock was the player of the year for the Rhinos and will lead from the front and it will be a real head butt in the middle with two of the best packs in the game going against each other. But it will be down to the guile of Kevin Sinfield and Lee Briers or the spark of Rob Burrow and Mickey Higham.
BARRIE PREDICTS: Leeds to win by 10 points, with the last six points only being scored in the dying seconds.
Terry says: What a game we have in prospect here. A repeat of last year's Grand Final in which Leeds lifted the cup. The class from both sides will be of supreme standard. If you want ferocious hits, top tries, skill, speed and exciting rugby this is the game to watch. The stakes are raised and the teams' attitude will change, this is a game not to be missed. Who is better prepared? Warrington were tested in monsoon conditions in Catalans, a game they won by two points. Or will it be Leeds, who played outstandingly at Wigan. They made 800 meters more than the Challenge Cup winners and you can put that down to JP and the granite man Kylie Leuluai. Leeds get up very quick out wide and that could play into the hands of Lee Briers and his kicking game. The same could be said about Warrington, and I'm convinced this will be the bone shuddering clash of the round. I can't wait for all those Briers shots! I've seen him pull two off this season and he and the lads will be hoping to go one better this season. I'm going against Leeds as I'll bet the fat lad will pick them (I think he's petrified of Sinfield).
TERRY PREDICTS: Warrington by six.
St Helens v Hull KR - Elimination fixture
5pm, Sat, Sky Sports 3
Barrie says: It looks as if Hull KR have overachieved by finishing in the top eight on last week's tired and lacklustre performance and I think that this will be a game too far for them. I think St Helens will win this one but I think they also need a tough, tight contest to prepare for the next round. Michael Dobson was given the Player of the Year Award for the Robins and they will be desperate to get him out there but even if he does I am not sure they have got enough to trouble St Helens.
BARRIE PREDICTS: It could be a long M62 journey for the Robins and their supporters back home after a good sound loss by 20 points.
Terry says: Saints had a very good 40 minutes last week. They are a threat to any of the other sides and they now have the smell of a final in the air. They defended the line superbly for a period in the second half; Nathan Brown's men made 11 clean breaks in Round 27 and if they can replicate that they will score some points in this fixture. All year Hull KR have scored lots of points but they have conceded as well. The game is based on ruck speed and that benefits all sides but it also will benefit James Roby. Jonny Lomax, Thomas Makinson and Adam Swift all played very well and most successful sides have a good back three. Also look at the left edge, Willie Manu, Jon Wilkin, Francis Meli, Swift that is one dangerous edge. Hopefully Michael Dobson will be back to help guide his team-mates. Craig Sandercock will also hope to have other players back. Last week versus London he was missing nine players from the previous week, although that's not an excuse as to why London beat them. The side managed to get off to a flyer scoring 16 points in the opening 16 minutes, but again they conceded a load of points and went on to lose the game. One of these sides will be out after this game, I think it will be a team in red and white that will win (I can't lose).
TERRY PREDICTS: St Helens by 12.