Barrie v Terry
Barrie McDermott and Terry O'Connor go head-to-head with their Super League predictions...
Last Updated: 28/08/13 2:39pm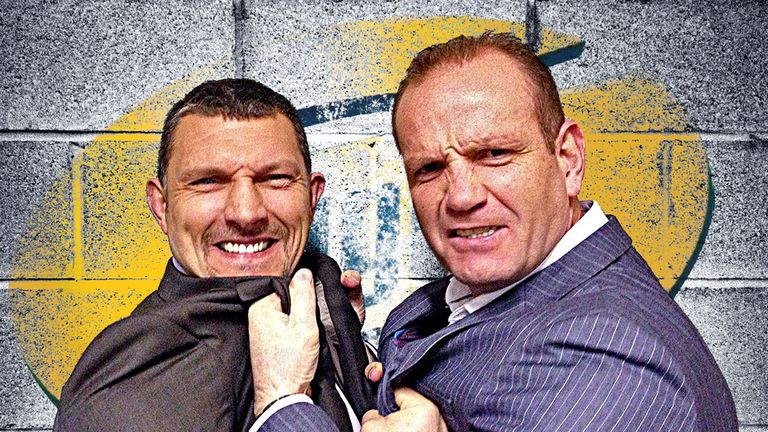 On the pitch Barrie McDermott and Terry O'Connor liked nothing better than tearing into the opposition.
They may have hung up their boots but that competitive streak still runs strong and we have found a way to channel their energies.
Each week they will preview the live televised Super League games and provide predictions for the rest of the action - and we'll keep track of who's called the most matches right. We will reward one point for a win and if they both have picked a winner then the one with the closest score will get an extra point!
Both struggled last week, but Barrie just got the better of Terry in round 25! Can Barrie continue to claw his way back this week?
Current standings
Round
Barrie
Terry
Round 1
6
6
Round 2
5
3
Round 3
5
7
Round 4
1
6
Round 5
3
4
Round 6
2
3
Round 7
6
5
Round 8
5
7
Round 9
4
5
Round 10
9
5
Round 11
6
7
Round 12
7
5
Round 13
7
5
Round 14
8
7
Round 15
8
7
Round 16
6
6
Round 17
5
7
Round 18
8
5
Round 19
5
5
Round 20
3
6
Round 21
6
11
Round 22
5
8
Round 23
10
8
Round 24
5
8
Round 25
4
3
Total
139
149
St Helens v Warrington Wolves
8pm, Fri, Sky Sports 4 HD
TERRY SAYS: This is one of the most anticipated contests in the season because of the thrillers that we've all witnessed on Sky Sports before. The adrenalin, passion, determination and the skill on show is amazing and that's just Eddie and Stevo! We all turn up hoping that this game will be as good as all the previous ones.
Wolves are bidding for their fourth successive win at St Helens, although they will need to show a huge improvement. Nathan Brown and Tony Smith are former team-mates at St George. They played together in the 1993 NRL Grand Final in Australia; unfortunately for them they lost that game against Broncos. Still good mates, I'm sure they will know what each other is thinking, and how they will approach this game.
Warrington made uncharacteristic mistakes and had a completion rate of just 54% against Widnes. They scored just one try and made 18 mistakes close to Widnes' line - that's not Warrington. They normally turn that field position into points. Warrington will be a determined side with a point to prove. Saints on the other hand are another side who are starting to play with some decent form.
Over the years they have found ways to win in these big games. When you think Saints are dead and buried, that's when they are most dangerous. This is the toughest game to call. Before the game against Widnes, Warrington had notched up nine league wins, including victories over Wigan, Leeds and Saints.
TERRY'S PREDICTION: Saints have won seven out of their last eight fixtures so they are also in form. This is a flip of a coin. Warrington by ten.
BARRIE SAYS:Game of the round? Possibly, either way it will be exciting as the Wolves and the Saints don't know any other way to play rugby. No matter what kind of erratic form both clubs have shown this year this game is always a treat for the neutral. The Saints were methodical and safe when they beat the Wildcats in their last game but that was because they didn't need to get out of third gear that day.
They will need to be in overdrive to beat the flying machine that is the Warrington Wolves. The Wolves surprisingly lost to the Vikings at home last time out and I don't think they will get caught again. The team which executes the best plays will win, and the Wolves have the ability to have a go a lot more than the Saints.
BARRIE'S PREDICTION: An away win by nine points and the league title could still be a goal for the Wolves. 28 - 37.
Leeds Rhinos v Catalan Dragons
TERRY SAYS:When these sides last met we witnessed a game that had it all: skill, tries and a brawl on the sideline. We also witnessed a sending off when Ryan Bailey was given his marching orders.
All that did was make some of the senior blokes step up and one in particular - Sir Kevin Sinield. I don't know of any player in the game that has had as much impact in his career as this bloke. Kevin went through the 3,000 Super League points barrier against Hull KR (an incredible achievement), but the Rhinos failed to make an impact overall. At one point they had 28 plays on Hull KR's line but couldn't score. That is not like Leeds. They still nearly nicked it in the end but dropped the ball with a clear line in front of them.
Catalan will like the thought of playing the champs and testing themselves at Headingley. It's the business end of the season and they may meet Leeds again so they will be looking for a big effort.
The Dragons are seeking their first-ever win at Headingley and after defeating the Challenge Cup winners Wigan at home two weeks ago they will go into this game in a confident mood. Catalan controlled the ruck speed and made the play of the ball slow. They also defended their line very well. Defence wins you the big games and this is a big game for the Frenchmen.
TERRY'S PREDICTION: Leeds by ten points.
BARRIE SAYS: The Dragons might be thinking they are in the top eight so it doesn't really matter which position they finish in, as they are out of the top four - but the Rhinos will be trying for the third spot that looked so far away from them a few months ago. They won't be relaxed at all especially as they lost at home the week before to Hull KR.
I don't really think that the Dragons have settled for the sixth spot as performances into the play offs are very important. Brent Webb won't need any extra motivation when he returns to his second home and showed in his last game why Catalan brought him to the club. He gives their attack another dimension and what a sub to bring on.
My personal choice for Young Player of the Year has to be Morgan Escare, and he would be well advised to watch Webb. Leeds have to be better at finishing this week because it will not be a low scoring game.
BARRIE'S PREDICTION: I am going for a Rhinos win but they will be pushed all the way up until the last few minutes, and the Dragons will probably take the lead at some point, but Kevin Sinfield will kick his side to victory by six points. 26-20.
Wigan Warriors v Hull FC

TERRY SAYS: It was not a shock result at Wembley, but a shocking game I would say. It had errors throughout and the team that made the most was Peter Gentle's.
Wigan had far more possession because of Hull's mistakes - you cannot gift easy ball to a team who have some talented individuals. Wigan's defence was fantastic throughout and they never really looked threatened. The last time a side was nilled in a Challenge Cup was back in 1989 when Wigan beat St Helens 27-0. Hull's talk I'm sure will be about finding space when they are kicking, chasing hard and restricting yardage.
Wigan will want to enjoy the occasion, playing at home with the Challenge Cup upstairs next to the FA Cup - not a bad effort from a small town up north. Shaun Wane will have a relaxing week with a new two-year contract in the bag. The pressure was on last week and this week it's about enjoyment. Hull will start big and have a point to prove knowing that they failed on the big stage, so maybe a different mind-set from Hull, but the same result, a Wigan win.
Any young player who might be finding it tough should use the newly crowned Lance Todd winner as a motivational figure. Matty Smith is a role model both on and off the field. In the last five years he was shown the door by Saints, played for Widnes, moved from Salford back to Saints, then returned to Salford before Shaun Wane gave him an opportunity. He is nailed on for England, or should be.
TERRY'S PREDICITION: Hull have lost on last seven visits to Wigan and I see this as going down as number eight. Wigan by 18
BARRIE SAYS: Homer (not Homer Simpson) said that the gods can be cruel, and he wasn't wrong was he. The last team Hull FC wanted to face was the team who nilled them in last week's Challenge Cup final.
It goes without saying that Peter Gentle will be using all his efforts and experiences to try to lift his team, but it will be to no avail purely because the Warriors will want to show they won the cup and Hull didn't lose it.
There is no doubt that the Black and Whites cannot play as poorly as they did in the final. But they gambled on Ben Crooks, asking a lot of a very young man who is another creditable shout for young player of the year, and ultimately there wasn't enough to trouble the Wigan defenders.
Hull played well when they went down the middle and Mark O'Meley was one of the best on show for the Black and Whites. Wigan can also play a heck of a lot better as well. I thought Sean O'Loughlin put in a world-class performance and was a close shout for the Lance Todd Trophy but was busted at the end of the game and may not make this game either.
BARRIE'S PREDICTION: Both teams will be much changed but the Cup holders will pour a big dollop of salt into that gaping wound by beating Hull by even a bigger score and by a margin of 22 points. 34 - 12
Bradford Bulls v London Broncos
TERRY SAYS: Broncos have only won once in their last 11 visits to the Bulls. I'm still waiting for some signings at London, just something to lift the spirits of the fans and players.
The reason I'm looking is because it must be hard for Tony Rea to go into work every day and be motivated himself. He needs to get the players mentally and physically prepared for the last two games.
London's defence in first half against Huddersfield was the best I've seen all year. They trailed just 6-0 at half time and looked exceptional. If you look at the second half they trailed 18-12 going into the last five minutes of the game, unfortunately for them they ended up going down 26-12.
It was a gutsy effort though. Bradford on the other hand lost out to Castleford and Mr Chase. They scored 34 but conceded more points. Francis Cummins will want his side to be better defensively, they have won five home games this year and I would expect this fixture to be number six.
TERRY'S PREDICTION: Bradford by 14.
BARRIE SAYS: If the sun is shining it will be a festival at Odsal with the Bulls playing with freedom now they have nothing really to play for other than pride and to reward their supporters now they are out of the top eight.
The ball will be zipped from wing to wing as they parade their skills and show that they really did have the ability to finish in the play-offs, but hang on, they didn't did they! This means there will be an edge to the Bulls plays and defence as they take their frustration out of the luckless Broncos.
Bradford's supporters and owners will be saying after the game, "if only we had..." but again, they didn't.
BARRIE'S PREDICTION: Nothing for the young lads from London but a thrashing. Bulls to win by 36 points. 48-12.
Widnes Vikings v Hull KR
TERRY SAYS: Widnes had the best win of round 25, and one of the wins of the season, as their team, down to 12 men, beat the men from up the road, Warrington.
It looked beyond them before the game, but then the loss of Hep Cahill on 39 minutes seemed to inspire the side. It will be interesting to see if they can get up for the last fixture at home in 2013, a season that has seen them lose a number of close games.
Hull KR looked and played like a top side as they defeated Leeds at Headingley. They weren't afraid to throw the ball around and looked very committed and disciplined. They didn't turn up to defend, they turned up to play, and with the help of Michael Dobson and Travis Burns' kicking game they won the battle. One man that Widnes need to stop is Adam Walker. The young lad is building a big reputation in the game.
Widnes will be hoping to have Mr Hock back in the fold along with a few others who missed the game at Warrington. Probably the big question will be: will Denis Betts drop the players who beat Warrington?
TERRY'S PREDICTION: Widnes by ten
BARRIE SAYS: The Vikings' young players have their tails up. To them just playing 1st team Super League is their Grand Final and not being involved in the play-offs isn't a problem.
They will hope to carry on their good form from last weeks' win at the Wolves to show it was no fluke with the weather. They have only two games to go before a big long rest to assess how they are going to attack Super League 2014. So they will have no fear now, and their enthusiasm will be infectious enough to lift the older players as well.
The Robins will want to finish above their neighbours in the final positions and will be full of it after their win at the expense of the Rhinos in their last game. But all seasons long Hull KR haven't been able to sustain a good run, even after remarkable wins.
BARRIE'S PREDICTION: For this reason along with the confidence Widnes have at the minute I believe the Vikings will be triumphant with a 12 point win and a possible game of the round. 28 - 16
Castleford Tigers v Salford Reds
TERRY SAYS:The talking point for this game is Rangi Chase - may be playing against his future employers. He handed Castleford a transfer request last week. I think everyone was waiting to see who made the first move, well it was Chase.
The game itself could be entertaining. Castleford scored eight tries the last time they played. Chase scored one and set up five so he clearly is the man to stop. Salford played heroically well against Hull and just lost the game in the final few minutes when Joe Westerman crashed over the line from close range.
The club have really turned themselves around in the last few weeks even in defeat. With just two games to go before the end of the year both sets of players will be hoping to finish strong. Darryl Powell's men will be hard to crack playing at home. The Tigers are seeking their sixth straight home win over Salford.
TERRY'S PREDICTION: It will be a big effort from Salford but that man Chase will be out to impress Mr Koucash who has the cash.
BARRIE SAYS: The Tigers will be pleased as punch having beaten the Bulls in their last game, and will want to leave their last home game with a win before they travel to Wakefield next week in a derby game they both will want win.
Salford seem a lot a happier and more settled of late and they will have this game down as one they can win, but I don't think they will. The whole of Castleford will be wondering why they waited so long in appointing Daryl Powell as their head coach, another 'if only' I'm afraid to say.
Everyone at Castleford seem to be really enjoying the end of season run up and Daryl Powell the Tigers coach will have ninth position in the league table sewn up. Both teams play a good brand of Rugby League and compete but struggle getting a win at the end of their games.
BARRY'S PREDICTION: The game will be entertaining and will go in the Tigers' favour but a better Reds defence will make Rangi Chase show his skills to the covetous Salford owner to make sure the Tigers win by 14 points. 32-12.
Huddersfield Giants v Wakefield Trinity Wildcats
6.15pm, Sun, Sky Sports Ashes HD
TERRY SAYS: Wildcats won 35-14 at Huddersfield last season but I cannot see them winning here. It's going to be a huge day for the club and they know if they win this game the Shield will be placed in the Giants boardroom, or Ken Davy's bedroom.
The club deserves a lot of praise and they are an inspiration to lots of other organisations. The team was a yo-yo side that did not get the crowds that it deserves, but they are now (or soon will be) the most consistent performer in 2013. Let's hope the club builds on its success and moves forward to be a force for years to come.
Wakefield are the other side who have over exceeded and beaten, or managed to compete with the best sides over the last two years. This season they didn't manage to achieve their goals but they have still had a good year supported by a fantastic bunch of fans, who have turned up in numbers. Big day for the Giants but Richard Agar would love to be the little lad who spoils the party.
TERRY'S PREDICTION: Huddersfield by 16.
BARRIE SAYS: This is where I think the Giants will win the League Leaders Shield, and isn't there a better name we could call it? It doesn't seem to give value to being the most consistent team of the season does it?
Wakefield of late have fallen below their mid-season form and will not relish this trip to the home of the Giants. The Wildcats will try but they will be found wanting as the Huddersfield supporters will be celebrating with each try, and there will be plenty of them scored.
Richard Agar's men aren't going to trouble Paul Anderson's troops, but there will be periods in which Wakefield will frustrate the skills of Danny Brough, Luke Robinson and Shaun Lunt but it won't last for long.
BARRIE'S PREDICTION: A special win for the Giants, 18 points, in front of hopefully their biggest crowd of Super League. 36-18.