Barrie v Terry
Barrie McDermott and Terry O'Connor go head-to-head with their Super League predictions...
Last Updated: 14/08/13 7:32pm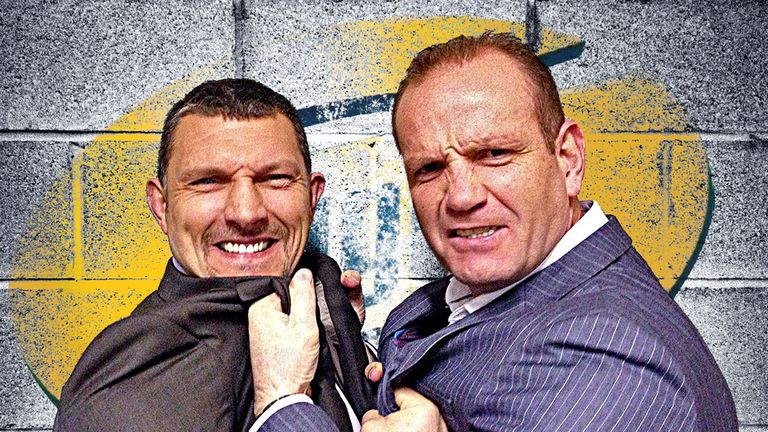 On the pitch Barrie McDermott and Terry O'Connor liked nothing better than tearing into the opposition.
They may have hung up their boots but that competitive streak still runs strong and we have found a way to channel their energies.
Each week they will preview the live televised Super League games and provide predictions for the rest of the action - and we'll keep track of who's called the most matches right. We will reward one point for a win and if they both have picked a winner then the one with the closest score will get an extra point!
After a good week from Barrie last week, Terry comes storming back with a great round 24! Can Barrie claw some points back this week?
Current standings
Round
Barrie
Terry
Round 1
6
6
Round 2
5
3
Round 3
5
7
Round 4
1
6
Round 5
3
4
Round 6
2
3
Round 7
6
5
Round 8
5
7
Round 9
4
5
Round 10
9
5
Round 11
6
7
Round 12
7
5
Round 13
7
5
Round 14
8
7
Round 15
8
7
Round 16
6
6
Round 17
5
7
Round 18
8
5
Round 19
5
5
Round 20
3
6
Round 21
6
11
Round 22
5
8
Round 23
10
8
Round 24
5
8
Total
135
146
Warrington Wolves v Widnes Vikings
8pm, Thu, Sky Sports 1 HD
TERRY SAYS: Derby games throw up freaky results, it happens in different sports it's not just exclusive in rugby league. Widnes actually beat Warrington earlier this season against all the odds 38-22.
If we look at the facts, Warrington are the best attacking side in the competition, whilst Widnes have the third worst defence. The positive for the Vikings is that they can score points - only the top 4 teams in the comp have scored more than the Vikings.
Is it me or has everyone forgot about Warrington? They are second in the table on merit and look good value. I'm sure the players who sampled the atmosphere last season at Old Trafford want more. Some of the lads are not getting any younger and this could be the last chance some of them get as they strive for that Grand Final winners ring.
TERRY'S PREDICTION: Another defeat for the black and whites last week when they scored enough points to win the game. If they had next season's marque signing Danny Tickle playing they would have won. They missed five conversions against Castleford and that was the difference in that game, plus five other games this season. When they look back through the year they will kick themselves (if they can).
The club have lost by six points or less on six occasions and drawn twice - that's 14 vital league points dropped by the Vikings. Warrington have a fit squad apart from Richie Myler and Widnes have picked up a few injuries from Sunday so it will be interesting to see what team the Vikings can put out. Warrington by 24.
BARRIE SAYS: I know the Wolves will not agree with me, it might be that not being involved in the Challenge Cup Final has been a blessing for them? The Vikings will suffer the full attention of Warrington as they try to win the actual league and the Grand Final.
This is a no-brainer I'm sorry to say and the Wolves will beat Widnes who are actually having patches in most games at present with a small squad, but it seems difficult for them to cope.
With the way that Castleford and Salford are finishing their season in style it could be that the Vikings are involved in a very competitive bottom three only because London are out of that and claimed the wooden spoon as their own.
BARRIE'S PREDICTION: On a hot night with a very fast track lots of points will be scored there were 80 last week so I'll go for the same this week as the Wolves run away with the game by 36 points.
Hull FC v Salford City Reds
TERRY SAYS: I thought Hull played very well in the second half against Hull KR. They scored three tries in a six minute spell in the last 30 minutes and they never looked back.
Defensively they hit hard and controlled the ruck speed. If they can score more points they could threaten other sides in the top 8. One game to go before Wembley, places up for grabs to play on the big stage. If any of the lads go into this game under-prepared and focusing on the next they could pick up an injury.
I'm sure this will be a tough game because Salford will know that Hull have the Challenge Cup around the corner. Have Salford got enough attacking flare to break down Hull? I'm sure they could, but can they do it enough times to score more points than the black and whites.
When you look at Hull FC's pack you realise what a good side they are. Gareth Ellis, Joe Westerman, Danny Tickle, Mark O'Meley Liam Watts and the impressive Danny Houghton - those six players alone could be the difference without talking about the backs.
TERRY'S PREDICTION: A good test for Hull but everyone will be excited for what will follow this game, a great atmosphere at the KC and a good win. Hull by 18 points.
BARRIE SAYS: Hull appear to be relishing being in the Challenge Cup Final and their players are desperate to prove to their coach Peter Gentle that they deserve to be picked in the Cup Final team. Salford also appear to be relishing the final games of the season.
This will prove to be an exciting game because the Salford players will be wanting to either prove to their coach Brain Noble that they should be retained at the club or to impress other potential clubs of their prowess.
BARRIE'S PREDICTION: I do think it will be a Hull win because the Black and Whites will want to go to the Challenge Cup final with a home win in front of their own supporters but injuries will not be risked and Tom Lineham - who has been a revelation - won't make this in a bid to make the final. It will be close but Hull will start really well and leave the Reds with too much to do. A 14 point win for Hull.
Leeds Rhinos v Hull Kingston Rovers
8pm, Fri, Sky Sports 3 HD
TERRY SAYS: Hull KR have lost three in a row and two of those were away from Craven Park. They have lost eight games away from home this season out of the 12 defeats they have suffered. Leeds Rhinos are one of the four sides to beat KR at Craven Park.
The luck has not followed the Robins in the last few weeks, calls going against them and some key players missing. The injury to Greg Eden on Sunday disrupted the Robins attack and they didn't look comfortable in attack when he left the pitch. The physios will be working hard on trying to get some of the stars back, unfortunately for Eden his season is over.
Leeds have scored 103 points in their last three games and they are building in confidence every week. Sitting fourth but could be looking at third if Wigan slip up, or will they want their lucky fifth spot? I wonder if a 50/50 call will go Craig Sandercock's way on Friday. They might need the odd call going to them at Headingley to help them defeat the champions.
TERRY'S PREDICITION: The Rhinos all-round game and class might just be too much for a side that has some major injuries and I'm sure doubts going into this game. It's also great to see one of the Rhinos star players Brett Delaney committing to Leeds for the next five years. Once they go to Leeds very few players want to leave. Rhinos by 16.
BARRIE SAYS: Hull KR have forgotten how a win feels like, and they won't be remembering how it feels like after this game either! The Rhinos don't seem to be able to play a game without having a player of theirs seriously injured, but what a set of young players they have at their disposal who seem to fit into the team effortlessly.
Hull KR don't have that kind of depth in strength because it actually takes years with a lot of forward planning but by golly, it's proven to be worth it hasn't it?
BARRIE'S PREDICTION: It will be a close game to start with but the Rhinos will move away in the last 20 minutes as the Robin tire and fall of the tackles. A Leeds win by ten points.
London Broncos v Huddersfield Giants
TERRY SAYS: The games don't get any easier for the Broncos. Huddersfield, The league leaders go to the capital sitting on top of the table and surely they are the team that will lift the league leaders shield.
The players have performed consistently throughout 2013 and I'm sure they will turn up to the capital with a professional attitude to get the job done. Last week against the much fancied Wigan team the Giants only missed 13 tackles, yet they forced Wigan into making 34 mistakes in defence.
A player who is worthy of a mention is Scott Grix - he was superb last week. Scott has had a number of clubs over his career but he looks settled at the Giants. The decision to let Greg Eden leave Huddersfield left a few people puzzled, maybe Paul Anderson knew what he had in Grixy.
London will be playing at home for the last time this season and who knows where they will be next season. After this weekend's game they finish off with Bradford and Hull KR. The performance department will not want to finish with three losses and will not want to concede 113 points, if they do they will have conceded over 1000 points.
TERRY'S PREDICTION: I'd love to see Tony Rea's men get up for this game but surely the Giants will not let the top spot slip. Huddersfield by 30.
BARRIE SAYS: The Giants aren't playing at the top of their game but nevertheless they have found a way to win as Wigan found out to their cost last week.
I think it is harsh to say the Broncos have given up trying this season but they need to be better and Tony Rea will need them all to play at 100%. I don't know but it won't make any difference to Danny Brough as he makes every England Rugby League supporter go green at the gills as he will be showing his sublime talents in Scotland's colours in this year's World Cup.
Brough seemed to saunter around in the victory against the Warriors last week but still was the best half back on show.
BARRIE'S PREDICTION: London's youngsters will try but they don't have the senior players around them to guide and steer them. Brough will be in charge and will plot a Giants win by 38 points.
Catalan Dragons v Wigan Warriors
TERRY SAYS: The Dragons love playing against Wigan. If you cast your mind back to 2006, Catalan asked to play Wigan in their first game in Super League. A packed house on that night and it will be another full house as the Cherry and Whites roll into town.
Will Ben Flower, Sam Tomkins and Sean O'Loughlin be back, will they be risked in a ferocious game? When you're the coach of a side that's about to play in the final you need to manage your side carefully. Do you risk travelling to the south of France with your best side hoping to pick up the points and not any injuries, or do you leave a few of the older stars at home so they can prepare for next week?
Catalan showed a lot of character last week when they came back against Bradford. 18-4 down at half-time looked impossible for the French side to get back into the game let alone win. However it was a fantastic win especially if you look at some of the results they've had in the previous three rounds. Beaten by Salford, Saints and a six point win over London.
TERRY'S PREDICTION: I would love to see the squads before I put my money on this result. Shaun Wane has said that he is picking his best side that he has available to him. This could be a shock result in favour of the Dragons, a good time to play Wigan or a bad time? Wigan by 10.
BARRIE SAYS: The Dragons got out of jail with a late Thomas Bosc score last week against the Bulls and the game could be that close once more this week as Wigan will want to go to the Challenge Cup Final with a win.
The Dragons are fired up as they believe they aren't getting a fair deal from the match day officials and disciplinary. Steve Menzies, the old man of Super League, is retiring for good this season and will want to go out in a blaze of glory with a Grand Final Medal.
The Dragons are at home as well and this advantage will prove the quality of Wigan and with some of their best players returning, a Catalan test is the right remedy for the recent bout of flu.
BARRIE'S PREDICTION: The Warriors coach Shaun Wane will be a worried man hoping the returning players don't suffer a recurrence of their injury problems. An away win for Wigan by ten points.
Castleford Tigers v Bradford Bulls
TERRY SAYS: Castleford showed last week in the final stages against Widnes that they have quality in the side when Rangi Chase is off he pitch. Chase was sent to the sin in along with Kevin Brown for trading blows.
Castleford behind at that point rallied to win the game and claim two vital points. Since Daryl Powell took over Cas look a different side. The players look happy and you can see that in their performances.
Bradford on the other hand well and truly had the points in the bag on 73 minutes, then Brett Kearney was sin binned and they lost the game. The players did enough to win the game and at half-time had it in the bag, the next 40 went the other way.
TERRY'S PREDICTION: Bradford beat Wakefield, Hull and run Wigan very close in fact that was another game they failed to win in the final minutes. A very good side who are focusing on the performances on field, they cannot control anything else. Two decent sides who can score points defence will be key for both sets. Bradford by ten.
BARRIE SAYS: Technically the Bulls can still reach the play offs but they are relying on the teams above them to lose as they win all the rest of their games...but the Tigers are going to burst that particular balloon.
Everyone at Castleford seem to be really enjoying the end of season run up and Daryl Powell the Tigers coach will have ninth position in the league table sewn up. Both teams play a good brand of Rugby League and compete but struggle getting a win at the end of their games.
BARRY'S PREDICTION: The game will be exciting as both sets of defences are not as tight as their coaches would like so it will be a high scoring game, but a close one resulting in a Tigers win by eight points.
Wakefield Trinity Wildcats v St Helens
TERRY SAYS: What a difference a few results make. Saints have won six out of the last seven games. Players have had to play different roles because of the injuries. A lot of pressure is on Jon Wilkin's shoulders. In Saints half Wilkin plays as a 9, in the opposition's half he plays as a halfback, he then has responsibility of the kicking duties.
The players have different roles within the side and results show recently that's it's working. One player who isn't playing like an outside back is Alex Walmsley, the giant had a field day last week against London. I have no idea why London kept kicking to him from the restarts.
Why would you kick the ball to a 10ft monster who wants to steam onto the ball? Trust me, it's easier to kick off to the other side and then on the next play get off the line quick and try to stop the giant before he gets into his stride.
Adam Swift was another unknown at the start of this season and he looks quality on the wing. He's brave, quick, got very good footwork and balance and he's a youngster.
Battling Wakefield have now lost their last four games against Warrington, Bradford and Leeds. All of those games they had opportunities to win and played impressively. They do rise to the challenge of playing against the big sides and they will try and play this game as physical as they can. They are up against a young side who they will look to bully.
Richard Agar is doing a great job and I hope he can keep hold of his squad of players for next year. Rumours going around the rugby circles is that Tim Smith is wanted by Salford, and Danny Kirmond is wanted by most teams.
TERRY'S PREDICTION: Tough game to call but I can't sit on the fence, I suggest Barrie doesn't either in case he breaks it. St Helens by eight points.
BARRIE SAYS: A few weeks ago the Wildcats supporters were dreaming of a top eight finish and maybe a Grand Final appearance but what a difference a few weeks make eh? The Saints supporters have seen that difference in their team in the last few weeks so much so they really believe they will reach the Grand Final again this season.
Realistically the Saints already occupy the position I think and they think they will finish the season in the coveted 5th spot. But the Dragons and both Hull clubs could take that place from them so this will spur them on to a victory.
BARRIE'S PREDICTION: Trinity are playing well enough but a win just seems to elude them and their vocal loyal supporters who will turn out again hoping to see their hero's beat a very good Saints outfit who will disappoint them by posting a 10 point victory to secure the 5th position.
Wakefield are only just losing and they are competing in every game but they just cannot manage to put a game to bed with a ten point win.