Barrie v Terry
Barrie McDermott and Terry O'Connor go head-to-head with their Super League predictions...
Last Updated: 08/08/13 4:08pm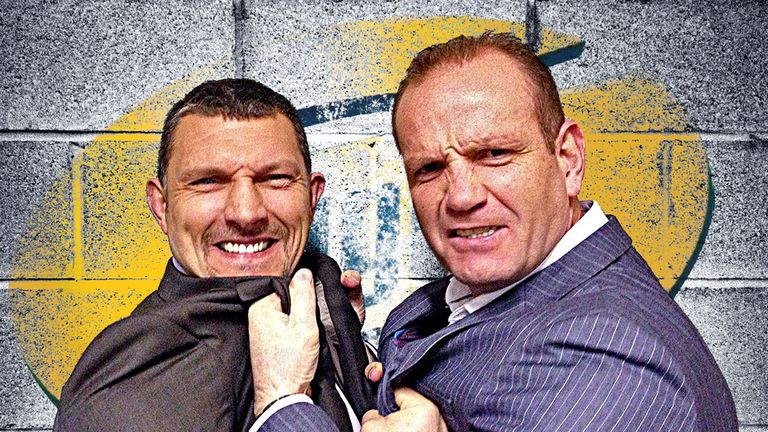 On the pitch Barrie McDermott and Terry O'Connor liked nothing better than tearing into the opposition.
They may have hung up their boots but that competitive streak still runs strong and we have found a way to channel their energies.
Each week they will preview the live televised Super League games and provide predictions for the rest of the action - and we'll keep track of who's called the most matches right. We will reward one point for a win and if they both have picked a winner then the one with the closest score will get an extra point!
Terry still has the lead after Round 23 but we are confident that Barrie can start making some inroads into that lead, after picking up two extra points last week!
Current standings
Round
Barrie
Terry
Round 1
6
6
Round 2
5
3
Round 3
5
7
Round 4
1
6
Round 5
3
4
Round 6
2
3
Round 7
6
5
Round 8
5
7
Round 9
4
5
Round 10
9
5
Round 11
6
7
Round 12
7
5
Round 13
7
5
Round 14
8
7
Round 15
8
7
Round 16
6
6
Round 17
5
7
Round 18
8
5
Round 19
5
5
Round 20
3
6
Round 21
6
11
Round 22
5
8
Round 23
10
8
Total
130
138
Wigan Warriors v Huddersfield Giants
7.30pm, Thu, Sky Sports 3 HD
TERRY SAYS: This game will decide who lifts the League Leaders' Shield and all the big guns will be back for Wigan. Paul Anderson's men beat the Warriors 22-10 in February and also claimed a 20-16 victory over Shaun Wane's side at the DW last season. And this year, they have both led the way.
Whoever says props are thick have made a mistake because two of them expected these two to be leading the way from the start! And when I say two men have played props - Great Britain internationals as well - are part of the Sky Sports team on Friday night, who better to pick the big winners.
When you look at both sides, who would you hand-pick to play in your dream team? Shaun Lunt, Danny Brough, Eorl Crabtree, Luke Robinson, Logan Tomkins, Blake Green, Josh Charnley, Lee Mossop... you take your picks! Whichever way you go, what an immense talent in both camps and that is why they are at the top.
Wigan will be without Matty Smith, Man of Steel contender Sean O'Loughlin and Ben Flower, which are three big, big losses but Sam Tomkins, Pat Richards, Liam Farrell and Gil Dudson all return to Wane's 19-man squad, which is a welcome bonus.
TERRY'S PREDICTION: The loss of O'Loughlin makes me look at Huddersfield for this game, but it is a flip of a coin. My heart says Wigan but my head says Huddersfield. I'll go with my head, so Huddersfield by six.
BARRIE SAYS: Well, will it be a Danny Brough show again? Danny seems to have the magic touch about everything he does at the moment and the Giants need his spells to work at the home of the Warriors if they are going to come away with anything.
The Giants have individuals who perform to a high standard but if they clock off in defence or attempt an impossible pass, it could go one of two ways. But hey, that's why they are at the top of the league!
Wigan are stumbling to the top and will have to be better in defence if they are to have any chance of stopping the Giants and at the time of calling this one I don't know the team but they do need a full compliment out to make sure of the two points for a win, never mind the Shield. But even then, I think the Warriors will struggle with all that the Giants will throw at them.
BARRIE'S PREDICTION: Another close game and if Tomkins doesn't get over that illness and doesn't start, Wigan will lose control of the game in the last 20 minutes and Giants will win by six points, 32-26. But Tomkins is back in the squad so I am sticking my neck out and going for the reverse: Wigan 26-23!
Salford City Reds v Leeds Rhinos
TERRY SAYS: Salford played OK last week even if the 46-4 scoreline suggests Huddersfield humiliated them. If you miss six tackles, you could find yourself 36 points behind and let's face it, it was against high-flying Huddersfield.
Leeds travelled to London on an emotional day, after news broke that former coach Graham Murray had passed away. They will be missing former Salford favourite Joel Moon and Brett Delaney and that blow could be softened by the return of Danny McGuire in a few weeks. It was feared that Danny would be out all year.
This time of year is all about the countdowns: for some teams until the play-offs, others the end of the season! I'm sure there are good things on the horizon for both sides: Leeds this year and Salford next, with the side that Brian Noble is assembling with Mr Koucash's cash!
TERRY'S PREDICTION: It might well be different next season and with or without McGuire, it goes Leeds way. By 12.
BARRIE SAYS: Brian Noble introduced a host of new young players to the Super League last week in their 46-4 defeat at the hands of the Giants and I think it has the possibility for a similar score this week.
Rangi Chase and the Tigers have agreed terms for next season and he was rumoured to be going to Salford amongst a few other clubs, so the Reds supporters will have to wait a bit longer for something to cheer about!
The Rhinos are not far off clicking for the full 80 minutes but even without that, they will have enough.
BARRIE'S PREDICTION: I am expecting the Rhinos to win and to put down a heavy scoreline, winning more than comfortable, 46-10.
St Helens v London Broncos
TERRY SAYS: So that's three in a row for the Saints. Isn't it good to see a coach putting his players first before the result? Gareth O'Brien has taken two heavy knocks recently so Nathan Brown has stood him down. The confidence is building back at Langtree Park and that's a warning for everyone else.
London will be missing Luke Dorn and Michael Robertson from the back line in this game, so an opportunity will be given to a young starlet. The Broncos beat Saints earlier this year 21-14, they also tested Brown's men last season in Round One but eventually lost 24-34 and more worryingly, the last time they visited Langtree Park they conceded 30 points - and failed to score.
TERRY'S PREDICITION: I can see this game going the Saints' way. They have had to cop a lot of flack this year, but I'm sure that's made them stronger as a group. Saints by 18!
BARRIE SAYS: Jon Wilkins indicated the mood in the Saints camp last week when he said they expect to win the Grand Final from fifth place! And then the Saints went about demolishing the Dragons away from home as they put a marker down saying: "We are the team to beat.".
The Broncos are in a very bad place I'm afraid, they put in a good enough showing last week against the Rhinos but it was Leeds who took their foot off the pedal that allowed the London team to salvage a bit of pride. But don't expect that from St Helens!
All of that Saints team seem to complement each other, knowing exactly where they should be in support each other. The good people of St Helens haven't had too many to cheer in 2013 but Browny's boys will have a rare shindig here!
BARRIE'S PREDICTION: Another win for the Saints by 32 points, so I'm going to be ultra-accurate and pick 42-10!
Warrington Wolves v Wakefield Wildcats
TERRY SAYS: This game is not for the faint-hearted! Adrian Morley has come out and said that he wants to finish off with the League Leaders' Shield along with the Grand Final trophy silverware, which is firmly in the sights of the Wolves players!
They were behind last week for most of the game but didn't they show great character in the second half against Castleford? A big blow for them is the loss of Richie Myler though, definitely for this game anyway. Fingers crossed the England international hasn't damaged his knee ligaments again.
Wakefield played at the HJ Stadium last March in a pulsating game but eventually going down by 32-30. They are a more stable side, and probably better as well. Richard Agar had added to his team and he's also had a healthy side over the last few years, so he's also had the consistency on the pitch in key positions.
TERRY'S PREDICTION: A great battle in prospect and if I still played I'm not sure I'd like to play against this rugged Wakefield pack. The class and speed of Warrington in the end might just be the difference...by 16!
BARRIE SAYS: Tony Smith, the Wolves coach, is highly delighted with the way his charges have responded from being knocked out of the Challenge Cup, as they won by 10 at the Tigers last weekend.
Trinity are having a rough time of it lately but still remain a decent outfit but they will be disappointed again as they drop out of top eight contention because Warrington will inflict a high score on.
But whose players will be wondering who the club need to sell/not sign for next year as they try to balance their books?
BARRIE'S PREDICTION: I am going for a home win by 28 points.
Hull KR v Hull FC
2.00pm, Sun, Sky Sports 1 HD
TERRY SAYS: When you play your nearest and dearest you need to be playing well and both sides are. Hull FC thrashed Widnes, whilst I feel KR lost in controversial circumstances at Wigan last weekend. I also believe that form isn't everything going into these games. Look at Wigan a few weeks ago when they played Saints; everyone thought it was in the bag for the Warriors, apart from the Saints players!
When you mention this fixture I automatically think of the Magic Weekend when Green scored the winning try to break the KR fans hearts. What you will get from both sides is commitment. Lots of players on both sides who have played for the other team, so that extra bit of motivation.
You can ask everyone involved at both clubs and they'll tell you that the lads have trained exceptionally this week. They will also be apprehensive for what is to come. It's vital that your first touch in a big game is good one.
TERRY'S PREDICTION: Home advantage doesn't exactly count in these derbies but I'm going for KR at home by 8.
BARRIE SAYS: Will Hull FC suffer the wrath of the Rovers, who will be so, so angry at losing last week at Wigan because of another mistake by the video ref?
The Challenge Cup Final is getting nearer and the Hull players will be wanting to show their coach Peter Gentle that they are the one he has to pick so I don't expect any 'holding back' from them... especially because the game is the ONLY true derby!
The KR are playing exceptionally well despite losing against Wigan, while FC are improving every week. Hull FC really need to forget the cup final and secure their top eight place by beating the Robins and swapping league positions with the win... but I don't think they will!
BARRIE'S PREDICTION: It will be a full house and my game of the round at Craven Park to see the Red and Whites beat the Black and Whites by 10 points - 32-22.
Bradford Bulls v Catalan Dragons
TERRY SAYS: The Dragons have slipped to sixth in Super League after losing three of their last four games. They have Zeb Taia banned and I'd be shocked if Daryll Millard makes the side after leaving the field last week with a knee injury.
The Catalan chairman and coach have had a go at the game and the way they are treated. This comes around because Taia was banned. The ban was the correct decision in my opinion, although Taia didn't make contact with the head, it was a shoulder charge (banned, but does not automatically come with a suspension).
Zeb, in my opinion against, was banned because it was late. Trust me, if you want to pull out of a tackle you can in a split second. Barrie was one of the slowest players in Super League and even he could stop! Or could he? Or were his intentional?! I agree with the Catalan chairman Bernard Guasch we do have inconsistencies in certain decisions.
Bradford beat a very spirited Wakefield team at Belle Vue even with all the problems bubbling behind the scenes at the Bulls. I'm sure at home they will be fired up for this game and you would imagine a big turnout from the Bulls faithful.
TERRY'S PREDICTION: Even though Bradford's form over the last 10 fixtures has differed, they can beat Catalan if they play like last week. Bradford by 10.
BARRIE SAYS: The Dragons need another win to make sure of their top-eight place but then the Bulls need the two points to keep their own top-eight ambitions alive.
The Bulls secured a great win at the expense of the Wildcats last week away from home, where they showed good character to not panic in the last minutes and to play adventurous rugby - and they will need to repeat this formula again to beat the French team.
The Dragons look rudderless and are playing without direction, just going through the motions hoping the other team slip up... but the only slip up will be from Catalan as they try their best to withhold the flair of the Bulls.
BARRY'S PREDICTION: Bradford will win by 14 points, 30-16.
Widnes Vikings v Castleford Tigers
TERRY SAYS: The Widnes players let themselves down last week: when you concede over 70 points that's personal! I've never seen lads miss a tackle bag in training, but I'm sure Denis Betts will have identified individuals who didn't perform. The coach said after last week's performance that he was embarrassed by the performance. Will those comments be enough to rile the Vikings players, is that the kick up the backside they need?
Castleford are in great form at the minute. They have beat Wakefield, Wigan, Hull, Hull KR, and got close to Warrington and Huddersfield in the last two fixtures. In fact last week they lead at HT 24-12 v Warrington.
They did have the majority of possession in the first 40 and had all the momentum. If they can play with the same speed and intensity, this game will go to Castleford.
Widnes will want a response and at home, it could happen. But they will have to be good. They will want to win this game. And if they do they'll jump ahead of Widnes in the table on points difference.
TERRY'S PREDICTION: Without seeing the squads I'm going to go with Widnes as it's at home and because of the humiliation they suffered last week they will come out firing. My only concern is can they keep it up for the 80 minutes? Widnes by six points.
BARRIE SAYS: The Tigers are feeling good and the Vikings aren't - and that sums up how the game will go. The Vikings will be desperate to show their supporters and coach they are no 'easy beats' but I don't think it will be this week.
Rangi Chase will want to leave the Tigers at the end of the season with a top drawer performance in the rest of the league games and the Vikings defence will not have a clue how to stop him . But then again, who can?
It means a Tigers win but not an easy victory at all as the Widnes players cannot play as bad as they did last week in the drubbing at Hull.
BARRIE'S PREDICTION: It will be end to end with plenty of mistakes from both teams but an eight-point win for the West Ridings club: 28-20 to Castleford.