Barrie v Terry
Barrie McDermott and Terry O'Connor go head-to-head with their Super League predictions...
Last Updated: 23/07/13 5:37pm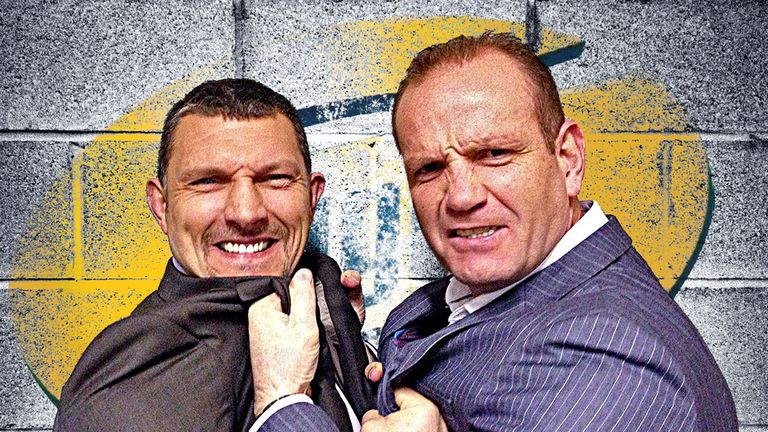 On the pitch Barrie McDermott and Terry O'Connor liked nothing better than tearing into the opposition.
They may have hung up their boots but that competitive streak still runs strong and we have found a way to channel their energies.
Each week they will preview the live televised Super League games and provide predictions for the rest of the action - and we'll keep track of who's called the most matches right. We will reward one point for a win and if they both have picked a winner then the one with the closest score will get an extra point!
Terry had a fabulous Round 21 and has opened up a seven-point lead over his mate Barrie - but Barrie is not going to take that and we expect him to come roaring back in Round 22!
Current standings
Round
Barrie
Terry
Round 1
6
6
Round 2
5
3
Round 3
5
7
Round 4
1
6
Round 5
3
4
Round 6
2
3
Round 7
6
5
Round 8
5
7
Round 9
4
5
Round 10
9
5
Round 11
6
7
Round 12
7
5
Round 13
7
5
Round 14
8
7
Round 15
8
7
Round 16
6
6
Round 17
5
7
Round 18
8
5
Round 19
5
5
Round 20
3
6
Round 21
6
11
Total
115
122
Bradford v Hull FC
7.30pm, Fri, Sky Sports 1 HD
Terry says: Bradford are not playing well at the moment - they have lost six in a row and Francis Cummins has lost Adam Sidlow and Matty Blythe. However, the good news for the Bulls is that they get back Brett Kearney, Jarrod Sammut, Jamie Langley, Tom Olbison and Chev Walker. That will be a huge lift for the home fans. Hull FC have genuine silverware ambitions this year but I am worried that Challenge Cup game in Catalans has taken too much out of them.It was unbearable for some of the players and it may have taken its toll on them.
TERRY PREDICTS: If Bradford have any ambitions of making the play-offs, then they have to respond on Friday night. With all their players back they just have to turn it around and I think they will win by six points.
Barrie says: The Bulls have been very unpredictable over the last six weeks and Francis Cummins will be keen to start gaining some momentum for the end of season push for pla-yoffs. FC were very impressive last week in the heat and humidity of Catalans but that energy will take time to replace.
BARRIE PREDICTS: The Bulls will show that they aren't done yet and get a narrow home win by two points.
St Helens v Wigan
7.30pm, Mon, Sky Sports 1 HD
Terry says: Forget about form, this is a derby and anything can happen! I understand the frustration from the Saints fans as their side have only won four home games this year. Injuries have taken their toll but they will raise their game for this one. It's not all doom and gloom as their youngsters are getting that Super League experience that will hold them in good stead for next season. Wigan have not been in great form - Shaun Wane will tell you that himself. This is a chance for some of the outstanding Saints youngsters to pit themselves against some of the seasoned internationals that Wigan have. Matty Smith is a player who I think has a point to prove to get into that England squad.
TERRY PREDICTS: We have two great teams who love nothing better than beating each other, however I think Wigan will win by eight points.
Barrie says: Sean O'Loughlin, Lee Mossop and Sam Tomkins returned for the Warriors in last Monday's game against the Vikings and what a difference they made. Tomkins and O'Loughlin were brought off as soon as Wigan began to dominate the Vikings and they will be chomping at the bit to play in this game. Saints star James Roby will miss the rest of the season and it his absence that will be noticed. Saints will not want to lose at home to their bitter rivals and they also really need the two points to ensure they don't drop out of the top eight. However, as much as they will be prepared for this game, it's hard not to predict Wigan to blast them in the first half and take the game beyond Saints.
BARRIE PREDICTS: Wigan will get better as the season begins to count down and they will take pleasure in beating their neighbours by eight points.
Leeds v Wakefield
Terry says: When these two meet they usually deliver some real thrillers and I am hoping Friday will be no exception. The problem for Leeds is that they still have so many stars and leaders out but I have been so impressed with the likes of Liam Sutcliffe and Brad Singleton, however the 'old dog' Jamie Peacock has been superb. In his last game against Warrington he made 51 tackles, 30 carries and 133 metres - that is three games of stats for Brian Carney! Peacock is a shining light for all youngsters in that side and he really shows them what they need to do to make it at this level. On Friday he will be up against Danny Kirmond who inspires his Wakefield team mates to raise their game. Wakefield are missing Paul Sykes and Dean Collis which is a big blow for them so will they rise to the challenge of playing against the Champions without these two?
TERRY PREDICTS: I still expects Leeds, playing at home, to have just enough and win by 10 points.
Barrie says: The Rhinos will have to be at their best to beat a Wildcats side full of confidence and spirit. Both teams have serious injuries to their star players but the players who are replacing them are showing their respective coaches that they want to keep their place no matter who declares himself fit to play. Leeds are willing to throw the ball around but in a responsible manner as the young players bond with the more experienced statesman to produce an exciting brand of rugby. Trinity will have to have their wits about them. Wakefield aren't as expansive as their hosts and will rely solely on Tim Smith to execute their game plan, and this will prove to be the deciding factor. Brian McDermott, the Rhinos coach, will have players leaving the defensive line at speed to nullify any threat from Smith, they will need to keep an eye on Paul Aiton from the dummy half, too, with his lightening breaks from the play the ball.
BARRIE PREDICTS: The Wildcats shouldn't cause to many problems for Leeds. It will be a tight game until the final 15 minutes as the Rhinos increase the score to win by 16 points.
Salford v Catalans
Terry says: At Salford it is all about the rumours going on off the pitch at the moment. The latest player that they want is Frank Pritchard and if the rumours are true that they have Tony Puletua joining Adrian Morley there next season, well suddenly you have to sit up and take notice! But that is for next season and I am not sure they will have enough for this game. In my humble opinion, Catalans have been disappointing in recent games. They seem to have lost focus and I presume now that they are out of the Challenge Cup they will regroup for the Super League. I expect their coach Laurent Frayssinous to give them a right going over this week as they were really sloppy against Hull FC.
TERRY PREDICTS: I think Catalans will have worked hard this week to get their focus back and will go for them to win by 14 points.
Barrie says: Salford are recruiting more and more personnel on and off the field with the appointment of David Matthews as their new chief executive, but is it helping them on the field of play? It won't help immediately but this is a game in which they have a chance of winning if they commit themselves defensively. The Dragons will not be happy with the way they played losing to Hull in last week's Challenge Cup quarter-final, they were extremely un-Catalans like and were poor carrying the ball and losing possession even in a light as a feather 'Terry O'Connor' tackle! They can't rely on the talents of Morgan Escare to get them out of trouble every week. Thomas Bosc might be back for the French outfit and he could make a lot of difference in moving them around the field but I'm backing Salford to get an unlikely two points. Their coach Brian Noble will have had a good two weeks to install a defensive system that will prove to be good enough to endure an onslaught from the Dragons.
BARRIE PREDICTS: A close game but a fresh Reds team to win by eight points.
Widnes v London
Terry says: We have two teams desperate for a win here! Widnes coach Denis Betts would have been absolutely furious with their display against Wigan in the Challenge Cup. Five of the tries that Wigan scored were from Widnes errors - you cannot gift the opposition tries like that. We still saw glimpses of what they are capable of doing and showed that they are an exciting side. London themselves were not convincing against Sheffield, they are missing Michael Witt, Tony Clubb and Jamie Soward. Clubb has also come out saying he wants away from the club which is never a good sign from your captain.
TERRY PREDICTS: I am worried for London, they do have a Challenge Cup semi-final the following week but they have too many players out and I also think there will be players in preservation mode. I take Widnes to win this game by 20 points.
Barrie says: I bet Denis Betts, the Vikings coach, will have put this fixture as a banker of two points a few weeks ago, but he will be having second thoughts now. The Vikings were well beaten on Monday versus the Warriors in their quarter-final game and didn't show their usual team spirit but the London Broncos won comfortably enough in the end against a spirited Sheffield Eagles; they looked as if they were having the time of their lives as they clearly enjoyed a rare win. Jamie Soward of the Broncos has found his feet and is having a massive influence on his team-mates who have really responded.
BARRIE PREDICTS: Jon Clarke of Widnes will be busting a gut in his efforts and it is the only way he knows, but unless his fellow players mirror his endeavours it will be in vain as the Broncos will win by eight points.
Huddersfield v Castleford
Terry says: I think we were all disappointed in Huddersfield when they played against Warrington in the Challenge Cup. A lot of people said that their forwards were dominated but I think they had an off-day. I have never seen them play that bad this year and I was looking at some of the players and wondering why they were still on the field. I think there will be a massive response from the Giants this week. Cas are a very good side -they have beaten Wigan recently and have the tank Justin Carney out on the wing. If you could get another 12 Carneys in a defensive line they would absolutely annihilate sides!
TERRY PREDICTS: When you lose a Cup game you become more focused and I think the way Huddersfield lost that Cup game will really come hard in this game. I think they will win by 18 points.
Barrie says: The Giants looked a bit embarrassed after losing to the Wolves in the Challenge Cup game last week. The Wolves were on fire but it didn't excuse the performance and the harsh lesson the Giants learned. The Giants coach will want his players to stick together and hold their collective nerve against a revitalised Tigers team but it will be easier said than done. Daryl Powell, the Tigers coach, will have worked with his team in the spare week to put some plays together and work on their defensive efforts. Castleford will try to take every chance that the Giants will give them but surely Huddersfield cannot misfire two weeks on the trot?
BARRIE PREDICTS: Being a romantic I would love the underdog to win but the realist in me says the home side will be the victors by nine points.
Warrington v Hull KR
Terry says: This will be a good test for KR, they are in a rich vein of form at the moment but then again Warrington are hitting all the right notes at the business end of the season. Tony Smith will be very positive coming into this game. Richie Myler still won't make this game - he may be in the 19-man squad but they still have plenty of talent to call upon. I cannot wait for the battle between Ben Westwood and Cory Paterson, it will be one almighty clash!
TERRY PREDICTS: I am going to go for the home side and expect Warrington to win by 18 points.
Barrie says: Two form teams, two teams who play attacking football but one of the teams have a shocking points difference, -45 to be exact. This is an easy call as I think the Wolves have upped their work rate defending their line and they are a joy to watch as they work for each other, take chances and construct attacking plays and play with aggression. Ben Westwood and Trent Waterhouse dealt with the Giants' edge attack and I expect they'll be asked to do a similar job with the danger men of the Robins.
BARRIE PREDICTS: There will be plenty of points scored but mostly by the Wolves as they will win by 18 points.