Barrie v Terry
Barrie McDermott and Terry O'Connor go head-to-head with their Super League predictions...
Last Updated: 09/07/13 10:56am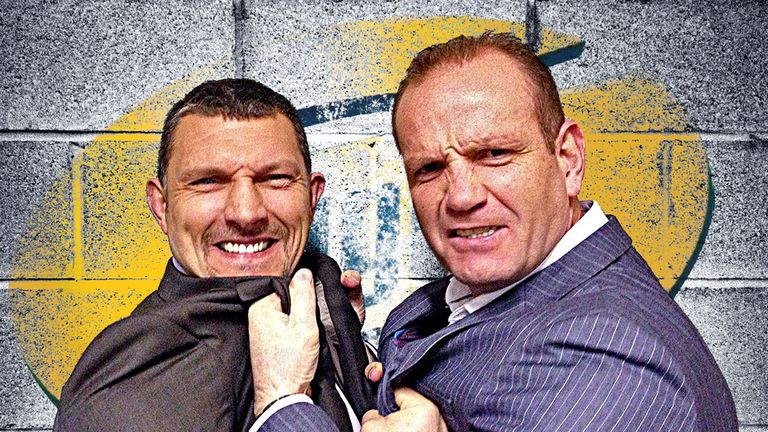 On the pitch Barrie McDermott and Terry O'Connor liked nothing better than tearing into the opposition.
They may have hung up their boots but that competitive streak still runs strong and we have found a way to channel their energies.
Each week they will preview the live televised Super League games and provide predictions for the rest of the action - and we'll keep track of who's called the most matches right!
Terry came roaring back in round 20 to overtake Barrie and take a three-point lead - will he be able to hold onto that lead after Round 21?
Current standings
Round
Barrie
Terry
Round 1
6
6
Round 2
5
3
Round 3
5
7
Round 4
1
6
Round 5
3
4
Round 6
2
3
Round 7
6
5
Round 8
5
7
Round 9
4
5
Round 10
9
5
Round 11
6
7
Round 12
7
5
Round 13
7
5
Round 14
8
7
Round 15
8
7
Round 16
6
6
Round 17
5
7
Round 18
8
5
Round 19
5
5
Round 20
3
6
Total
109
111
Warrington v Leeds
7.30pm, Fri, Sky Sports 1 HD
Terry says: There are a lot of positive vibes going around the Wolves camp at the moment and they really seem to be on a roll. Richie Myler may be missing but they can bring in the likes of Chris Bridge, who will probably move to centre, while Stefan Ratchford, who has been Warrington's best player this season, will probably partner Lee Briers in the halves. Leeds were outstanding last week against Widnes - especially in the first 40 minutes. They won every collision and their youngsters really stepped up - especially Liam Sutcliffe who looked like a young Kevin Sinfield. Sutcliffe, along with Rob Burrow, played controlled but expansive rugby and they blitzed Widnes. Their youngsters have certainly stepped up but how long can they keep on putting in these fantastic performances when they are not used to them? The toils of playing Super League are bound to start to take effect soon.
TERRY PREDICTS: I imagine Leeds will give a very good account of themselves as they always do but I am expecting Warrington to be too strong and to win by 10 points.
Barrie says: The young guns of the Rhinos will be counting down their sleeps until the final sleep before the game. They will be very excited with their nervous energy being transformed into first-class performances by the Rhinos coaching team. Wigan have shown they are fallible and now it's up to the Wolves to frighten everyone with their take-no prisoners attitude in this last third of the league program. I went through the whole of the Wolves team the other week highlighting how dangerous they are with the ball, and how solid they are in defence...sometimes...and it's these sometimes that Leeds have to exploit. Rob Burrow is putting in some inspirational performances and is staking his England credentials, taking over the direction of the Rhinos' plays in the absence of his captain Sinfield. He is helped, of course, by Jamie Peacock, who is possibly playing some of the best rugby of his Leeds career.
Plus, Zak Hardaker has used his England performances to prove what a fantastic attacking player he is, while Liam Sutcliffe is playing as if he is an experienced player and who know how good he will be when he does get experience? However, Tony Smith, the Wolves coach, knows all of this, doesn't he? Ben Westwood will have Sutcliffe in his sites for a 'hit', Lee Briers will be hoping to take advantage of any long floating ball and Mickey Higham, well, isn't he playing as good as he has ever been? The coaching manual will tell you that if you have the majority of possession you will win but I can't say that is always the case, because I think it will be whoever USES their possession the best that will win. The Rhinos can see the finishing stretch and they seem to have the wood over the Wolves unless it is in Challenge Cup Finals.
BARRIE PREDICTS: A Brian McDermott winning smile by eight points, six of them scored in the final six minutes.
Wigan v Bradford
Terry says: I don't think anyone saw Wigan's defeat coming last week against Castleford - except maybe Daryl Powell! The big question is can Wigan bounce back? The only big-name player that Wigan were missing last week was Sam Tomkins and Wigan have got to get used to playing without him as he won't be there next year. Bradford will take a close look at what Castleford did last week - they controlled where they played the game and out-enthused Wigan. I would imagine Bradford will go into this game relatively quiet after their loss last week - there is a lot of pressure on Bradford to perform because of their history and that is sometimes unfair as they are trying to rebuild.
TERRY PREDICTS: If you go back 10 years some of the biggest clashes were between Wigan and Bradford - they were the two powerhouses of the game. Bradford will be looking to hit Wigan the same way Cas did, but I just don't see them beating the warriors. I think Wigan will win by 12 points.
Barrie says: Castleford won't have done the Bulls any favours beating Wigan last week. What's going on at the Bulls? Francis Cummins, their coach, knows his rugby and you can go through the players one by one and you will have to agree that they are good enough. However, that is the problem in that sentence: 'you can go through the players one by one' - and most teams do. They miss too many one-on-one tackles to give them any kind of fighting chance. It's no good having a defensive system if the individual player misses his man. Shaun Wane will use the full seven days rest to make sure his Wigan are at their best. The Warriors really do want to finish top of the league, it's not good enough for them to 'qualify' for the play offs. Waney wants to be the best and their owner Ian Lenegan also has a burning ache to prove that his beloved Wigan is the best team in the country, and between them they will infuse their optimism and enthusiasm into their players so their aching tired bodies will endure the last few weeks of the season.
BARRIE PREDICTS: The best teams can handle this type of stress but unfortunately Bulls are not quite near the best yet. It won't be three losses in a row for the Warriors as they will ensure that the Bulls will only have won one game in their last nine, to win by 28 points.
Catalan v London
Terry says: Catalan made far too many mistakes last weekend against Huddersfield and they failed to make any ground against them. But London are not Huddersfield and Catalan will be back in their own backyard. The disappointing thing for London at the minute is that there are some experienced players making far too many mistakes. Some players are missing more tackles than they are making which is just not acceptable. It is not a good sign when your experienced players are coming up with errors. I put it down to not putting yourself where the action is - it is quite easy to hide on a rugby field. In defence you can put yourself where you don't have to come up with a tackle or a certain play or push up in support. The reason is because they do not want to be the one who makes a mistake and let the side down, but the only way to fix that is to get into those positions to make those plays or those tackles. Kieran Dixon is the man making all the headlines for London at the moment and he will really benefit from Jamie Soward being there.
TERRY PREDICTS: Catalan will be looking for a response from last week and the weather is supposed to be red hot and that will favour the Dragons. I expect them to win by 20 points.
Barrie says: Any team other than the Dragons will have been dejected at having lost by a score of 60 - 16 as they did against the Giants last week but not these lads, they will give a Gallic shrug of their shoulders and concentrate on racking up as many points as they can this week. They need to stop giving away so many penalties and concentrate defensively but they know that. London will probably start with their new messiah, Jamie Soward, but one player doesn't make a team. A great player can make a big difference if his team-mates are good quality...and Soward's team mates aren't. The Broncos will try, they will start the game with enthusiasm but I cannot see how that magnet they have that draws them behind the posts won't be working twice as hard in this game. The oldest player in Super League, Steve Menzies, will have too much guile out wide to enable their young player of the season candidate, Morgan Escare, to get a brace.
BARRIE PREDICTS: Nothing for the Broncos to go home with as they will lose by 40 points.
Hull FC v Huddersfield
Terry says: A month ago we were talking about Hull FC as being the in-form side but now they have lost three games in a row - it just goes to show how things can change. Huddersfield did not play well against Catalans despite the score - it was scrappy and the likes of Danny Brough will not be happy. He expects players to be accountable for their plays and has a right to have a go if they make a mistake. If you let him down then you are letting the team down. Huddersfield have that in abundance - they have got the bit in between their teeth. I think Huddersfield are the side that can go and win the league leaders shield. I cannot see anyone beating them in this form as they have match winners all over the park.
TERRY PREDICTS: Five weeks ago I would have said there would be only a few points separating the side but now I think Huddersfield will do this by 14 points.
Barrie says: What happened to Hull after Daniel Holdsworth went off in the game against Trinity last Monday night? They are not a one-man team but I bet Peter Gentle was a bit disappointed at how they finished the last 20 minutes of that game. They had better not give the Giants the same opportunity. Paul Anderson is my leading candidate for coach of the year if only for the way he has turned around a team who everyone thought didn't have the bottle for tough battles. Danny Brough has acquired a maturity since Anderson took over and he and Robinson, his half-back ally, complement each other like the proverbial fish and chips.
One reason why the Giants are looking good is hooker Shaun Lunt. Since his stint for the Rhinos last season, he has developed into a leader who plays with a purpose and those three have a company of strong skilful and fit forwards to give them a platform to feed the outside backs, who can also take opportunities from any mistake Hull might make in their own half and convert them into tries. At the moment Hull are a one-sided outfit with all their successful plays coming from the partnership of Ben Crooks and Tom Lineham, their buddies on the other side of the field Kirk Yeaman and Tom Briscoe are are way off their best at the minute and the Black and Whites forwards need to keep their discipline because they're the culprits who give the penalties away for needless high tackles, and the Giants are THE team to take advantage.
BARRIE PREDICTS: The Hull supporters faith in their heroes will be tested during this game, it will be a great game to watch but it's going to be four losses on the trot I'm afraid for the East Yorkshire club as the Giants will beat them by 16 points.
Hull KR v Salford
Terry says: Salford beat KR in Round Four but I am not sure they will do it this time around. I have spoken about Salford losing concentration before and if they can focus and take those little mistakes out of their game then I have no doubt that they can trouble sides and score tries. Hull KR are starting to win these close games and had a good win last week against Saints. There seems to be some good stability in their squad and they are looking more composed and confident.
TERRY PREDICTS: Hull KR are playing for that top-eight position while Salford may not admit it, but they are probably looking to next year. Robins by 16 points.
Barrie says: Both of these teams had fantastic wins last week with the Robins win at the Saints being the better of the two. Salford could only play what is in front of them and managed to score 44 points against what is now the bottom club in Super League but wait for it... they let 30 points in, and there you have the reason why I think a Michael Dobson-led team, aided and abetted by the ever improving Travis Burns will take the two league points. Jodie Broughton of the City Reds always impresses, Lee Gaskell at fullback seems to have struck some form and with Theo Fages and Wayne Goodwin running the middle allowing Marc Sneyd to take advantage of any situation that comes along, they will score some points, but not enough to win. The Robins have a -55 points difference, the only top eight club to have a deficit, but that is nothing compared to Salford's -404 - even the Broncos aren't that bad in that department.
BARRIE PREDICTS: How can you expect a team to win a game in which the opposition has scored more than 200 points than you have, and they have a better defensive record than you by nearly 200 as well? It can't be done and that's why Hull KR will in by 20 points.
Castleford v St Helens
Barrie says: I am sure there will have been a lot of soul searching in the Saints camp after last week's defeat. They had a lot of their main players back from injury and we really expected them to push on from here. At the moment I look at their forwards and apart from Tony Puletua I don't think they are big enough - although they do bring Alex Walmsley off the bench. However, size has never been Saints most potent weapon; if I was playing against them I would not be worried about the size of them, I would be worried about the speed that they play at. But they are not playing with that speed at the moment. They seem to have lost their zip and spontaneity that kept sides on the back foot. Cas went to Wigan and won - that was impressive. Craig Huby, Jonathon Walker, Daryl Clark and, of course, Rangi Chase are in fine form. They will be buzzing and Saints are going to a Cas ground that is very close to the fans - it is really vocal.
TERRY PREDICTS: It could be another inspirational performance from Daryl Powell's men and I think Cas will win by 12 points.
Barrie says: I fully expect the Wish Communications Stadium to be at full capacity for this game. A few weeks ago maybe it wouldn't have but what a massive difference Daryl Powell has made to the team/club/town/Rugby League. In the Broncos game I said one man doesn't make a team unless he has good quality players around him and Daryl certainly has that, and a few more. Quite a few of us picked them to beat Wigan last week when and I was delighted they proved us right. I am going to plump for them again and the reason being is the Tigers look as if they are enjoying their games now but the Saints only smile when they have won. That is because the expectations at the two clubs are vastly different; the Saints supporters have known success for so long now they struggle with losses that other teams put up with every week, whereas the Cas supporters want their team to play the 'CAS' brand of Rugby League and 100 per cent effort and commitment is the minimum standard with the whole club.
BARRIE PREDICTS: The Tigers have a host of players that a lot of other Super League clubs want and a few weeks ago the players themselves were willing to leave but I bet they are having another think now especially after beating the Saints by 10 points.
Wakefield v Widnes
7.30pm, Mon, Sky Sports 3D & Sky Sports 1 HD
Terry says: This is a big game for both sides. Widnes coach Denis Betts will not want to play this game down the middle. He will want to move the Wakefield big units like Oliver Wilkes and Justin Poore around the field and tire them out. I would be looking to get at some of the smaller players around the ruck. It is rare this season that Widnes have been outplayed in 40 minutes of rugby - even when they have been beaten. But they were last week by Leeds. The positive for Widnes is that they can throw the ball around and score points. But you should not be losing games when you are scoring 34-36 points! Few will forget Wakefield winning seven on the trot last year to sneak into the play-offs, and you would not bet against him doing it again! Tim Smith is the key player for them, he showed against Hull on Monday how important he is to the side.
TERRY PREDICTS: Good weather with two teams who like to run and there should be plenty of points scored - I think Wakefield will have a bit too much though and win by eight points.
Barrie says: Wakefield won seven games on the trot during their run in to the end of the season to secure a top-eight place, and they are on the move again. They have won three games on the trot after their win at the KC last Monday evening, and this will be their fourth as they launch their attack again to compete in the play-offs. A bit of advice to all teams when they play the Wildcats... don't ever let them near your 20 metre area, they have plays, moves and individuals who know how to score. Keep them in their own half of the field because they struggle to move up field without help from the ref. The Hull game last Monday evening was a classic example, Trinity's fearless forwards drove with spirit but they only ever had one break from out of their half the entire game, they didn't need breaks, though, because Hull kept the ref busy with pointless penalties that invited them into Hull's 20.
The Vikings are prone to the silly stuff but will need to rein it in if they want to compete. Tim Smith, the Wildcats captain and talisman, will punish them with his excellent length of the field penalty kicks out of hand. The Vikings also have the players to punish Trinity's lack of discipline in Rhys Hanbury, Kevin Brown and Joe Mellor. Trinity are just above the Vikings in the league with the points being 15 and 14 respectively, the main difference is the points difference. Before Monday's game Wakefield had over a 100 points better points difference and that will count in the home sides favour. The Widnes coach Dennis Betts must go through all the emotions watching his team as they play the full range of skills and full range of errors in the same game and he should expect the same again when they play a revitalised Trinity who are playing with a purpose.
BARRIE PREDICTS: Nobody relishes playing Wakefield on their own patch and Wakefield will prove why when they beat their visitors by 20 points.