Barrie v Terry
Barrie McDermott and Terry O'Connor go head-to-head with their Super League predictions...
Last Updated: 28/06/13 1:25pm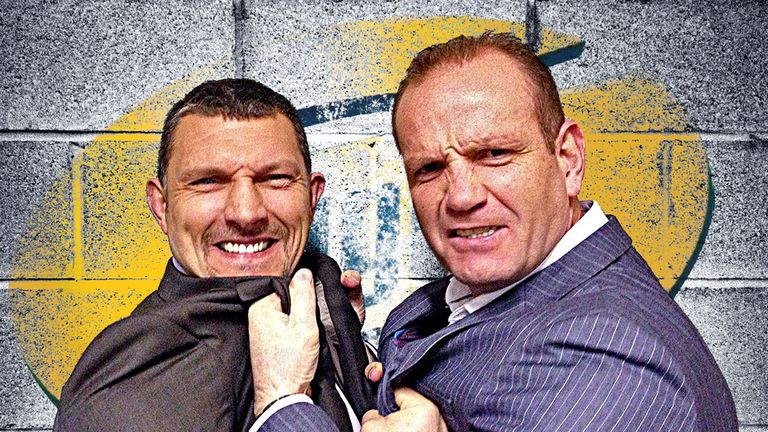 On the pitch Barrie McDermott and Terry O'Connor liked nothing better than tearing into the opposition.
They may have hung up their boots but that competitive streak still runs strong and we have found a way to channel their energies.
Each week they will preview the live televised Super League games and provide predictions for the rest of the action - and we'll keep track of who's called the most matches right!
Both Barrie and Terry scored five points after Round 19 which means Barrie still has a one-point lead - can Terry re-take the lead in Round 20?
Current standings
Round
Barrie
Terry
Round 1
6
6
Round 2
5
3
Round 3
5
7
Round 4
1
6
Round 5
3
4
Round 6
2
3
Round 7
6
5
Round 8
5
7
Round 9
4
5
Round 10
9
5
Round 11
6
7
Round 12
7
5
Round 13
7
5
Round 14
8
7
Round 15
8
7
Round 16
6
6
Round 17
5
7
Round 18
8
5
Round 19
5
5
Total
106
105
Huddersfield Giants v Catalans Dragons
7.30pm, Fri, Sky Sports 1 HD
Terry says: I know this is a big call but I would not be surprised if the Man of Steel winner came from the Giants. I would suggest it would be either Danny Brough or Shaun Lunt, but as it is the players who vote we will just have to wait and see. Brough makes the headlines all the time, he is just that good while Lunt has scored 18 tries and is just on fire. If Catalans want to win this game then they have to target these two players and take some energy out of Huddersfield's game. I think Catalans were really unfortunate last week - they had three tries disallowed and Greg Eden's 90m effort should not have stood as he grounded the ball behind his own line which should have been a drop-out.
TERRY PREDICTS: Catalans are not far off Huddersfield and this should be a cracking game, but Huddersfield are in form at the moment and I see them winning by 18 points.
Barrie says: Everyone is talking about a Wolves v Warriors Grand Final outside of Huddersfield and Paul Anderson, the Giants coach, will be happy about that. "We will just sneak into the Finals and win it from under their noses," he will have told his players. Baloo Anderson keeps a low profile from outside his own camp but inside he is the boss; he lets his players work outside of his team pattern and take a chance. Catalans have a coach in a very similar frame of mind in Laurent Frayssinous. The Dragons see every drive, kick, tackle as an opportunity to attack, they have the players to do this. But that style has its disadvantages against teams such as the Giants. Spilling the ball in your own 20 when you are playing against most teams means you might have to work hard for six tackles to get the ball back, Spill it when it's the Giants and Leroy Cudjoe, Luke Robinson, Shaun Lunt, Scott Grix, Joe Wardle - I could name the full team - live off mistakes like that and score from their own 20. The Dragons do that too but they make far more errors than the Giants so, basically, it is who makes the least errors and for me it will be Huddersfield who will have far more to capitalise on.
BARRIE PREDICTS: The Giants by eight points, the last six being scored in the final 5 minutes!
Wigan v Castleford
Terry says: Wigan played their part last Monday in the best game of the season by a country mile. The big question this week is can Wigan back up that performance against Castleford? Sam Tomkins is a big loss for Wigan and I was really looking forward to the clash between him and Rangi Chase. The majority of traffic from Wigan comes down the right side with Josh Charnley, Darrell Goulding and with Tomkins - when he is playing. The person who defends on that side is Chase. Now his stats are amazing but last week he had three tackles and three misses! If you run straight at him he is going to bang you; if you send number towards him then he has got to make a choice and sometimes he picks the wrong options. Craig Huby, Daryl Clark and Jonathan Walker were immense the other night and will need to play well again for Castleford. For Castleford to win they have obviously got to score tries - Wigan have conceded 45 tries this year which averages to just over two a game. That is nothing and shows how good their defence is. Even with Chase that is going to be difficult.
TERRY PREDICTS: I just feel that Wigan have the bit between their teeth and their youngsters will be looking to backing up that marvelous performance against Warrington - I know they lost but it was still a magnificent performance from both sides. Wigan to win by 22 points.
Barrie says: This is going to be an exciting game. Daryl Powell has Castleford playing with a lot of spirit and heart, but that is something that Wigan have been playing with since the start of the season. The Warriors losing to the Wolves last Monday evening in an excellent game (that's the intensity we want the England v Exiles playing) with no quarter given or asked will ensure they will not lose this game. The Tigers will be thinking otherwise though and will keep trying right until the final whistle with the hooking duo Clarke and Milner probing and directing, with Huby and Ryan Boyle thumping it up with deft off-loads, Richard Owen, Michael Shenton and Kirk Dixon seem to have a new vigour for the game since Powell's arrival a few weeks ago and they will test the Warriors outside defence that can be exposed now and then. Wigan are too good not to win and that's stating a fact. Shaun Wane, the Wigan coach, looked as if he was chewing more than one wasp on Monday and he will make sure his players know why and how they lost - and the Tigers will suffer for it.
BARRIE PREDICTS: A high scoring game because Cas still haven't got there defence and one-on-one tackling sorted out but let me day this Wigan are the best team in the league and will win by four points.
London v Salford

Terry says: I am not sure people realise the pressure on players in teams battling at the bottom of the table, especially when they come up against each other. These are the games that you really target and sometimes you have to throw caution to the wind in order to win them. It is difficult to play confidently and positively when you are at the bottom of the table. London will be looking for Jamie Soward to come in and boost them. I know it's a short-term contract but I can imagine in the seven or so games he plays in he will give them an awful lot of direction. Salford have been in the press this week again with Elliot Whitehead turning them down. They have signed Junior Sa'u who is an exceptional player. Players are still playing for contracts for next season so there is plenty for them to prove.
TERRY PREDICTS: Salford by eight points.
Barrie says: The Broncos can throw the ball about and in Kieran Dixon they have a player who, if given the chance 10 meters from the line, will score. Sarginson is dangerous runner, too, but that's really all they have. Their new recruit Jamie Soward will have to be Superman to make a difference when he eventually plays. The City Reds proved last week in the first 50 minutes against the Saints that they too can throw the ball about a bit, but time and time again they cannot keep their form for the full 80. They have a porous defence but the Broncos aren't good enough to take advantage of it. Admittedly the London club have a lot of young local prospects in the side who show real enthusiasm for the club but at the end of the day that isn't enough.
BARRIE PREDICTS: Salford are on the lookout for new players as are the Broncos but in my view the players from Salford who are playing now are better than the Broncos (except Dixon and Dan Sarginson) and they will win by 10 points.
Widnes v Leeds

Terry says: This is going to be an interesting game. Last year Widnes held Leeds for 60 minutes on the ipitch and I would say they are the more confident side going into this game. They may have lost a few players for this game but nothing like what Leeds are going through. I also don't think Brian McDermott will risk any players who are 50/50 on the ipitch. Certain players like it and certain players don't - Rob Burrows loves it and he cut Widnes apart a couple of weeks ago. Widnes will know that they have to tighten up the ruck.
TERRY PREDICTS: I am sure Widnes will be better and I think their left edge - which has scored more tries than any other side in the competition - will give them the edge in this game. Widnes by 10 points.
Barrie says: I would expect that the Viking coach Dennis Betts can't wait for this game to come. With the MVP and main cog in the engine of the Rhinos, Jamie Jones Buchanan, being added onto their ever-increasing injury list Widnes will have every chance of a win. But beware the wounded Rhino. They might have plenty of young lads in the team with little experience but that is the only weakness if it is indeed a weakness. The young players will be playing with the confidence, aggression, style and enthusiasm of experience and they will have learned a lot from their defeat to the Giants last week. It wasn't until the last 20 minutes that the Giants pulled away to win, but the Vikings aren't the Giants. The Vikings can score and with Rhys Hanbury, Stefan Marsh and Joe Mellor in their side they will cause the Rhinos plenty of problems.
BARRIE PREDICTS: Rob Burrows, Zak Hardaker and Ben Jones-Bishop are more than a match for Widnes and now Liam Sutcliffe is settling in to the speed of the game it will be a Rhino win in a high scoring game by 16 points.
Bradford v Warrington
Terry says: Bradford are coming off a loss and Warrington off an amazing win against Wigan. The question is how much energy did the exert against Wigan and have they recovered? Bradford will be disappointed as they failed to close the game down against Widnes - Nick Scruton in particular was very good though. Francis Cummins said afterwards that they lacked a bit of energy and composure - they have only won one game in eight and you can imagine it is going to be very difficult against the Wolves.
TERRY PREDICTS: Warrington look tremendous at the moment and are playing some superb rugby league. Mickey Higham is in the form of his life and I can't see Bradford living with the pace. Warrington by 16 points.
Barrie says: The only saving grace for the Bulls is that their pitch is narrow and will hinder the wide plays of the Wolves, but that's all. The Bulls coach Francis Cummins said some of his players were guilty of being dishonest about their play, strong words from their coach but no-one could level that accusation at the Wolves players. The Wolves will keep the ball alive as many times as possible, often losing it but they will fight tooth and nail to regain possession, in fact they fight tooth and nail in everything they do. I'm not saying that the Bulls cannot score tries, they can, but what I am saying is they don't have the same attitude the Wolves have towards winning. The Bulls players as individuals are very good but being good is only part of winning. Attitude is all and the Wolves have it in spades. Myler is shouting to Steve McNamara the England coach LOOK AT ME, I can organise, I can score, I can kick and I can defend.
BARRIE PREDICTS: Myler is so good at tackling he brings the big boys down and no one notices, and with his sidekick Stefan Ratchford, will tear the Bulls to shreds. The Wolves by 32 points.
Hull FC v Wakefield
7.30pm, Mon, Sky Sports 1 HD
Terry says: Jacob Miller is set to make his home debut this week. They outscored Cas last week and I never thought I would see the reliable kick of Daniel Holdsworth missing four conversions. Peter Gentle said that he would make some changes - he was furious with his middle men, their defence was just not good enough. They lacked shape and structure and really suffered in that area when Mark O'Meley and Danny Houghton of the park. Against Castleford they also made 11 breaks to Cas' 3 - they just could not finish them off! Wakefield are a tough side and Barrie and I talk about how they spoil and slow down their opponents' ball. They make sure that they play the game at the pace they want to play.
TERRY PREDICTS: With the changes Peter Gentle will make and the shots he has fired across some players bows, I expect Hull FC to come out and make amends and win this game by eight points.
Barrie says: "Whatever the Tigers can do we can do" will be Trinity's battle cry and I would bet against them beating Hull if they were at home, but they are not. Hull will be wanting to prove to the supporters who travelled over to Cas last Friday evening that they ARE a team to be taken seriously. Hull have the ambition to play to the intensity that the Wolves and the Warriors did last Monday but at the minute are only capable for maybe 60 minutes but not the full 80. Wakefield aren't there either yet. Peter Gentle, the Hull coach, has players who can play without receiving instruction and he allows them to go away from a game plan if they think something is 'on'. Trinity have very good individual players but follow the game plan without fail, and if the opposition keep their defensive line they struggle, and I think they will struggle in this game.
BARRIE PREDICTS: A Hull win by 18 points.
St Helens v Hull KR
Terry says: It's been a weird week for Hull KR. They went down to the south of France and despite missing 47 tackles they still won! They always looked confident though and did ride their luck. I would imagine it will be a tough test against St Helens though. They have had a couple of decent signings over the last few weeks and they have got a lot of their injured players back to full fitness. They play the game quicker than anyone else in the competition and when they do that it is hard to defend.
TERRY PREDICTS: Saints will take advantage of any weaknesses and when they are playing with confidence there is nothing you can do to stop them. With Jonny Lomax and Gareth O'Brien back, I can't see past St Helens. I think they will win by 12 points.
Barrie says: If the Robins manage to hold onto the form that beat the Dragons by a point last week, and the Saints manage to shake off their first half lethargy this could be the tie of the round... IF.... didn't someone write a poem about IF? If you rely on too many ifs you will lose. Michael Dobson, Greg Eden, Cory Paterson, Craig Hall and Travis Burns won't be relying on the Saints making mistakes, they will be making sure the Saints DO make mistakes in which they can benefit from. The Saints on the other hand know this, it won't stop them from throwing the ball about, they will have be more precise when they do that's all. The Saints with Lomax back in the team, O'Brien directing and James Roby doing what Roby does best and Paul Wellens rolling back the years in great form will have to take the game to KR or else suffer the consequences. The Robins always manage to score plenty of points in both wins and losses so the Saints defence need to be spot on. If the Saints can keep the ball in Hull KRs half they have a chance, and if the Robins can put a big score on the Saints before half time it might prove to be too much for the Saints to pull back...
BARRIE PREDICTS: Hey up, I've fallen into the if trap, never mind if this if that, the Saints are eighth at the moment and know that they cannot give those below them any incentive to snatch that place from them and that is why I pick them to win by six points.