Barrie v Terry
Barrie McDermott and Terry O'Connor go head-to-head with their Super League predictions...
Last Updated: 21/06/13 10:10am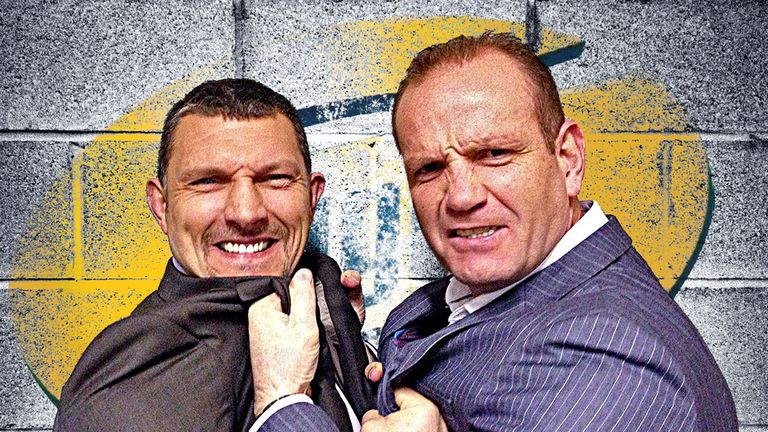 On the pitch Barrie McDermott and Terry O'Connor liked nothing better than tearing into the opposition.
They may have hung up their boots but that competitive streak still runs strong and we have found a way to channel their energies...
Each week they will preview the live televised Super League games and provide predictions for the rest of the action - and we'll keep track of who's called the most matches right!
Barrie not only closed the gap on Terry but has taken a one point lead - who will have the bragging rights after round 19?
Current standings
Round
Barrie
Terry
Round 1
6
6
Round 2
5
3
Round 3
5
7
Round 4
1
6
Round 5
3
4
Round 6
2
3
Round 7
6
5
Round 8
5
7
Round 9
4
5
Round 10
9
5
Round 11
6
7
Round 12
7
5
Round 13
7
5
Round 14
8
7
Round 15
8
7
Round 16
6
6
Round 17
5
7
Round 18
8
5
Total
101
100
Castleford Tigers V Hull FC
7.30pm, Fri, Sky Sports 1 HD
Barrie says: The Tigers are improving every week under the tutelage of Darryl Powell and I am sure he would have used the weeks rest to improve their defensive structure. Hull have the players to take advantage if the Cas players don't wise up. If Gareth Ellis isn't playing he will be missed as he does a huge amount of work that allows other players to shine. Hull had a shocker against the Dragons the last time they played and they will be wanting to cement their top eight place with a win. Rangi Chase didn't have a good game by his high standards for England so he might make the difference if he bounces back with one of his 'magic shows'.
BARRIE PREDICTS: I'm going for a Tigers win, we haven't had a lot of shocks for a while and I think Powell and his troops will upset a few teams before the season is out. Cas by seven points.
Terry says: When you look back in the memory bank most of Castleford's playing roster will remember playing against Hull and not scoring a try. They will also remember conceding 52 points which is the most they have conceded all year. You will also have to go back in time to see when was the last game they didn't score a point. Maybe this is payback. A new signing for Darryl Powell in the shape of Ben Davies the 23 year-old front rower from Widnes, will bring a lot to Castleford's overall game, but will that signing be enough? Tom Briscoe has not made the Black and Whites 19 man squad but Peter Gentle brings back the two Australian forwards in Ben Galea and Mark O'Meley that will improve his clubs chances of a victory.
TERRY PREDICTS: I have no doubt this will be tough but my money is on Hull FC - by 14 points.
Warrington Wolves V Wigan Warriors
7.30pm, Mon, Sky Sports 1 HD
Barrie says: Crash, bang, wallop, what a video! In the words of Alan Partridge! This game is going to be one of the best of the year! I don't normally agree with dingbat Tez (if you stand close to him and listen hard enough you can hear the ocean) but it's the adventurous play of the Wolves against the engineered skills of the Warriors. Lee Briers off the cuff, Richie Myler supporting, Micky Higham and Michael Monaghan probing, Stefan Ratchford taking advantage, Chris Hill and Ben Westwood working at the coal face plus Chris Riley and Joel Monaghan scoring the tries. Ryan Atkins, Simon Grix breaking tackles, Mike Cooper and Paul Wood grafting, Trent Waterhouse , Adrian Morley and Gareth Carvell off-loading. How can Wigan stop them?
Here's how: Sam Tomkins scoring, Josh Charnley scoring, Pat Richards scoring, Harrison Hansen breaking tackles and driving runs, Lee Mossop making metres, Liam Farrell making metres and scoring, Blake Green and Matty Smith directing and taking advantage, and did I say Tomkins, Charnely and Richards scoring?
BARRIE PREDICTS: If this game isn't a full house then we should stop pretending that Rugby League is a major sport, this game deserves to be played in a full stadium and I believe there will be twice as many as there were at the Halliwell Stadium for the England V Exiles. This is why I go to watch our game; it will be tighter than Tez's wallet! Wolves win by five points.
Terry says: You only have to look at the points for and against to see that Wigan are by far the best attacking and defending team in the competition. The game will have on show the top three try scorers in the competition in Josh Charnley and Sam Tomkins with 22 each then Joel Monaghan with 18. Chris Riley is the next wolf on the list with 13. Teams talk about playing to your potential at the right time of the year. Warrington are doing that right now, they have scored 198 points in their last three games, in their previous 15 they'd only managed to score 422, so who'd be up for playing a white hot wire side, I'd say Wigan. But look at the last 10 games between the sides. Wigan have only won three of them, so Warrington thrive on the pressure of these big games. This game will be played at a frantic pace with skill, power, speed and pure brilliance. I don't think I could come up with enough superlatives to describe this game (Barrie couldn't come up with any if I'm honest, he doesn't know what it means).
TERRY PREDICTS: Two teams on form at the same time, 17 players with everything to play for and lastly in front of a packed house. Something has to give and I think Wigan will clinch it by 14 points.
Salford City Reds V St Helens
Barrie says: Dr Koukash is desperate for a good win but he won't get it in this game. Saints seem to have settled down with the return of some of their experienced players, notably James Roby. His length of the field try for England last Friday should dispel any doubts about his match fitness, and Salford aren't the Exiles. It takes some doing having a worse points difference than the Broncos but Salford have...and it will get worse as I feel this is the game that the Saints will click.
BARRIE PREDICTS: I cannot see anything other than another loss but an improved performance is a minimum standard for all at the Reds as the Saints will win by 10 points.
Terry says: Salford have hit the headlines again this week with Dr Koukash accusing the RFL of victimising his club. A positive for the club is that Bradford have accepted an offer from the Dr for Elliot Whitehead. All that needs agreeing now is his wages. If Whitehead agrees personal terms with Salford he will be a great signing and a signing of intent. Last week against Wakefield Salford's defence around he ruck wasn't good enough. I'm sure Brian Noble's addressed that this week in training; he certainly looked like he was addressing it at half-time when the club's chairman was leant on the wall in the dressing room listening intently. You talk about ruck speed and playing with width and what you see in front of you, well Saints looked in great form against Bradford. The introduction of Jonny Lomax back into the side alongside James Roby, Gareth O'Brien, Jon Wilkin and Paul Wellens. Saints look like a junior side when they all congregate around the play the ball, when that happens they are dangerous, it's a sign that the game is speeding up. The players react to this and terrorise the best sides.
TERRY PREDICTS: With the players coming back I would expect Saints to have too much power, even after losing Sia Soliola with an injury that he picked up in the Exiles game. St Helens have won their last six meetings with Salford and I'd expect this to be their seventh. Saints by 24 points.
Catalan Dragons V Hull KR
Barrie says: There is a strong argument to say that the Dragons will do to Hull KR what they did to their neighbours a fortnight ago, and that is thrash them. The French club is on fire at home at the moment. Morgan Escare is having the time of his life and Steve Menzies is playing as well as ever despite his advancing years. The forwards are dominating allowing Leon Pryce to come into and out of the game as he pleases, and Thomas Bosc directs the play. KR rely to much on Michael Dobson but Travis Burns is playing with a bit of passion of late and you cannot discount Craig Hall - give him a chance and he will take it.
BARRIE PREDICTS: Competitive game but Catalan will edge out in the final quarter to win by 16 points.
Terry says: Hull KR are the only team in the top eight to have conceded more than they have scored. If they want to finish in the top eight they know they will need to defend better. Neil Hudgell has decided to give Craig Sandercock an extension to his contract which will give the club some stability over the next 18 months. The players will be up for this game as they know who is hiring and firing for next year, and to be fair to the lads they have played well this year but have had lapses of concentration at crucial times in games. The Robins' last victory in Perpignan was a 30-28 ball game on September 3, 2011. Catalans last home game was against the high flying Hull FC, I'm not sure many saw that victory coming apart from the troops in the Catalan dressing room. Can they now back that great win up with another one? Catalan played with discipline and if they can do that in this game I'd expect them to get another win in succession against a team from the great city of Hull, this time the red and whites. On a sadder note for the Catalan side Remi Casty if fit and selected will be making his 200th professional appearance, what a loss he will be when he leaves for Sydney Roosters at the end of the year.
TERRY PREDICTS: Catalan by 14 points.
Bradford Bulls V Widnes Vikings
Barrie says: Dennis Betts the Vikings coach will be fuming about losing to a young and vulnerable team twice in a row. He should be going into this game with confidence but he will be concerned that the Bulls will put on a show and put a lot of points past them. The Bulls are quite capable of doing this; they haven't won since the middle of May and will want to secure two points to keep in touch with the top eight.
BARRIE PREDICTS: The Bulls will be causing a few upsets with Cas in the run up to the end of the season and Francis Cummins the Bulls coach will be looking to exploit the Vikings and they have a smile at home this week to win by eight points.
Terry says: I'm looking forward to this fixture and so are both of these sides. The clock is ticking down and the games are running out for those sides who have genuine aspirations of making it into the top eight. I'm going to be boring like Barrie normally is and give you a couple of stats about Widnes. In eight games this season Widnes have scored over 22 points and not finished off with a win (similarities with KR this year). Scoring enough to win games, but defensively not good enough for the full duration. They have also lost six games by six points or less, frustrating for everyone involved but a huge improvement on last year. The battle in this game is between Rhys Hanbury and Brett Kearney. These two can create a try out of nothing. The stats for Hanbury show that Josh Charnley is the only player in Super League to make more breaks than him. This fixture was in the bag for Francis Cummins when they played down at the Stobart earlier in the year. Widnes then had Gareth Hock sent off on 30 minutes for using a naughty word, or directing it at an official. That galvanised Widnes who came back from 16-4 down to snatch a draw 22-22. Bradford managed to get under the Widnes players skin as well as they received 13 penalties and only gave away three. Both coaches know this is a huge game for both clubs. Playing at home I'm leaning towards Bradford in a very close game.
TERRY PREDICTS: Widnes could have a few players back to bolster the pack as well. I'm not sure with this one at all! Here goes, if I don't pick Widnes my mum will beat me up! Widnes by four points.
Huddersfield Giants V Leeds Rhinos
Barrie says: The Wolves vs.Wigan game is the game of the round, but this game can't be that far behind can it? The Rhinos walking wounded and the cream of the youngsters are justifying the effort and dedication of the youth development staff, scouts and coaches who have worked them into the very good players. A large contingent of Rhino supporters will be making the short trip the Giants to cheer on the next generation of Leeds greats. They will have a job on though, the Giants lost in their last game away to the Robins, they will not be complacent thinking that all they have to do is turn up. Paul Anderson, Huddersfield's coach, is smart enough to put one on his former team mate Brian McDermott, the Rhinos coach. He will make sure his players play to their strengths instead of hoping for a poor performance from the visitors. The Giants have strike players across the pitch and Shaun Lunt will want to put in a good performance against the team he played for last season.
BARRIE PREDICTS: If the Rhinos close down Danny Brough they will go a long way to another win. Losing Kevin Sinfield has sparked Rob Burrows alive and he will make the difference. Big battle up front but Leeds by six points.
Terry says: How impressive were some of the youngsters for the Rhinos on Monday? I really like the look of Brad Singleton, I thought he was immense and he was my Man of the Match. He was pushed very close by Joel Moon, the best overseas buy of the year. When you lose champion players like Keith Senior they are hard to replace but Mr McDermott at Leeds (the slim one) has got a perfect replacement, unfortunately Moon will be missing after picking up a one game ban, couple that with the injuries they have at the minute I feel this game could be a tough one for them to win. No Kevin Sinfield, Danny McGuire or Kallum Watkins makes me wonder if Leeds have the players that can trouble Huddersfield. I believe that they do but I'm not sure they have enough in the tank to take on a side that are playing well and are second in the table. Two wins from their last two games will boost a side that had lost their previous four.
TERRY PREDICTS: I just think that the Giants are in outstanding form and with a big squad to choose from this game should see them picking up the two vital league points. Huddersfield by 18 points.
Wakefield Trinity Wildcats V London Broncos
Barrie says: Trinity still have dreams of a top eight finish and they must win this game. At the beginning of the season Richard Agar, the Wildcats coach, would have marked this game down as a must win but, how can they lose? I know it is dangerous making sweeping assumptions but London are having a terrible season. Jamie Soward the new recruit from St George will add something to the Broncos, but not enough to make up the difference in this one.
BARRIE PREDICTS: Wakefield always play well at home and they will enjoy the sun on Sunday to put the Broncos to the sword and beat them by 30 points.
Terry says: It's good to see that David Hughes and Tony Rea are still searching for players to improve the Broncos performance-wise. People shouldn't expect Jamie Soward to come into the side and start pulling off big shots along with scoring tries whenever he touches the ball. What London have got is a mid-field general with plenty of experience who can control a game. The lad also has a great turn of pace and I'm sure he will excite the London fans before he heads back home to take up his four year deal with Penrith. He won't feature in this game (I don't think) but will boost his new team mates and maybe instill a bit of confidence. Wakefield should get this game, they have enough firepower up front to cope with most sides and have that touch of class in the side that can post the points.
TERRY PREDICTS: It's always tough at Wakefield and I predict it will be one hard contest with Wakefield coming out on top by 12 points.