Barrie v Terry
Barrie McDermott and Terry O'Connor go head-to-head with their Super League predictions...
Last Updated: 07/06/13 7:56am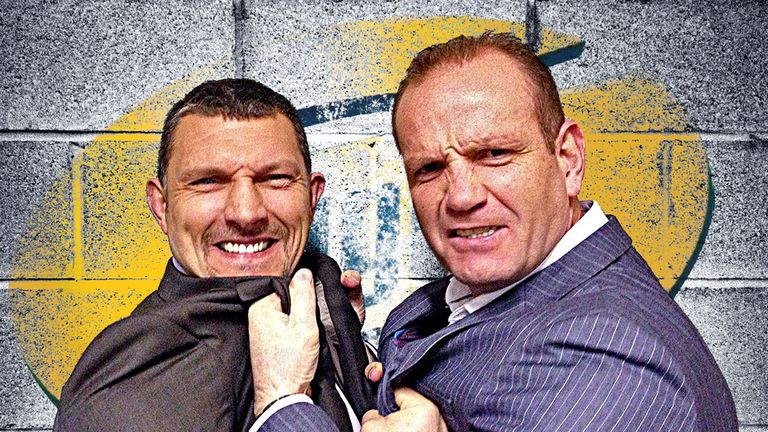 On the pitch Barrie McDermott and Terry O'Connor liked nothing better than tearing into the opposition.
They may have hung up their boots but that competitive streak still runs strong and we have found a way to channel their energies...
Each week they will preview the live televised Super League games and provide predictions for the rest of the action - and we'll keep track of who's called the most matches right!
Terry has opened a two point lead over Barrie after round 17, so can Barrie get back to level pegging after round 18?
Current standings
Round
Barrie
Terry
Round 1
6
6
Round 2
5
3
Round 3
5
7
Round 4
1
6
Round 5
3
4
Round 6
2
3
Round 7
6
5
Round 8
5
7
Round 9
4
5
Round 10
9
5
Round 11
6
7
Round 12
7
5
Round 13
7
5
Round 14
8
7
Round 15
8
7
Round 16
6
6
Round 17
5
7
Total
93
95
Widnes Vikings V Wigan Warriors
7.30pm, Fri, Sky Sports 2 HD
Barrie says: Wigan made hard work of beating the Wildcats last week, they gave away silly ill-disciplined penalties that allowed the home team to move up the field with ease. If Shaun Wane, the Warriors coach, hasn't put a stop to that he can expect the Vikings to take more of an advantage than Trinity did. Can you see that happening though? If Wigan have a full roster I can't either - Charnely, Farrell, Mossop, O'Loughlin and Tompkins will prove why they are in the England squad - if they play. The Wigan players expect their opposition to raise their game against them and I fully expect the Vikings to give them a very testing time of it. Widnes are still finding their feet and are very capable of scoring a few if the Warriors 'clock off' but Wigan don't clock off for very long.
BARRIE PREDICTS: If Wigan are at full strength I expect a high scoring game and an easy win for the Warriors by 22 points, however if there is a young Wigan team out on the field, well who knows, this could be the upset of the round.
Terry says: Lots of rumours about who is missing for Wigan. Sam Tomkins is out and there is no Sean O'Loughlin, Lee Mossop and maybe one or two others. There is a bit of spice in this game, remember Denis Betts laughing in a press conference saying that Wigan might be scared of playing against Gareth Hock who is on loan from the cherry and whites for the year? Shaun Wane was also accused from some quarters of picking a weakened side last year which saw his troops go down by 37-36. Widnes need the troops back and they know they will be up against a fired up side, whoever is wearing the Cherry and White shirt. The spirit in the Widnes camp is unbelievable though and I'm sure not many had them down for drawing against Catalan. Also the team will be made up of ex-Wigan players who were shown the door by the club so lots of motivated players out to prove a point.
TERRY PREDICTS: I think Wigan are the best side in the comp at the minute but I'm going for a shock win, if fat Barrie is right with his info and lads are missing it may just give the Widnes lads a boost.
Hull KR V Huddersfield Giants
Barrie says: The Robins will relish meeting the Giants after their win against the Bulls last week, especially after the Giants only played three days previous in their win over St Helens. There are rumours abounding about certain Hull KR players moving to the North West that might unsettle the team or it might galvanise them as the players in question try to prove to their team mates that they are still committed to the cause. And they will have to be committed because the Giants have the Grand Final in their sights. Danny Brough looks to have made his decision and have everyone asking why he is in the Scotland squad and not England's when he has been crucial to his team mates Eorl Crabtree, Leroy Cudjoe and Brett Ferres being selected. Michael Dobson - Brough's opposite number for the Robins - will be doing the same and he knows his own pitch a bit better. It will be a display of who kicks the best out of hand and which team capitalises the most from the kicks....
BARRIE PREDICTS: I think it will be the Giants as their coach 'Baloo' Anderson was very disappointed in their ball control against St Helens last Monday and will have used the three days to this game instilling a disciplined handling game to win by 10 points.
Terry says: Good to see a smile on Chris Chester's face in his post-match interview on Super League Fulltime on Sunday night. The team are low on confidence but the character has never disappeared. Rhys Lovegrove scored two tries and looked in good form on the left along with Michael Dobson who ran the ball a lot more. Greg Eden was another who probably had his best game for Hull KR. The doubters who are waiting for the Giants to trip up will be starting to think, they are the real deal this year. I am very surprised that Danny Drough did not want to get selected for England. He has been the most consistent in Super League, and I wonder what is going on there. On the plus side, it is great that he has decided to play for Scotland. Another player who I feel should be in the England squad is Sean Lunt and I expect him to be out to prove a point against the Robins.
TERRY PREDICTS: I just can't back against the Giants at the minute. Paul Anderson's team have won on three of their last four visits to Rovers and I think this could be four from five. Giants by 10 points.
Leeds Rhinos V Castleford Tigers
Barrie says: Daryl Powel will see this game as winnable if the Tigers perform at their best. However, I say this every week - you can't ever write off the Rhinos. OK, they might be short on experienced players but the young players they will bring in will have the same attitude and work ethic that permeates through the squad and indeed the club. Rob Burrow, Ryan Hall, Zak Hardaker, JJB and Kevin Sinfield will be wanting to justify their England squad selection, whilst the Tigers have only Rangi Chase being selected. If Chase decides that he has a point to prove he could encourage his team mates to try to emulate their win at home against the Rhinos in round 2.
The Leeds defence as they play the ball needs to be spot on, otherwise it will be the two Cas hookers - Daryl Clark and Adam Milner - who will show the way to a win.
BARRIE PREDICTS: Teams have to be exceptional to beat the champions at home and at this moment Cas cannot be called that. So it is a Rhinos win by 8 points.
Terry says: Tigers will be seeking their first-ever Super League 'double' over the Rhinos. Leeds lacked any go forward last week and Brian McDermott, who didn't muck about as a player on the field with his tough no nonsense play, will challenge his forwards to perform, although JJB and big Kylie Leuluai played well. The injuries are mounting for the Rhinos, still no Peacock along with Watkins and McGuire picking up injuries. Castleford have the tank Justin Carney suspended after receiving a three match ban for a dangerous throw last weekend on Shane Rodney. He will be missed by Daryl Powell but one lad's loss is another man's gain.
TERRY PREDICTS: Leeds will be looking to set the record right after Castleford beat them 14-12 earlier this year. My bet is that they will put in a formidable performance to set the record straight. Leeds are an incredibly proud side who will bounce back in this game against an astute Tigers squad. Leeds by 18 points.
London Broncos V Warrington Wolves
Barrie says: There is nothing here for the Broncos I am afraid. I will admit that the Wolves won't be able to keep a clean score sheet but heck they will try to. Chris Hill, Adrian Morely, Richie Myler and Ben Westwood will run amok allowing the likes of Joel Monaghan, Stefan Ratchford and Mickey Higham to exploit any and ALL of London's weaknesses.
BARRIE PREDICTS: A disappointing attendance to see a massive Wolves win by 40 points.
Terry says: Broncos defeated Wolves 62-18 in last year's meeting but I cannot see the same result in this game. Craig Gower may be off to Newcastle Knights and that's a huge loss for the club even if he has fallen out with the coach. The lad is a tough competitor and you will not see many play the game like he does. Warrington looked clinical at the weekend and when your bench consists of Adrian Morley, Garreth Carvell and Michael Monaghan the go forward is going to be relentless for the full duration. Richie Myler took control and came up with some great touches along with most of his colleagues.
TERRY PREDICTS: To score 68 points and have your senior players back on the field spells danger for most teams in the Super League and I'm sure Tony Smith wants to go one better this year if he gets to Old Trafford. Warrington by 24.
Catalan Dragons V Hull FC
Barrie says: Tie of the round? I think so. Hull will need to be at their best in the South of France to beat the Dragons. Even if Scott Dureau doesn't play (let's all hope the likeable Aussie is ok), Leon Pryce will be bossing the show. I do think that Hull will be confident enough to overcome the stifling heat that will meet them and give the Catalan fans something to think about.
BARRIE PREDICTS: Gareth Ellis from Hull is an England squad member and his partnership with Daniel Holdsworth is reaping the rewards of their hard work. A Hull victory by a mean margin of 4 points.
Terry says: Hull totally outplayed the Rhinos on Friday and I was again impressed with Ben Crooks and Tom Lineham. They missed out on England selection early in the week, but I think it's only a matter of time before they get the call. Hull have won only one of their last five visits to Dragons, but this season the Hull club are a different animal. Daniel Holdsworth's kicking game is one of the best in the competition which in turn is followed up by a strong kick chase. Danny Houghton is another player who is worthy of a mention. Not only does he play 80 minutes, he comes up on average with more than 50 tackles per game. The big worry last week was the injury to Scott Dureau. Fingers crossed the lad is OK, he is a true gent and was over the moon to be back playing when he played his first game of the season at Magic. Morgan Escare has just secured a new deal with the Dragons after his impressive performances his year. His hat-trick last week against the Vikings helped the Dragons to come away with one point from the Select stadium.
TERRY PREDICTS: The Dragons will know what lies ahead but they are up against the form team in the comp and it will take a huge effort to beat FC. Hull by 12 points.
St Helens V Bradford Bulls
Barrie says: I should be able to judge any team after watching them in 18 rounds but both these sides have schizophrenia on a weekly basis and it is hard to predict which personality they will play with! I will try to pick a winner but both teams are struggling to find their rhythm and both are as poor as a church mouse in regards to form.
BARRIE PREDICTS: I'll go Saints by 12 points just because it does look like they are clicking at last with England squad member James Roby back at the helm.
Terry says: Bulls have won only one of last eight visits to Saints but they will be confident in this contest. Saints have struggled to get the results, in fact they have only won once in the last seven games and that will give the Bulls the confidence to get the job done. They will look to pressure Saints around the ruck, along with pressuring the kicker for St Helens. They played Huddersfield on Monday night and looked poor in the 1st half. The kicking game was not up to Saints standards and they played too laterally.
TERRY PREDICTS: When Saints did play direct they looked a more complete side and with James Roby back in a Saints shirt and Jon Wilkin omitted from the England squad they have two players that will be out to inspire and impress. Roby and Wilkin could be the difference. St Helens by 8.
Salford City Reds V Wakefield Trinity Wildcats
7.30pm, Mon, Sky Sports 2 HD
Barrie says: The Wildcats will be massively confident after their stirring performance against the Warriors last week. They really did play well but the superior fitness of Wigan was the decider. I think this will be a game of who scores the most tries and not who defends the better. In that department I will have to go for Brian Noble's Salford. Trinity's Lee Smith limped off with twenty minutes to go last week and how they missed his probing and guile if he or his namesake Tim Smith aren't fit to play, the Wildcats attacking options are limited.
BARRIE PREDICTS: Marc Sneyd, Lee Gaskell and Jodie Broughton are playing with flair and will entertain the Monday evening viewers on Sky Sports and lead Salford to a 16 point win over Wakefield.
Terry says: These two sides really do enjoy playing against each other. They played earlier this year and that finished with a 23-23 draw. Last year it was another close game with Wakefield winning 34-42, so points will be scored. Salford are getting linked with everyone at the minute - Gareth Hock the latest!
If you like tough, honest rugby league played with passion, then this could be the game to watch. They may not have the skill of some of the other sides but they are willing. A very close game and lots of excitement but a Wakefield win in my eyes. Salford will challenge for major honours, in fact, Mr Koukash promised his fans that they would never have to endure another game like they did at Warrington, big call but he has the money, stadium and coach to build a solid squad.
TERRY PREDICTS: Wakefield led Wigan 17-10 at HT without Tim Smith, I'm not sure if he's back this week but I'll still take them. Wakefield by 10