Barrie v Terry
Barrie McDermott and Terry O'Connor go head-to-head with their Super League predictions...
Last Updated: 31/05/13 2:52pm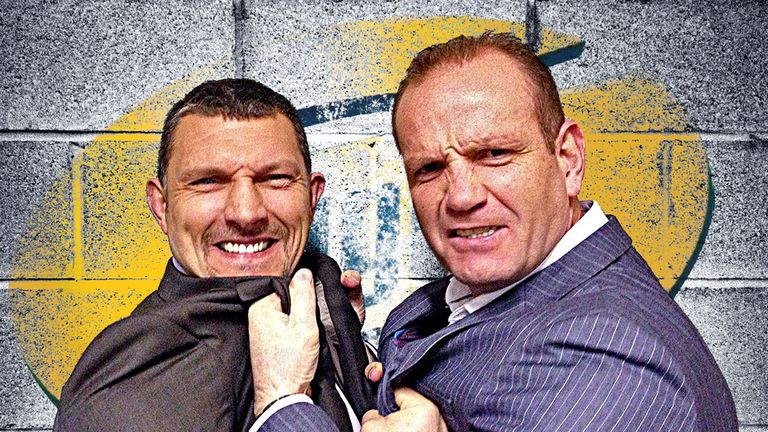 On the pitch Barrie McDermott and Terry O'Connor liked nothing better than tearing into the opposition.
They may have hung up their boots but that competitive streak still runs strong and we have found a way to channel their energies...
Each week they will preview the live televised Super League games and provide predictions for the rest of the action - and we'll keep track of who's called the most matches right!
After all the drama and action from Magic weekend, Barrie and Terry are still level pegging, so let's see how they get on in round 17...
Current standings
| | | |
| --- | --- | --- |
| Round | Barrie | Terry |
| Round 1 | 6 | 6 |
| Round 2 | 5 | 3 |
| Round 3 | 5 | 7 |
| Round 4 | 1 | 6 |
| Round 5 | 3 | 4 |
| Round 6 | 2 | 3 |
| Round 7 | 6 | 5 |
| Round 8 | 5 | 7 |
| Round 9 | 4 | 5 |
| Round 10 | 9 | 5 |
| Round 11 | 6 | 7 |
| Round 12 | 7 | 5 |
| Round 13 | 7 | 5 |
| Round 14 | 8 | 7 |
| Round 15 | 8 | 7 |
| Round 16 | 6 | 6 |
| Total | 88 | 88 |
Hull FC V Leeds Rhinos
7.30pm, Sat, Sky Sports 1 HD
Barrie says: Hull benefited from a 'wrong' call from the video ref while the Rhinos suffered for a wrong call at Magic weekend - Oh dear, the more we seem to use technology to help make the 'right' decisions the more we all dissect it and disagree. Conjecture and debate is good for our game but it was a shame because it was a fantastic game and a brilliant climax to the Magic weekend. Brian McDermott the Rhinos coach will make all the correct decisions with his team selection to ensure that they use the disappointment of losing to Wigan last week the right way. But let's not forget that Hull will be ecstatic because they won a game that they thought they had lost, and it won't matter to them that it was a wrong call that gave them the points. The Rhinos defence is working very hard and they are always capable of scoring if given the chance. Hull give their opponents too many chances and any chance this week will be used against them.
BARRIE PREDICTS: It isn't going to be easy for Leeds as the black and white supporters will be fully behind their team but even the skills of Daniel Holdsworth will not be enough to stop the Rhinos winning by eight points.
Terry says: Sometimes in life and sport you ride your luck. Last week Peter Gentle knows that Hull FC pinched two points but that's the way the game goes sometimes. There is plenty of quality in this Hull side and Gareth Ellis will be looking forward to this game - remember it was at Headingley when he injured himself in the warm-up. Kirk Yeaman is another very seasoned player and they will really take the game to Leeds. The Rhinos were unlucky to lose against Wigan in what was a tremendous game of rugby league. Leeds always turn up for this fixture and this game comes on the back of that courageous defeat, but will it be enough?
TERRY PREDICTS: Hull to hold out and stop the rampaging Rhinos charge to win by eight points.
London Broncos V Castleford Tigers
Barrie says: After the Broncos poor performance in the Magic weekend I fully expect they will give the Tigers new coach Daryl Powell his second win on a row since he took over. Not a lot to say in favour of the Broncos other than they have in Kieran Dixon a very talented player who will cause problems for the visitors. As talented as Dixon is, he has a long way to go to match Rangi Chase from the Tigers.
BARRIE PREDICTS: Chase is playing as if a huge weight has been taken from his shoulders and with the two hookers Clarke and Milner they will take the Broncos apart to win by 18 points.
Terry says: Another impressive team performance from Daryl Powell's men and I back them to pick up a further two points. Kieran Dixon was on fire scoring four tries as was the huge figure of Justin Carney on the left wing. To score 49 points in a pumped up local derby shows you are running red hot and playing with confidence. Rangi Chase will be missed next year but they do have some very good young players coming through, in fact I would say if Chase is around next year Baz has agreed to sell hot dogs and burgers naked in Castleford high street!
TERRY PREDICTS: I do like London and hope they can push for a top eight but it's getting more and more difficult with the time counting down and the team is picking up knock after knock. Castleford by eight points.
Hull KR V Bradford Bulls
Barrie says: The Robins will certainly be bob bob bobbing along... but with rage not joy. It's a good job that it wasn't their Super League status that was on the line in this game, but it might be if the new format comes into being eh? The Bulls look as if they are trying their very hardest to win their games but for some reason they cannot find any type of consistency. Jarrod Sammut is certainly having a go but just of late he looks like a fly with one wing, spinning around with his team mates just waiting until he stops, he is definitely missing the injured Kearney as the rest of the team are. Danny Addy tried hard to make things happen against Huddersfield last week but they were outmuscled in the middle. The Robins will use their injustice of the Magic weekend to inspire them and they will have a large vocal support to help them along.
BARRIE PREDICTS: A Robins win by ten points but they will let a few tries in so it will be a high scoring game.
Terry says: I feel for Hull KR as they deserved to win the game last week. The team played exceptionally well against the form team in the competition. I'm not sure if Craig Sandercock accepted the RFL's apology but he and the club deserve a few 50/50 calls to go their way. Believe me, it does even up over the year but that doesn't help the Robins. The players will respond with a professional performance, I'm wrong lots of times before anyone says or thinks it, but I would expect this to be one of Hull KR's best performances of the year as they're still fuming from last week. Bradford will be a different team this week. They only scored one try against Huddersfield which is not like the Bulls and a team that is coached to a high standard by Francis Cummins.
TERRY PREDICTS: My only concern for the Bulls is the unfinished business from the Robins after last week. Hull KR by ten points.
Wakefield Trinity Wildcats V Wigan Warriors
Barrie says: The Trinity coach Richard Agar would have preferred another game after their heavy defeat at Manchester against their local rivals Cas last week than facing the Wigan machine, but the rugby league gods aren't that kind. Shaun Wane was grateful that they had a very tough game last week against the Rhinos and will tell his players (not that they need telling) to treat the Wildcats as they did the Rhinos. A tester for the Wakefield club as they are slipping a long way down from the eighth position.
BARRIE PREDICTS: It's hard to see anything other than a big win for the Warriors as they restrict Trinity to just a couple of scores. A Warriors win by 36 points.
Terry says: Certain teams in the completion pull things out of the bag and Wigan are one of those sides. The only difference between them and Leeds was the boot of Pat Richards. One thing I will say about Wakefield is they are tough all over and they can slow down and speed up the game. They make the ruck slow and messy but that comes through tough defence.
TERRY PREDICTS: Tough defence will not stop Shaun Wane's men as they are on a mission to reach Old Trafford - Wigan by 12 points
Warrington Wolves V Salford City Reds
Barrie says: Though Salford beat the Vikings at the Etihad Stadium last week, it will be a very different result this week. The Wolves are tightening everything up to make sure they are in the best possible position at the end of the season to win the Grand Final. The Reds coach Brian Noble will be working on their defence this week because he knows that his counterpart Tony Smith will have dissected the Reds weaknesses and have the players to exploit them. The Red Devils played with a lot of enthusiasm last week and they came off the pitch spent.
BARRIE PREDICTS: Wolves to win but Salford have a new spirit and will make it hard for their opponents still, a win by 26 points for Warrington.
Terry says: Salford defeated Widnes in a game that may have had some moments of excitement but on the whole was a poor game. Warrington on the other hand were pretty impressive in their win over St Helens. Wasn't it a great sight to see Adrian Morley score the last try of the game under the sticks? What pleased me more was the reaction of his team mates who ran from everywhere to congratulate the big lanky prop from Salford. Well he is up against the club he supported at the Willows as a child. My memory of him in his younger days was when he used to run on the pitch to get my tie ups at the end of every game! I'm not taking the credit for him turning out to be one of the world's best forwards in the modern game though, but he does say it was down to me. Apparently he based his game on mine, everything I did he did the opposite... seriously though it's good for the game and Warrington that both him and Lee Briers are back.
TERRY PREDICTS: I cannot see anything here but a Warrington win by 16 points.
Widnes Vikings V Catalan Dragons
Barrie says: Though the Dragons won easy enough against the Broncos last week, they won't find it so easy against the Vikings. Catalan play better when Leon Pryce injects himself more into the game. Dennis Betts the Viking coach may well target the inspirational Scott Dureau the Dragons best half back to restrict him having the space he had against the Broncos. Everything points to this being a very tough game to win and it is hard to pick a winner never mind the score.
BARRIE PREDICTS: I think the fact that the Vikings lost in a very tight game last week and the Dragons won too easy in theirs will determine the winner which is Widnes by eight points.
Terry says: Widnes nearly beat Catalan at home last year but they may struggle this year as Scott Dureau is back in the side alongside Leon Pryce - two formidable players who have genuine skill and vision. Louis Anderson is a huge loss for the French club but they have players starting to come back from injury. Widnes still have a few of the big lads missing, but saying that even though they lost the battle last week up front, the best player on the park was Joe Mellor the young English seven.
TERRY PREDICTS: This will be tough for Widnes and I'm sure some of the youngsters who have deputised throughout the year will enjoy playing against some of the games best. Catalan by six points.
Huddersfield Giants V St Helens
7.45pm, Mon,Sky 3D & Sky Sports 1 HD
Barrie says: The Giants are very much on form, the expected mid-season dip that they experienced in the past few years doesn't seem to have materialised. Saints have been through theirs and look as if they are on the up despite losing to the Wolves last week (but who doesn't) and will be looking forward to this game. The Saints are just on the cusp of the top eight and do need to win if only to discourage the teams below them. Last Monday was the best performance from Saints this year so they will hope for the same this game and they have had more rest to recover from Magic Weekend.
BARRIE PREDICTS: Saints are too small to match the power of the destructive pack of Huddersfield it will be a high scoring tight game that Saints will win by six points in an end to end encounter.
Terry Says: James Roby should be back for St Helens and haven't they missed him! Stuart Howarth has done a fantastic job and will complement Roby going forward, but they need Roby to improve them as a side. Huddersfield produced the best performance of the Magic Weekend and look odds on to get to the Grand Final or at least the semis. Saints not going through a good period - they have been decimated by injury. They seem to play for short burst and then fall off the pace. Traditionally have been able to score a try from anywhere but have had to go back to basics. I think they will find this a tough game - I am not sure they have the forward power to compete with Huddersfield.
TERRY PREDICTS: Defensively Saints really need to tighten up, especially against a Giants side who are really on fire. They have a well-balanced side who are full of confidence. Huddersfield by eight points.