Barrie v Terry
Barrie McDermott and Terry O'Connor go head-to-head with their Magic Weekend predictions...
Last Updated: 23/05/13 3:39pm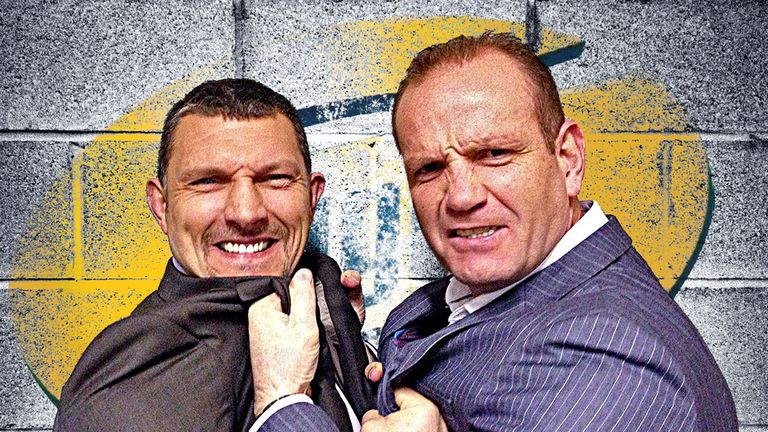 On the pitch Barrie McDermott and Terry O'Connor liked nothing better than tearing into the opposition.
They may have hung up their boots but that competitive streak still runs strong and we have found a way to channel their energies...
Each week they will preview the live televised Super League games and provide predictions for the rest of the action - and we'll keep track of who's called the most matches right!
Barrie and Terry are level pegging after Round 15, so let's see how they get on over Magic Weekend...
Current standings
| | | |
| --- | --- | --- |
| Round | Barrie | Terry |
| Round 1 | 6 | 6 |
| Round 2 | 5 | 3 |
| Round 3 | 5 | 7 |
| Round 4 | 1 | 6 |
| Round 5 | 3 | 4 |
| Round 6 | 2 | 3 |
| Round 7 | 6 | 5 |
| Round 8 | 5 | 7 |
| Round 9 | 4 | 5 |
| Round 10 | 9 | 5 |
| Round 11 | 6 | 7 |
| Round 12 | 7 | 5 |
| Round 13 | 7 | 5 |
| Round 14 | 8 | 7 |
| Round 15 | 8 | 7 |
| Total | 82 | 82 |
Don't forget that you can watch EVERY game from Magic Weekend live on Sky Sports.
Catalans v London Broncos
11.55am, Sat, Sky Sports 3 HD
Barrie says: When these two teams last met in the Easter fixtures it was a close game with the French team winning 24-30. I think the result will still be the same but not the score. I am confident that the Broncos COULD score the 24 points that they scored at Easter but they won't. They might get 18 points and that will be it. The Dragons, on the other hand, will be on form with the ball, they will have had an almighty fright last week when Castleford nearly pinched the game off them having led 30-6 in the first half. The Dragons will have tightened their defensive efforts and that will see the Broncos being restricted to break away tries.
BARRIE PREDICTS: London won't be able to put the same determination into their defensive efforts to stop Catalan winning by 38 points. 56-18.
Terry says: The Magic Weekend kicks off with this game and I'm interested to see which team can pull the rabbit out of the hat. I was very impressed with Catalans' first 40 minutes against Castleford. When they play they are one of the best teams in the completion to watch. Leon Pryce was very influential and had a hand in most of Catalans tries, and I expect him to have another big game on the big stage. I think London's coach Tony Rea will be asking his players to do some soul searching before this game; they looked dreadful last week against Wigan. They conceded 64 points and scored only one try. I know it was against Wigan but they didn't ask enough questions. The forwards, I'm sure, will be up for this but if they're not it could be another loss for Rea's men.
TERRY PREDICTS: Catalans by 20.
Castleford v Wakefield
2pm, Sat, Sky Sports 3 HD
Barrie says: Cas lost to the Wildcats at Easter by 16-37. Last week Wakefield lost at Hull KR by conceding 26 points in the second half with no reply, and the Tigers scored 24 points in the second half of their defeat to the Dragons. Does this mean that Trinity have to put a big score on in the first half to weather the second half dip? Daryl Powell has started to make a difference in the short time he has been at Castleford and I believe that the new spirit at the club will be too much for Wakefield to cope with. Rangi Chase has been quiet in the last couple of games and he will be trying to put one over Tim Smith of Wakefield and show who the better ball handler and match-winner is.
BARRIE PREDICTS: It's a Chase show for a Tigers win by eight points, 32-24.
Terry says: Daryl Powell was surely impressed by the way his side battled back last week in the south of France. Sometimes the difference between teams at the top and the bottom is concentration and focus. A coach once told me it's the will before the skill; you have to be committed for the full 80 minutes. Castleford came back and nearly snatched it with seven minutes to go; if only they started the game like they finished. Richard Agar's men beat Castleford 37-16 this year at Castleford and led 25-0 at half-time. The key performers for Wakefield played poorly on Sunday and I'm sure they will be looking for a big turnaround.
TERRY PREDICTS: This is a tough one to call and I wouldn't put my money on it, but I would put Barrie's wife's new false teeth on it. Wakefield by four.
Hull FC v Hull KR
4.15pm, Sat, Sky Sports 3 HD
Barrie says: Hull KR did themselves a big service by beating Trinity so comprehensively in the second half of their game last week and they will be relishing playing their derby rivals in this high-profile game. Hull FC will also be chomping at the bit to prove who the better Hull team is after their fantastic win at Warrington last week, and it will be down to who handles the pressure better. Hull are scoring some off-the-cuff tries whilst KR try to engineer theirs, which system will be the better? This is one of my personal highlights of any season and I really enjoy the Hull derby. This is the game of Saturday's contests!
BARRIE PREDICTS: In my opinion I think that Holdsworth will engineer an off-the-cuff try that KR will not be able to stop and it will be a Black and White win by six points.
Terry says: How good did Hull FC play last week at Warrington? Richard Whiting is a players' player and amazingly he has played every position on the field apart from prop and hooker. They took the game to Warrington and won that game because they wanted it. Daniel Holdsworth kept turning Warrington around and his team-mates complemented that with great defence. They are the form side with only one loss in eight, which is remarkable when you think they won only two of their first nine. Hull KR got back in the winners' circle against Wakefield. For a team that lost Corey Patterson due to a ban early in the week and is playing inconsistently at times this year, that they managed to come from behind at half-time to win took character. I must admit I thought they'd get beaten but that goes to show I shouldn't listen to Brian Carney.
TERRY PREDICTS: Hull by 12.
St Helens v Warrington
6.30pm, Sat, Sky Sports 3 HD
Barrie says: A couple of weeks ago I would have said a Wolves win by 16 points but after Saints' win at Headingley last Monday I'm not so sure. The new Saints players look like they are playing to the style of the old Saints teams from the past, but under the direction of Nathan Brown's coaching. Tony Smith, the Wolves coach, doesn't allow himself to get flustered by a couple of bad results so there will be no major changes in how they will prepare for this game. They will have identified all the strike players and their plays from the Saints and how to close them down. I don't know if that is the kind of approach that Brown will take with the Warrington players but they certainly closed the Rhinos' dangermen down well enough last Monday. It will be a high scoring game as both teams have a desire to use the ball at every opportunity but it will also be a close fought game.
BARRIE PREDICTS: Lee Briers will make the difference. He will remember all the heartache that the previous teams inflicted on his beloved Wolves in the past, and he will ensure a Wolves victory by seven points. 35-28.
Terry says: When the fixture list gets published at the start of the season, this game is the one that always whets the appetite of all rugby league fans. How many classics have we witnessed in the Super League era Warrington will have 'The Beast' - Adrian Morley - back in contention for this big battle and Lee Briers will be fitter for this game after playing in his first Super League in a while against Hull last week. He will partner Richie Myler in the halves; both had a hand in three of Warrington's tries last week and are normally around the action. Saints are one of those sides who perform when everybody says they have as much chance of winning as Barrie has of getting into trousers with a 42-inch waist. They are a team full of winners, with senior players like Wilkin, Soliola and Wellens and the youngsters, Thompson and Percival. I'm sure that Nathan Brown's boys will be more confident this week.
TERRY PREDICTS: Will Roby be back for Saints? If he is I fancy them to win by four points.
Salford v Widnes
2.55pm, Sun, Sky Sports 4 HD
Barrie says: Salford's tackling was dire in their defeat at the hands of the Bulls last week, they really do need to 'beef' up their defence. The Vikings can score quality tries but let soft tries get past them. Vikings captain Jon 'Kirk Douglas' Clarke has got his second wind in his long career and he will love playing in front of a big crowd in this Magic fixture.
BARRIE PREDICTS: This game is the easiest to predict and it will be an easy path to Valhalla for the Vikings to win by 24 points, 38-14.
Terry says: Brian Noble has learnt a lot about Salford's players in his short time at the club. I've played under Nobby and one thing he insists on is his forwards working hard and dominating the opposition. They touched it out for 35 minutes against Bradford and led 7-6 on 37 minutes, but then they conceded two tries in the final three minutes of the first half. The gauntlet will be thrown down to his forwards for this game. He will want them to run hard and hit hard. The other area he will want them to focus on is the defence, so that when the ball goes away from them they keep working hard. Can Widnes bounce back away from home in this fixture? They're another team who played well for the last 40 minutes but the damage was done in the first half. This game will be a big dogfight, with a touch of skill. It was at the Magic Weekend in 2012 when Widnes announced that Kevin Brown would be playing in a Widnes shirt in 2013.
TERRY PREDICTS: Brown holds the key for Widnes along with Jon Clarke. If they can motivate the lads around them to get forward then it could be Widnes' day. Widnes by 18.
Bradford v Huddersfield
5pm, Sun, Sky Sports 4 HD
Barrie says: If folk think that the Giants are hit and miss, spare a thought for the poor Bulls supporters, who saw their side win for the first time on Friday, against Salford, since they beat Rochdale in the Challenge Cup in April. Bradford managed to score 70 points against the Hornets that day, but they won't be able to score that many in this game - it won't stop them trying though. The Giants seem to have a defensive system that works for them; teams still manage to score plenty against them but scoring THE match-winner against them is very difficult. Danny Brough is wearing a sign on his back saying: "Look at me please, Steve McNamara." Brough has developed his game this season to be an organiser for the full game instead of whenever he feels like it, but don't make the mistake that it will be the rough show, there are also too many potential World Cup players in the Giants' outfit who will be fighting to be picked for their national team.
BARRIE PREDICTS: It will be a Brough kicking display for an eight-point win for the Giants.
Terry says: Another local derby which sees Paul Anderson coaching against the club where he enjoyed a huge amount of success. We just need Joe Vagana and Stuart Fielden coaching now in SL then the awesome foursome are back in the big time. This big ground will suit two players in particular - Jarrod Sammut and Danny Brough. Both players have entertained the SL crowds this year. You don't have to support Bradford or Huddersfield to applaud what they can do in attack, they are magicians. My mum and dad even applauded Brough's efforts last week, the last time they clapped like that was when I head-butted Gordon Tallis' fist five times! I do hope both teams play the brand of rugby we know they are capable of as if they do that it could be a high scoring encounter. I'm looking forward to a very exciting game with two exciting teams, led by two quality English coaches.
TERRY PREDICTS: Huddersfield by 16.
Leeds v Wigan
7.15pm, Sun, Sky Sports 4 HD
Barrie says: They RFL have saved the best for last with the current champs versus the challengers to the crown and it's league's equivalent of Carl Froch v Mikkel Kessler; it will be a colossal battle. Brian McDermott showed his displeasure at being asked if his team ' took their foot of the gas' after leading with 16 points in the first 25 minutes of their defeat to the Saints in Monday's evening game. Brian doesn't look for easy excuses; he will be pointing out to his players their mistakes that allowed the Saints to gain an unexpected win against them. Shaun Wane, the Wigan coach, is made from the same cloth but it is a long time since Wigan have suffered in such a manner. It won't matter to Wigan that the Rhinos have half a team out and are playing with injuries; they will want to knock seven bells of you but Leeds players will be matching fire with fire.
BARRIE PREDICTS: The Rhinos have a knack of performing well in the Magic fixtures and it is because of this that I am expecting them to win by six points in a very physical game in which Tomkins, Charnley and Richards might score but not score enough.
Terry says: This game is the one I'm most excited about. Some of the best players knocking around the world of rugby league will be on show. When you play on the big stage and at a big stadium the surroundings and the atmosphere make you want to play. You get excited in the build-up so as soon as the whistle goes for kick off your ready, you will throw that 50/50 ball because you won't get many opportunities within the game. Normally I would look at the forwards for match-ups but I'm going for Hall v Charnley and Hardaker v Tomkins. Tomkins and Charnley have terrorised teams this year on the right, but they are up against one of the best wingers in the world in Ryan Hall. We haven't even mentioned Sinfield v O'Loughlin, or Burrow v McIlorum, who are great players but with different styles of play. Wigan have also had two more days to recover as Leeds played in the first of the season's Monday night fixtures. That game was a bruiser and Brian McDermott will be hoping his players have fully recovered for one of the games of the season.
TERRY PREDICTS: Wigan by 10.