Barrie v Terry
Barrie McDermott and Terry O'Connor go head-to-head with their Round 14 Super League predictions...
Last Updated: 03/05/13 2:53pm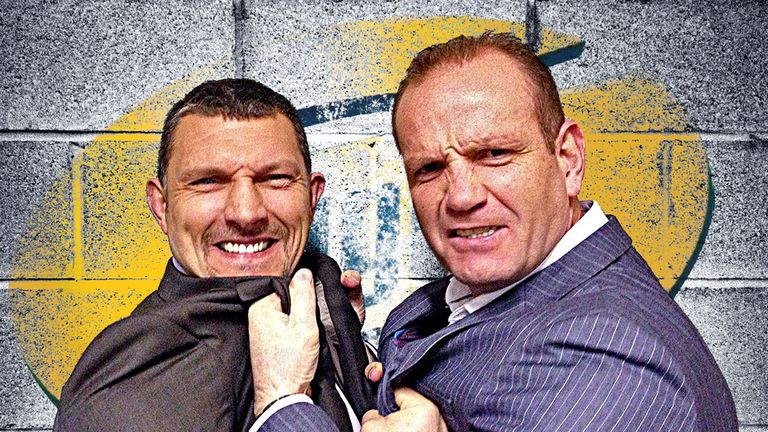 On the pitch Barrie McDermott and Terry O'Connor liked nothing better than tearing into the opposition.
They may have hung up their boots but that competitive streak still runs strong and we have found a way to channel their energies...
Each week they will preview the live televised Super League games and provide predictions for the rest of the action - and we'll keep track of who's called the most matches right!
Barrie has a good week last time out and closed the gap to just two points - but will he take the lead after his Round 14 predictions?
Current standings
Round
Barrie
Terry
Round 1
6
6
Round 2
5
3
Round 3
5
7
Round 4
1
6
Round 5
3
4
Round 6
2
3
Round 7
6
5
Round 8
5
7
Round 9
4
5
Round 10
9
5
Round 11
6
7
Round 12
7
5
Round 12
7
5
Total
66
68
Don't forget that you can follow all the action from the Super League weekend on Sky Sports.
Bradford v Leeds
8pm, Fri, Sky Sports 2 HD
Barrie says: The Bulls let me down last week, didn't they? I'm sure they thought that they would have put up a better performance than they did against the Wolves but fair play to their coach, Francis Cummins who doesn't make excuses for his team. The end result should be a more determined attitude this week. Leeds coach Brian McDermott adopts the same truthful attitude towards his own team and he will be preparing them for a backlash from the Wolves game aided and abetted by the fierce rivalry that already exists between the two tribes. The Rhinos are winning games but not as efficiently as they would like and they know that, given an opportunity, the Bulls will post tries from anywhere. Leeds can do that as well, especially on home turf. The profile of this particular derby seems to have dropped in the scheme of things but let me tell you, the importance of who will be the eventual winner is extremely important to the supporters of the Bulls and Rhinos.
BARRIE PREDICTS: The Rhinos will win because that is what they are about at the moment. However, the win will only be decided in the last five or six minutes. Either Kevin Sinfield, Rob Burrows or Danny McGuire will be the difference. Brett Kearney, Jarrod Sammut and Elliott Whitehead will have just as much influence in the early part of the game for Bradford, but the special mental quality that the Rhinos possess will mean they will win by four points.
Terry says: This is always a mouth-watering game and I expect this one to deliver again - let's not forget the 18-18 game earlier this season. Leeds are the form side in Super League at the moment and they are getting better. Bradford have recalled centre Matty Blythe, who has missed the last eight matches with ankle and back problems and he is one player that could cause the Rhinos problems. But the Rhinos have a team of players that can cause the opposition problems.
TERRY PREDICTS: The Rhinos by 12 points.
Wakefield v Catalans
5pm, Sat, Sky Sports 2 HD
Barrie says: Trinity are playing with plenty of confidence with Ben Cockayne leading the way and springing up in every part of the field. The Dragons are having a few injury problems, as all teams do, but will want to put in a good performance in this fixture as they were woeful in the same fixture last season. The Dragons don't appear to travel as well. They always seem to display the right enthusiasm at home in France but they will have to put some energy into this game as Wakefield are due to really give it to somebody and that could be Catalans if they sleep walk into this game.
BARRIE PREDICTS: Tim Smith and Cockayne will be the deciding factors to see Trinity win by 14 points.
Terry says: Wakefield showed how tough they are last week and you only have to look at the work rate of Paul Aiton in that game. He made 36 tackles, and made 154 metres with the ball in hand. Then you have the intelligence of Tim Smith but I thought Kyle Amor was huge too, his impact from the bench was enormous. Oliver Wilkes backed him up with some bulldozing runs and what a try by the Cumbrian, he scored a near length of the field effort (or so he'll be telling everyone). A big plus for Richard Agar is that Justin Poore will come back and add to the team and you need your tough lads when playing against a Catalans side that are looking for a response. Catalans led Huddersfield last week but let the game get away from them in the final 30 minutes and that was due to the simple errors they made.
TERRY PREDICTS: Wakefield by eight points.
Hull v London Broncos
Barrie says: If you didn't think about it, you would naturally say that Hull will win this game. But hang on a second and think about it. For the last five or six seasons the Broncos have posted unexpected wins against supposedly 'better' opponents and Hull are better than the Broncos, aren't they? Especially now that they should have their "sledgehammer" back - Gaz Ellis will finally be making his debut for the Hull club. I don't think that anyone will have underestimated him and the Broncos will be aware of the influence Ellis will have. Having said all that, the Broncos young players are their biggest weapon. They don't have the experience of their East Yorkshire opponents but they do possess enthusiasm and a naivety that allows them to 'have a go'. London will take great satisfaction from their win against the Saints at home last week and Tony Rea their coach, will know that Hull have periods in their game in which nothing seems to go for them.
BARRIE PREDICTS: The Ellis factor will be the difference for Hull to win by eight points.
Terry says: England second-rower Gareth Ellis will make his long-awaited debut for Hull, and it's a double boost for the Black and Whites because stand-off Daniel Holdsworth is also in the 19 man squad. Aaron Heremaia will probably drop to the bench with Horne partnering Holdsworth. Those two players will make a huge difference at the KC. The home fans will turn out in force and I feel it will be party time come the end of the game. Last week London grew in confidence as the game went on. They had the first eight sets of six in the second half and scored two tries. Dan Sarginson was one of London's star players but Craig Gower created havoc throughout. He was tackled 24 times by the Saints players because he is willing to ask questions of the opposition every time he touches the ball.
TERRY PREDICTS: Big night at the KC - Hull by 24 points.
St Helens v Widnes
Barrie says: The Vikings will be thinking that they could win this game unlike previous years when they hoped to beat the Saints. The Saints will be hoping they will win this game unlike the previous years when they knew they would win! Does that mean Widnes will post a rare win at Saints? I'm not entirely convinced about that. Plenty of teams have written the Saints off before, but try telling that to the Saints players. Denis Betts, the Vikings coach, will also have some of his senior players missing and he will need to get them to stop playing as if they are an inexperienced team who don't learn and never seem to keep their emotions in check.
BARRIE PREDICTS: Widnes last week against Trinity had plenty of chances to win the game but didn't, so it's a win for the Saints this week as they put the disappointment from last week's defeat to the back of their minds by 18 points.
Terry says: Both sides have only won two of their last six games and both have injuries going into this game. But let's try and look at that as a positive as it will mean another English youngster will gain valuable experience in a big game. I'm a big fan of both coaches for different reasons. Saints coach Nathan Brown has never moaned or criticised his players in public. He works tirelessly behind the scenes and has given eight youngsters a chance to wear the red V in the first team for the first time. That is priceless and something that will benefit the club in the next few years. Denis Betts has also had it tough with injuries that some of his big stars have picked up this year. He is not scared of dropping any player within the squad, and happy to promote juniors - Adam Lawton, Jack Owens, Tom Gilmore and Grant Gore have all had a taste of first team rugby. Dave Allen and centre Stefan Marsh are both back from injury while half-back Danny Craven has also been included in the 19 after being out since the opening round with a fractured collarbone
TERRY PREDICTS: Saints by four points.
Wigan v Salford
Barrie says: Salford have no chance of winning because they don't as of yet have any kind of defensive system. Brian Noble will remedy that in the coming few weeks and he will hope that the attacking flair that the Reds show - usually instigated by Marc Sneyd who, plays like a new Lee Briers, will cause the Warriors problems. Shaun Wane, the Warriors coach, knows his team will win and he will be asking his players to be mentally strong and not to play 'touch' rugby as they try to score at every opportunity. This type of game doesn't prepare them for when Wigan play against the better teams so they must play as if they ARE playing better teams, and that metal attitude is why the Reds have no chance of winning.
BARRIE PREDICTS: Hat-tricks again but who for? Richards? Tompkins? Charnley? Or maybe for them all? A Wigan win by a big score of 30 points.
Terry says: Brian Noble would love to get one over his old club Wigan and the chairman that decided he wasn't the right man for the job. They didn't start well last week against Castleford and they conceded a try after just four minutes, they did recover to win a controversial game nine minutes from time, though. They scrambled very well but sometimes when you scramble in defence it means your front line defence isn't good enough. Technically Salford may not be the best yet, but when they show a fight and commitment that they have shown this year things will look up. I've talked Salford up for this game but I can't see them living with the skill, power, speed and sheer ability that this Wigan side have.
TERRY PREDICTS: Wigan at home is tough for the form sides in SL, Salford will improve but won't have enough in this game. Wigan by 30.
Castleford v Hull KR
Barrie says: The Tigers look as if they want to be anywhere other than on the field and they do not seem to be enjoying themselves. I know they are full-time professional players but I can tell you they would play for nothing if they started winning again and started enjoying the games. Hull KR play well one week and poorly the next. The common theme must be "what's going on with us?". I'll tell you what is going on: the first team to put some sets together and must not give easy yards away with needless penalties. It could look as if it will be the Michael Dobson v Rangi Chase show, Chase's last game again? If it is he will want to improve on his one man show of last week when Cas lost to Salford where he was the best and worst in a frustrating individual performance.
BARRIE PREDICTS: Dobson will want to prove he is a better player and he will dominate as much as his opposite number but, it's the Chase show once again in front of his own supporters by 16 points.
Terry says: Danny Orr's men looked tremendous at times last week and in Rangi Chase they had a player that looked like he could win the game on his own, unfortunately he threw the intercept that cost them the game. Hull KR played poorly last week and at crucial times in the game switched off in defence. They conceded tries in the seventh, 40th, 42nd and 80 minutes, which tells me they need to start and finish halves better because everything in between isn't that bad.
TERRY SAYS: Hull KR have the quality to bounce back in this game. KR by 10 points.
Huddersfield v Warrington
Barrie says: By heck the Giants play some exciting rugby! The Wolves are just as adventurous but without Lee Briers playing even they won't chip over in their own 20, would they? Both teams can defend if the opposition cannot think outside the box and the decider in this game will not be the winner's defence, it will be the winner's individual players ability.
BARRIE PREDICTS: I think that the Wolves players have that deciding factor to win away from home by just four points.
Terry says: I look forward to this clash because I know it's going to be brutal, but the match up I'm looking forward to is the subtle skills of Richie Myler against Danny Brough. The two are very different in the way they play, but they are both worthy of a mention because they are in great form. Huddersfield with 12 men went to the south of France and came home with the points in the bag. Luke Robinson was sent from the field for a high shot - please a high shot for Luke is around the thighs (don't get your fan club on to me Robbo!). I think that result showed the character they have in the camp. Both coaches know this is a big challenge but games like this bring out the best in our athletes. A dry pitch will contribute to one of the games of the year.
TERRY PREDICTS: Tough to call but Huddersfield to win at home by eight.