Barrie vs Terry
Barrie McDermott and Terry O'Connor go head-to-head with their Super League predictions...
Last Updated: 05/04/13 10:53am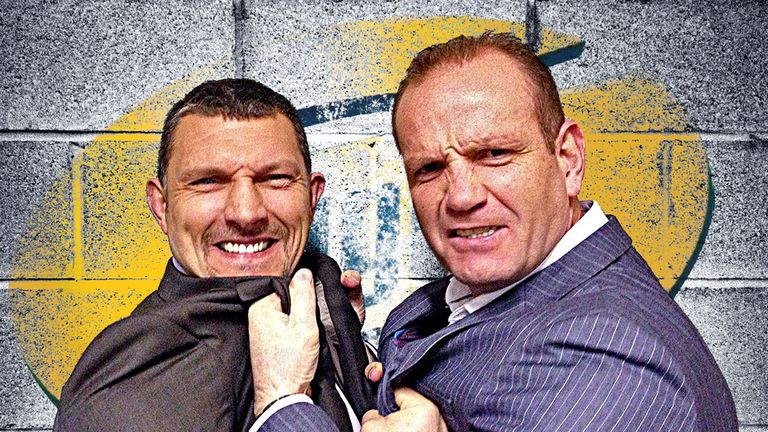 On the pitch Barrie McDermott and Terry O'Connor liked nothing better than tearing into the opposition.
They may have hung up their boots but that competitive streak still runs strong and we have found a way to channel their energies...
Each week they will preview the live televised Super League games and give their predictions for the rest of the action - and we'll keep track of who's called the most matches right!
There were a few surprises over Easter as Warrington were downed by Widnes and Salford pipped Huddersfield to the winning post. However win, lose or draw, there is not much time for clubs to recover as they are straight back into action on Monday. Barrie and Terry give their predictions for round 10 of Super League XVIII.
Current standings
Round
Barrie
Terry
Round 1
6
6
Round 2
5
3
Round 3
5
7
Round 4
1
6
Round 5
3
4
Round 6
2
3
Round 7
6
5
Round 8
5
7
Round 9
4
5
Total
37
46
Don't forget that you can follow all the action from the Super League weekend on Sky Sports.
Catalan v Leeds
5.15pm, Mon, Sky Sports 1 HD
Terry says: This will be a very fast, energy-sapping game. The rotation of the bench will play a massive part in this encounter. Leeds started very fast and strong against Bradford and I'm sure they'd be upset that they let Bradford back into the contest.
Catalan are joint top of the table and look good value since they have focused more on playing than stepping over the line. Two years ago Catalan beat Leeds in Catalan which was one of the Rhinos' darkest days but they bounced back and became stronger as a group because of it.
TERRY PREDICTS: I'm going to go Catalan just because my fat mate will go Leeds. Catalan by eight points.
Barrie says: Brian McDermott's team have to play this fixture but, I bet they would have wished for some other team to face because the Dragons will be in no mood to let the Rhinos spoil their Easter party, having secured two points at the Broncos expense. Leeds were too casual with the ball against Bradford last Thursday, and they will be severely punished by their French opposition if they don't value possession in this game. The lethargy that sometimes affects the Dragons can't appear in this game as they will be trying to impress their home crowd, who can be an extra player if they like what they see, although attendances have been falling short of last season's. The Rhinos will need to control the French team's giants to stand any chance of winning and Peacock, Kirke and Delaney are just the men to do that. Peacock is the type of player that will want to make amends for his two lapses of discipline against his old team, the Bulls.
BARRIE PREDICTS: The Rhinos to win a very physical, bullying and entertaining game by six points.
Bradford v Salford
Terry says: These are two sides that showed great commitment in their respective Easter Thursday and Good Friday games. Bradford have had the extra day's recovery and I was very impressed with the way they matched Leeds. Salford have put two decent performances together. The first was eight days ago against a Saints side in terrible conditions. The second was against a Huddersfield side that lost the previous week to Warrington. Salford managed to battle past Huddersfield but this will be tough. Bradford have had an extra day off so I fancy Francis Cummins men to do the job.
TERRY PREDICTS: Bradford by 12
Barrie says: The Bulls play an unpredictable game as they showed against the Rhinos last Thursday, they don't know when they are going to make a break so how can the opposition? The Bulls were outstanding against Leeds and will have plenty of wind in their sails for this match. The Reds on the other hand try to work to patterns to cover the lack of pre-season preparation and, with their win over the Giants, it looks as if the pattern looks to be taking shape. Odsal is a narrow pitch and I think this will make a lot of difference to how Salford will be able to play as they are used to wider spaces. Salford have just as much confidence at kick-off but as the game progresses I think the Bulls unorthodox approach will cause the Reds fragile backbone to fold, the Bulls will come out on top as the Reds will fail to close their opposition's adventurous play down.
BARRIE PREDICTS: The Bulls by 10 points
Huddersfield v Widnes
Terry says: There were some strange results on Good Friday and Hudderfield entertain Widnes on the back of two defeats. Huddersfield were well and truly beaten by Warrington last weekend and then Warrington suffered a shock defeat at the Stobart stadium. This is difficult to call, but if I had to put Barrie's pack lunch money on it I would go with Widnes. (by the way his pack lunch normally costs around £125.69)
TERRY PREDICTS: Widnes by six points.
Barrie says: Here we go..."Three wheels on my wagon, and still travelling along....." That old Bob Hilliard and Burt Bacharach number sung by the New Christy Minstrels got to number one in the charts in 1961. The Giants aren't at number one this week and won't get back to get to the top as their wagon looks like it has wheels coming off. Paul Anderson will have to get RAC in to see if they can give him a few spares to cope with their annual giveaways. Widnes will be the Native Americans surrounding the Giants wagon as they pick off the survivors one by one.
BARRIE PREDICTS: The Vikings, led by Kirk Douglas himself, Jon Clarke, will rampage and pillage to win by 16 points.
Hull KR v Wigan
Terry says: Both sides played very well and came through with the two points. The youngsters of Wigan played very well, and if you look at the side the average age of the 17 that played was only 22. Hull KR without Michael Dobson gave it to the lads from the other side of the city and we all know what they are capable of. I would imagine O'Loughlin and McClourum may struggle to get back up as they nearly missed Friday. If they do that's a lifeline for KR.
TERRY PREDICTS: Wigan by 10
Barrie says: Wigan are not Hull FC and KR will need to be better in the first 20 minutes or they might end up like Saints, looking at Wigan with squinted eyes they are that far away. Hull FC on Good Friday found space to attack and go through the outside of the ruck defence of KR, the fact that they didn't manage to score won't be a problem that Wigan will have. The Robins missed 30 tackles in their last game and can't afford to do that again.
BARRIE PREDICTS: I hope the KR players enjoyed their chocolate eggs and their much valued family time on Easter Sunday because the Warriors will want to trample all over them to secure the two competition points and win by 18 points.
St Helens v Castleford
Terry says: Saints showed how good they are when they eased into the game against Wigan. They did pick up three injuries to Manu, Gardener and Walker which will cause concern for Nathan Brown. One man who looks like he can carry the team is Alex Walmsley a player in his first year with Saints, he is a giant. Castleford played for around 70 minutes against Wakefield and they would probably be disappointed with the way they played
TERRY PREDICTS: Saints by 14.
Barrie says: The Saints put in a very encouraging display against Wigan on Good Friday and the fact that it was their seventh different half back partnership made the task next to impossible but they will take some confidence from the second half going into this game, whereas the Tigers will be down after their mauling at the hands of their West Riding neighbours Wakefield.
BARRIE PREDICTS: It's an easy decision to make that the Saints will win by 28 points.
Warrington v London Broncos
Terry says: Warrington will have a big point to prove against the Broncos who pushed Catalan for 80 minutes. I'm sure Tony Smith has let his side know that he wasn't a happy bunny on Friday. He has recalled some big guns and the wrongs will be put right on Monday.
TERRY PREDICTS: Warrington by 18.
Barrie says: I think this is where the Broncos will be the unfortunate recipients of a Wolves bounce back. Their good run of the last few games despite the loss to the Dragons last Thursday will prove to stand for nothing as the Wolves will be determined to amend for their defeat at the hands of the mighty Vikings on Good Friday. Tony Smith the Wolves coach will have given a Scarborough warning to his players and they will respond in such a manner that it will take an almighty effort from London to not concede over 50 points.
BARRIE PREDICTS: The Broncos can score and will do as it will take more than one rollicking to shore up a poor Wolves defence of recent - but the Wolves will score more than the Broncos to win by 34 points.
Wakefield v Hull
Terry says: Two teams that exerted lots of energy and will be a touch drained mentally as everyone backs up again three days later. Hull are missing some key men still and I expect this to be another tough day for the black and whites.
TERRY PREDICTS: Wakefield by 10.
Barrie says: Hull are in trouble: they have no structure, no leader on the field, no consistent kicking game and need to fix all this up with the same players if they want anything from this game. Their performance against their East City rivals on Good Friday will give Richard Agar, the Trinity coach, a lot of attacking options to exploit the unorganised defence of Hull FC who missed 36 tackles v KR.
BARRIE PREDICTS: Tim Smith will need to be the master in chief and make the big FC forwards keep turning around and working out of their own end as much as possible, he will also need to get a good platform from his forwards - then he'll orchestrate the victory by 16 points.