Barrie vs Terry
Barrie McDermott and Terry O'Connor go head-to-head with their Easter Super League predictions...
Last Updated: 28/03/13 1:08pm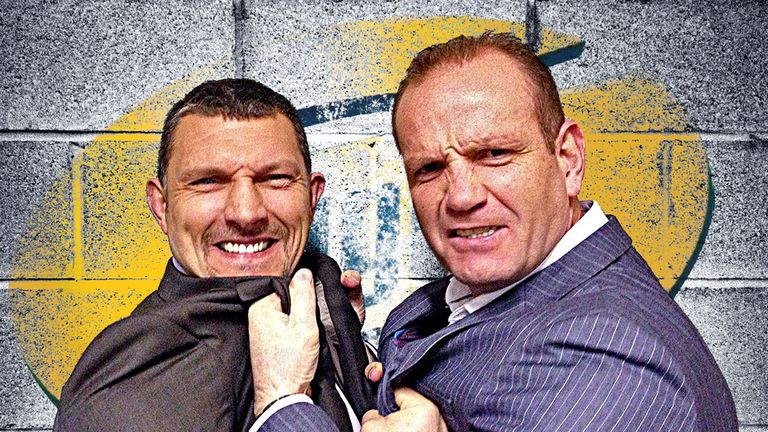 On the pitch Barrie McDermott and Terry O'Connor liked nothing better than tearing into the opposition.
They may have hung up their boots but that competitive streak still runs strong and we have found a way to channel their energies...
Each week they will preview the live Super League games and give their predictions for the rest of action - and we'll keep track of who's called the most matches right!
This weekend sees a tough Easter program for the Super League teams as they have to be at their best for three games in just eight days. This grueling schedule has been criticised by some coaches but Barrie and Terry believe that this is when the strength and depth of your squad comes into its own. Here Barrie and Terry give their predictions for round 9 of Super League XVIII.
Barrie on the Easter schedule: This time of year is a real test of squads, management of players and the whole philosophy of the people in your environment. For some teams to get two wins out of three is a result over Easter, for others if they get one win in the three games then that is good enough and for others only three out of three will do. Let's hope the weather goes back to normal and no more brass monkeys are reduced to tears...! It's been colder the a three-day old kebab and the quality of last week's games was definitely affected.
Terry on the Easter schedule: If Barrie says it is cold then it has got to be cold, however a kebab has no chance of getting cold when Barrie is around that is for sure! This is the best time to play - you are playing in a derby, it's a bank holiday weekend and the stadiums are packed - these are the sort of games you want to be involved in! It does not matter if you are at the top of the table or down at the bottom - that all goes out the window when you are up against your bitter rivals!
Current standings
Round
Barrie
Terry
Round 1
6
6
Round 2
5
3
Round 3
5
7
Round 4
1
6
Round 5
3
4
Round 6
2
3
Round 7
6
5
Round 8
5
7
Total
33
41
Don't forget that you can follow all the action from the Super League weekend on Sky Sports.
Leeds v Bradford
8pm, Thurs, Sky Sports 1 HD
Barrie says: A welcome rest for the Rhinos with their game against the Wildcats being a casualty of the weather last weekend. The Bulls on the other hand were beaten in the lovely weather the South of France has to offer after Catalan were rampant in the second half. It's a derby though (I'll be saying that a lot this week!) and these game show no respect for form. Bradford under Francis Cummins are a side that oozes character which will drive them through this game. The Bull are above the Rhinos by just one point and I expect that position to be reversed with a Leeds win. Both teams could turn in a season-best game.
BARRIE PREDICTS: Leeds by 16 points.
Terry says: The extra break that Leeds had after that game was postponed will do them good - especially after that hard fought battle against Wigan. Bradford have the likes Matty Blythe, Keith Lulia and Jamie Langley back into action, which will certainly give them a boost. This season Leeds have gone win, lose, wine, lose - they won the last game so let's see if they can break that this weekend.
TERRY PREDICTS: Leeds at home should win this won by 16 points
Wigan v St Helens
12.15pm, Fri, Sky Sports 1 HD
Barrie says: If all the games were Easter eggs this is the one I'd want to buy! It's the equivalent of a bag of Revels... which player to you choose to be the match winner? Will anybody score a hat trick? Who will make the length-of-field breaks? A difficult choice to choose from with so many good skilful flavours... sorry, players in the box! But Saints need to give Wigan a coffee cream - Josh Charnley will need to be as clinical as he was last week and Liam Farrell who hasn't missed a tackle in 300 years will step up this week to help Wigan win.
BARRIE PREDICTS: Warriors by just four points.
Terry says: Wigan were so impressive against Widnes last week - they absolutely hammered them. They say the game is won in the forwards but your back three can decide a game too and Wigan's are just exceptional. Sam Tomkins, Pat Richards and Josh Charnley scored 50 of their 64 points. St Helens have no James Roby and no Jonny Lomax - they are huge blows for Saints. They have called up five youngsters who are really in for a tough baptism!
TERRY PREDICTS: Anything can happen in a derby match but I just feel Wigan's experience will see them home comfortably by 22 points.
Hull FC v Hull KR
2.15pm, Fri, Sky Sports 1 HD
Barrie says: Nether team has established a run of results that could inspire confidence so I have to take home advantage into account here. FC have won two, drawn two and lost four this year and the Robins have won four from eight so it's frantic if you are a fan of these teams. The Robins can't seem to score from outside the opposition 30m and Hull FC can't seem to get into the opposition 30m area.
BARRIE PREDICTS: I predict Cory Patterson to have a big game in his first Hull Derby, Greg Eden to get MoM but Horne, Richard that is, will score the winner. Form out of the window Hull FC by four points
Terry says: This is the game I am most looking forward to. I think both sides will be hoping that this game can really kick their season off. Hull were poor last week for 66 minutes - their coach Peter Gentle said they are a better side under pressure but they really need to learn how to win games from the start and not from always coming back from behind. Hull KR almost threw it away against Castleford - they really cannot afford to do that this weekend against their old enemies. Greg Eden came up with too many mistakes last week - he is not that sort of player and it is going to be interesting to see how he bounces back - Hull will be sending a lot of bombs his way to put pressure on him. I expect him to react well though!
TERRY PREDICTS: I'm going to go with Hull KR because of the likes of Travis Burns and Cory Paterson will be playing in their first derby game. They will never have experienced anything like this and I am sure it will bring the best out of them. Hull KR by 14 points.
London Broncos v Catalan Dragons
Barrie says: The Dragons have struggled away from home so far this season and they will up against it at the Stoop. The Broncos seem to have found a bit of confidence but will have to cut down on their errors as Catalan are capable of scoring from any mistake they may make. The Dragons are also prone to the odd error though and have contradicting attitudes in the same game. That is when the Broncos will have to pounce and build up a few points' buffer for when the Dragons explode with flair with their customary second-half blitz. They will feel that it was a game they should have won last week and will want to match that effort.
BARRIE PREDICTS: A see-saw game with the away team winning by 12 points.
Terry says: This is an interesting game - I look back at the last four games and both sides have only lost one of those. You could say they are both in decent form. London will be disappointed with their draw last week - they were leading up until the 66th minutes and then conceded two tries. Perhaps they need to look at their game management. They are missing Michael Robertson this week but Craig Gower comes back in - Gower is a good player and they will welcome him back. Catalan need to start games better - however I wonder if their clash with Leeds at home on Monday may influence this game. Laurent Frayssinous has made a few changes - I am not sure if it is due to injuries or if he has one eye on that Leeds game. If you look at both games, you would think that Leeds would be the tougher test. The other unknown is the pitch they are playing on. This game has moved from Harlequins to Esher - neither team will know this pitch. Apparently it's open on three sides with one wooden stand - it's a bit of throw back to 1940's!
TERRY PREDICTS: London have improved greatly but I expect Catalan to win by eight points.
Salford v Huddersfield
Barrie says: I cannot see the Giants losing as convincingly this week as they did against the Wolves last week. Salford put a lot of effort in against Saints when the weather stopped the more skilful Saints side from scoring more. I expect as much effort from the City Reds as last week but the players know that their coach will be watching, even if he hasn't been announced yet. For the Giants this could be one of those games where it's "too easy" and potentially this could be a game where the wheels come off the Juggernaut. Paul Anderson will aware that for the last three seasons the Giants have played well in the first third of the season and then run out of steam. Danny Brough will decide this encounter - will he use the news that Steve McNamara the England coach hasn't discounted him in his World Cup plans or will he stick to his Scottish roots?
BARRIE PREDICTS: Giants to win by two points in a game tighter than you might think.
Terry says: Salford will need to come up with the same sort of performance they produced against Saints if they are to come anywhere close to the Giants. Huddersfield were embarrassed by Warrington last weekend - it was probably the worst performance I have seen from them. They scored just two points which is just not good enough from a side with this much potential. I am expecting Paul Anderson to have issued them the riot act behind closed doors and they will react.
TERRY PREDICTS: Huddersfield to hit back hard and win by 24 points.
Castleford v Wakefield
Barrie says: Trinity look to be a one-man team and cannot seem to win without Tim Smith pulling the strings. They haven't won in four now and the Easter period will test their mental and physical durability; last week's postponed match may have been more of a help than a hindrance. The Tigers are a one-man team also and depend too much on which mood Rangi Chase is in. Wakefield seem a lot better structured but their final plays let them down at the minute. Castleford have structures that Ian Millward has given them but they don't seem to be able to execute them and were frustrated last week.
BARRIE PREDICTS: It will be the better-disciplined team who will win and that team is the Tigers by six points.
Terry says: Cas fought to the end last week and almost got the result they were looking for in the final play of the game. If Cas control possession then they will have a chance - and their fans being so close to the pitch will need to play their part too. Ian Millward will want Rangi Chase to be on top form. He will be up against Tim Smith. He's one of the players that Barrie and I talk about all the time - he is that good and influential. Wakefield coach Richard Agar will have his players pumped up - he is a local lad from Feathersone and knows all about the passion and rivalry.
TERRY PREDICTS: Wakefield will be the fresher after their game was cancelled last week and will be very focused and I do expect them to win this by eight points.
Widnes v Warrington
Barrie says: Tony Smith the Wolves coach will know this could be a banana skin game for them if they don't give the Vikings team respect. Hock will be back for Widnes having had two games of rest due to his suspension and the clause that kept him out of the Wigan game. He will have a lot of nervous energy to get rid of and the Warrington team should expect a few more bruises than they normally receive.
BARRIE PREDICTS: Hock is one of the main players that the Wolves will focus on - the other is their former player Jon Clarke - but two men cannot stop the superb Wolves with the bigger squad from winning by 24 points.
Terry says: I am sure Warrington coach Tony Smith would not have had to look at the Wigan v Widnes game for long to see that Widnes were ripped apart down that left side. Widnes let themselves down and will be looking for a better performance this week. Players were shooting out the line and coming up with too many mistakes. They need to be better because Warrington were brilliant against Huddersfield. Richie Myler and Brett Hodgson were superb and I think it is going to be difficult for Widnes to contain them. Widnes have Gareth Hock and he will have a point to prove against Ben Westwood who got the better of him the last time they met. I am sure Hock will take that personally.
TERRY PREDICTS: I think this will be a very good game and I expect Warrington to win but not by a huge margin - say 12 points.