Barrie vs Terry
Barrie McDermott and Terry O'Connor go head-to-head with their Super League predictions...
Last Updated: 15/03/13 8:25pm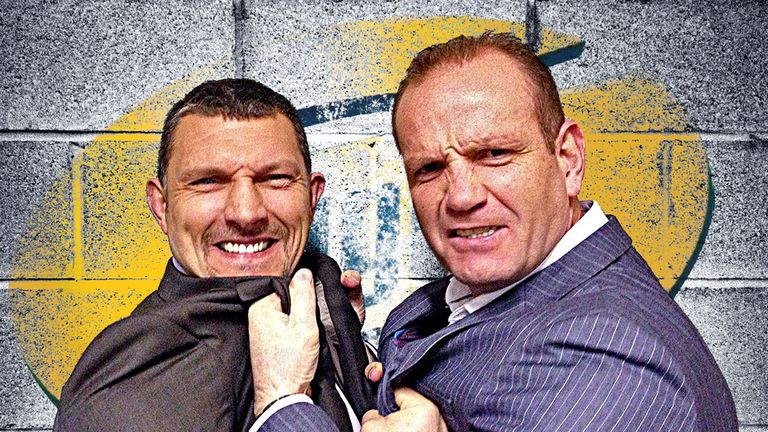 On the pitch Barrie McDermott and Terry O'Connor liked nothing better than tearing into the opposition.
They may have hung up their boots but that competitive streak still runs strong and we have found a way to channel their energies...
Each week they will preview the live Super League games and give their predictions for the rest of action - and we'll keep track of who's called the most matches right!
Round 6 saw two more draws - that is five already in Super Rugby XVIII, which is really hard to predict. Both Barrie and Terry admitted that it was not their finest week and while Terry managed to extend his lead slightly, we all know that, like Super League, this contest isn't won in March!
Round
Barrie
Terry
Round 1
6
6
Round 2
5
3
Round 3
5
7
Round 4
1
6
Round 5
3
4
Round 6
2
3
Total
22
29
Don't forget that you can follow all the action from the Super League weekend on Sky Sports.
Leeds v Wigan
8pm, Fri, Sky Sports 2 HD & 3D
Barrie says: If the Rhinos think they have had it tough these last few months and things will get easier, they had better think again. The Giants beat them with a big score and Wigan like to post big scores so something has to give way. I expect the Rhinos defence to be on their best form. Wigan have been ruthless in punishing any mistakes made by their opposition, and they will be eager to get at' the Leeds line that was fragile last week. The Rhinos know how to bounce back though, and they will be looking to give the South Stand something to cheer about as they will absorb the pressure of the Warriors attack to win.
BARRIE PREDICTS: Leeds by four points
Terry says: It's been a difficult period for Leeds as far as fixtures go - Melbourne, St Helens, Huddersfield and now Wigan. Leeds will know that Shaun Wane's Wigan will be rocking up full of confidence after battering Catalan Dragons. They look more physical - their contact was better and their line speed was better. They really played on the front foot. I was very impressed with Mattie Smith and Blake Green. I expect this to be a very close game and Leeds will be very disappointed by their second half performance last week so they will be desperate to get back to winning ways.
TERRY PREDICTS: These games have always been classic games on Sky and I think we shall see another one. I think Wigan will win by 16 points!
Salford v Warrington
5.45pm, Sat, Sky Sports 1 HD
Barrie says: The Reds had the opportunities to beat Wakefield last week but they persisted in giving away needless penalties, inviting Wakefield to come back into the game. They mustn't do this with the Wolves who will be smarting from their second loss on the run. I expect the Wolves to step up a gear and Salford will have to work really hard at their discipline, but it's a Warrington win for me.
BARRIE PREDICTS:Wolves by 12 points.
Terry says: The big question here for me is can Alan Hunte keep on getting the best out of his players? They need to keep the same intensity they produced against Wakefield last week. They may have only got the draw but you could see that they were really trying. Their start has to be a lot better against a Warrington side who will be frustrated that recent results have not gone their way. They are like a wounded beast at the moment - I have never seen a Wolves side make so many mistakes like they did last week. I expect them to hit back and hit back hard.
TERRY PREDICTS: Warrington to win by 22 points.
St Helens v Wakefield
Barrie says: Richard Agar's side have had a wake-up call last week and they need to learn that it's a different animal when you're not the underdog after their performance against the Reds. They will approach this game with a better attitude. Time and again they had field position to win but couldn't make the final pass or decision. That wasn't a problem for the Saints last week against the Wolves and this week, they will back their judgement as they bombard the Trinity line with dummy runs and astute passes.
BARRIE PREDICTS: St Helens by 16 points
Terry says: I backed Saints at the beginning of the year and their performance last week was more like it! James Roby was outstanding while Jonny Lomax was also class in attack and in defence. Wakefield were lucky to sneak a point against Salford and are going to have to improve to deal with the speed of St Helens. They are also missing some key players -Tim Smith will leave a huge hole.
TERRY PREDICTS: I expect St Helens to put up a decent score in this game and win by 26 points.
Catalan v Widnes
Barrie says: Catalan were embarrassed by Wigan last week, unable to score a single point and letting 38 points past. It will be a different Dragon who will turn up when they play against a very spirited Widnes outfit this week. The Vikings will be thinking they should have won, if Hock hadn't been sent off for dissent even though they should have won without him. Catalan will have to match their opponents spirit to stand a chance of winning...but they will, and will win.
BARRIE PREDICTS: Catalan to win by 12 points
Terry says: Widnes showed some great spirit last week to come back from 20-4 down and grab a draw with 12 men! They don't have the likes of Gareth Hock or Kevin Brown this week so it is going to be tough for them. Catalans are missing their big players too - Scott Dureau and Brent Webb which is a massive blow. I think without their ball players this is going to be a very tough game for them and although Widnes are also missing key players they do have a good side out.
TERRY PREDICTS: Widnes by 6 points.
Huddersfield v Hull FC
5.30pm, Sat, Sky Sports 1 HD
Barrie says: Giants coach Paul Anderson did a remarkable job to put things right and beat the Rhinos last week, while Hull trounced the Tigers in the same round. It all stacks up to be a high scoring game doesn't it especially with Danny Brough and Daniel Holdsworth crucial to their respective sides? But wait, let's look at it properly.... Hull held Castleford to a pointless score and the Giants held Leeds to eight points away from home so, it might be who can stop the most tries who wins, and not who can score the most tries.
BARRIE PREDICTS: I think the Giants defence will win by 12 points.
Terry says: If you were Hull coach Peter Gentle, all your homework would be based around how to stop Danny Brough. He is playing superbly for Huddersfield and frustrates his opponents. It was a good result for Hull last week too - they scored 52 points and did not concede a try against Castleford and I thought they played with a lot of energy and were clinical. However if they do want to go to Huddersfield and turn them over then they have to stop one man and that is Brough.
TERRY PREDICTS: Brough to lead the Giants to a 12 point win.
Bradford v Hull KR
Barrie says: The Bulls couldn't manage to beat Widnes for a variety of reasons... and in some parts of the game last week Hull KR at times, looked as if they had an extra 10 men on the field against a disappointing Bronco outfit. It looks at last that KR have gelled but still lack a bit of confidence, and confidence is what the Bulls will have in plenty on their own turf. Both teams are able to put points on the board, and both teams have spells when their defence is all at sea, so I predict a points fest in this game with the Bulls winning.
BARRIE PREDICTS: Bradford by 6 points.
Terry says: When Hull KR played against London they made very few mistakes. They have Cory Paterson and Con Mika and they have got ball players like Michael Dobson, Travis Burns and Greg Eden. If they can keep all those players fit then they can go on and do something. Alex Brown last week went on and made a big name for himself in only his third game since 2009! Francis Cummins will be disappointed that they gave up that lead against Widnes - they gave away 13 penalties! It's going to be a good game but I think Kingston Rovers may take this one - I saw glimpses last week of what they are capable off.
TERRY PREDICTS: Hull KR by 16!
Castleford v London Broncos
Barrie says: The Tigers came down to earth against Hull FC last week, as did the Broncos who would have been buoyant after their win the week before at Salford. Both sides will want to make amends in this game but it will be Castleford who have the depth in experience and skill to win.
BARRIE PREDICTS: Cas by 4 points.
Terry says: Castleford last week did not look like the same side we have seen in previous weeks. They made too many mistakes that led to tries, let's hope it is just a blip for them. This week they will be missing Weller Hauraki and Justin Carney so it is going to be a tough game. They looked totally out of sorts last week and they need to get it sorted. London did score 22 points against Hull KR but they conceded 30 in that first half, they did fight back a bit but Cas at home will be looking to win this one. It will be interesting to see how both sides react.
TERRY PREDICTS: Castleford to win by 14 points.