Money matters
Dave Walder says Newcastle and Wasps need investment to challenge the best sides...
Last Updated: 17/01/12 10:18am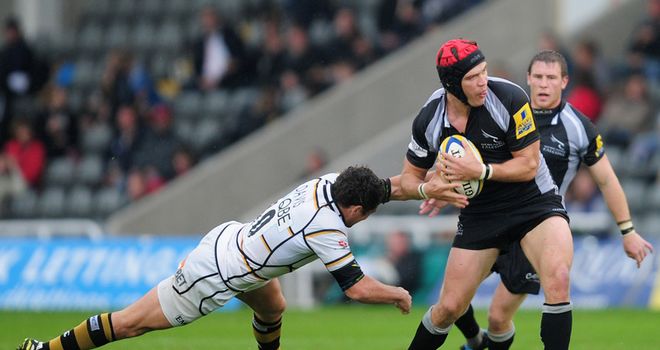 It is always with apprehension these days that I check the weekend's rugby results when I wake up on Monday mornings.
The first two I look for are Wasps and the Falcons and too often recentIy I have been disappointed by what I have read. Both clubs have been in decline for a while with Newcastle being perrenial strugglers whereas Wasps have fallen sharply from the pinnacle of being English champions only three years ago.
The problem, I believe, is down to investment - or lack of it. Ironically, last season, Newcastle were saved by one of their bigger investments over the past few seasons - the boot of Jimmy Gopperth. A lack of creativeness has seen crowds fall and in a part of the world where supporters expect to be entertained as well as watch a winning team, they have come up short. Wasps have also seen attendances tumble as they have failed to live up to the standard of recent successful years.
Haves and have-nots
Owning a rugby club has always been a rich man's hobby rather than a solid investment. The league table at the end of the 2010/2011 season was almost a direct reflection of the money being pumped into clubs.
There were a few exceptions but more often than not, it has become the haves against the have nots.
With the current financial crisis, more teams are looking in the lower leagues to try and unearth hidden gems. Squads are shrinking at a time when the game has reached previously unseen levels of physicality and increasingly clubs are turning to their academy systems to plug the gaps. Yes, it is important for the development of the game and the health of the national team to be giving these youngsters a chance but more often than not, they are being thrown in at the deep end. It is possible to do this successfully when the team is winning but put too many players in too soon and the team finds it hard to compete consistently - just ask Newcastle and Wasps!
Newcastle have tried to arrest the slide with one last roll of the dice. The timing of it has given them a few weeks for the new coaches to come in and try things hoping to have an impact before the resumption of the league programme.
Wasps on the other hand, will be hoping the break from the league gives a few of their wounded the chance to return to action and, in the meantime, will hope to secure a couple of morale boosting wins.
Come 5 May both sets of coaches, players and fans (and me) will be hoping they have done enough to survive and will then set their sights on persuading the owner to invest again.