Ellis dilemma for England
Wests star set to be fit - but will he be recalled to a winning side?
By Ben Sullivan - follow me on twitter @skysportsben. Last Updated: 16/11/11 7:05pm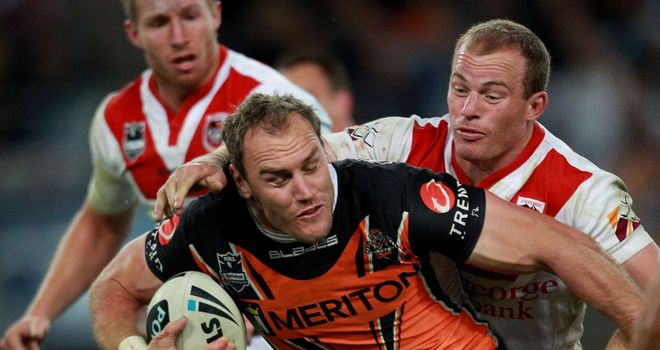 Gareth Ellis: West Tigers star missed the victory over New Zealand
England second rower Gareth Ellis is in contention for a recall to the side for Saturday's Four Nations final against Australia.
Ellis missed last week's 28-6 victory over New Zealand that secured England's place in the Elland Road showpiece with a back injury he picked up in the defeat by Australia at Wembley.
But coach Steve McNamara has confirmed that the Wests Tigers star is fit to return, although a decision on his selection has yet to take place.
On Sky Sports
January 1, 1970 1:00am
Warrington's Garreth Carvell came into the squad and impressed against the Kiwis, so it looks to be a straight choice between the two for the 17 for the final.
Ellis is rated as one of England's genuine world class players and would expect to get the nod, but McNamara may be reluctant to change a winning side.
McNamara told Sky Sports News HD: "Gareth has trained all week. He was very close to being fit last week and he has performed very well in practice and not missed a trick.
"So it looks like he is going to be fit, but we will re-group on Thursday night back in Leeds and get a last minute check on him there and make some decisions.
Sky Bet Odds
Gareth Ellis to score first try in Four Nations final - 22/1
"It's looking at this stage that we've got 24 fit players, which at this stage of the competition has probably not happened before.
Tough choice
"It will be an extremely tough choice but we get paid to make some tough decisions. We've got some fantastic players and I'm happy that I'm being put in this situation."
McNamara is relishing another tilt at the Kangaroos after his side were somewhat unfortunate to lose at Wembley two weeks ago.
He added: "We obviously wanted to perform well in the tournament and we have done well so far. It's put us in a position to compete in the final and as long as we prepare right this week and look to get our performance right, it should be a good night.
"There were probably some questions raised after those two games against France and Wales whether we were improving or not.
"But it's difficult from the outside looking in - they were two extremely tough fixtures and the way the players handled those certainly proved to me that they were going to perform against Australia and New Zealand and obviously we get another chance this week.
"It is fantastic to be in the final, there is no two ways about that. It's going to be a great occasion. We have got to concentrate on making sure we perform very well in this final and that would give us a great chance of winning."