Border control
Rangi Chase's England call-up, Leeds v St Helens and the NRL Grand Final make Brian Carney's Set of Six.
Last Updated: 05/10/11 9:09am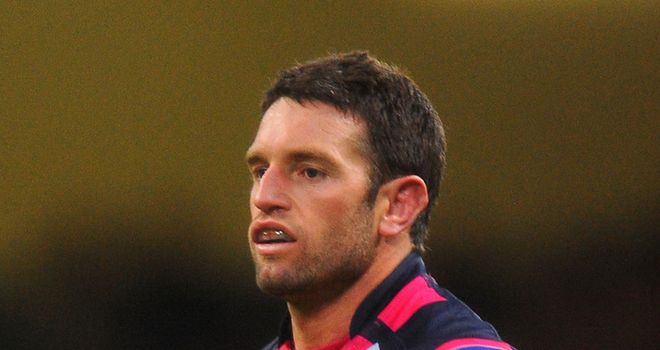 Each week Brian Carney takes a look at six moments in Super League that have made the headlines - and not always for the right reasons!
Players, coaches and decisions all come under Brian's scrutiny as he picks his 'Set of Six'.
Find out who and what caught Brian's eye this week - and then use the feedback form below to have your say...
LEEDS V WARRINGTON

We went into Friday's game on a bit of a downer after what we had seen the previous week and I think there was a little apprehension over what we would see in this game. But it was a special night as both sides really performed. Going into that game, I respected the quality of the Leeds players but I really did not think they would win the game. However, they turned in a massive display of gritty rugby league to prove me wrong. You have got to remember that Warrington finished 13 points better off than Leeds in the table - that is incredible! It was probably one of Warrington's lesser performances; that is not taking anything from Leeds, but we have to call it as we see it and Warrington did not play well. I am not sure how much that was down to Leeds not letting them play well or if it was just a bad day for Warrington. The likes of Rob Burrow, Danny McGuire, Jamie Peacock, Kevin Sinfield and Danny Buderus put in world-class performances for Leeds and really lifted the Rhinos. It was thrilling and exciting with some great moments of magic. It was a shame there had to be a loser but I think neutrals would have walked away from that game content.
ST HELENS V WIGAN

After Friday night Saints and Wigan were certainly under some pressure to entertain us as well - and they did not disappoint. It was another great display of rugby league. The most noticeable thing for me was the way Saints were prepared to grind Wigan down. That was exemplified by Jon Wilkin. He took on a lot of the kicking responsibility early in the game by kicking down to the corners or kicking very high. That really made Sam Tomkins stand still and I think that unsettled him a little bit. Give him a bit of time and space and he is devastating, but those high balls meant he had no time to do anything before the chasing Saints descended onto him. St Helens really got their tactics spot on and were worthy winners of that game.
MANLY V WARRIORS

On Sunday morning we saw the NRL show-piece. It was a very high quality game and you were waiting for the Warriors to explode and play that offloading, off-the-cuff style of rugby league. They were forced to chance their arm as the game was slipping away from them and people are saying that they should have done that earlier. But there is a lot of risk playing that style of rugby and Manly may have picked up on some mistakes and put that game out of reach. Manly were just too good on the day. It also gave us the chance to see some of the players who will be over here for the Four Nations. Kieran Foran, who plays for New Zealand, was a game breaker for Manly, while Daly Cherry-Evans may get a look in for the Aussies; he was very solid and it is hard to believe how young he is
RANGI CHASE AND ENGLAND

This is more to do with the rules than Rangi Chase, who I think is a wonderful player. I have got mixed feeling on this and I think the waters are so muddy now and need sorting out. It is hard to know if we have real international rugby or international sport anymore. To be able to represent a country after living there for three years may be in the rules, but I cannot tell you how strongly I disagree with that. This is ultimately the player's decision, though, and I don't understand why they do it. I always give the example of George Weah. In 1995, Weah was the World Player of the Year, European Footballer of the Year, and African Footballer of the Year. He would have made any team in the world, but he stuck with his birth country Liberia and because of that he never played in a World Cup. It does not only happen in our sport - look at the England cricket team. Five South African-born players and an Irishman! Are we really erasing borders this quickly?
MAN OF STEEL

Rangi Chase picked up the award at a very enjoyable evening in Manchester. He is a wonderfully talented player and he has done some magical things on the rugby field. However, having first-hand knowledge of the voting system, I think it is flawed. It is voted on by the players; I have experience of what the players think and I think it needs an overall. That is not to say that Chase did not deserve his reward, but I would not have said he was the strongest candidate out of the three final contenders. Out of Sam Tomkins and James Roby, I think Chase had the weaker case. He has missed seven games this year; that is almost a quarter of the season. Also, Castleford did not make the play-offs and got knocked out of the cup. Just because you don't make the play-offs does not mean you can't have a great season, but both Tomkins and Roby did make the play-offs. I think Roby has missed just one game this season. I think there needs to be a little more transparency and accountability because this is a very prestigious award. However, I will say that the man who picked it up last night is an extremely talented player and brings a lot of excitement to the game.
THE 2011 GRAND FINAL

Here we go again! St Helens and Leeds are creating bit of a dynasty as far as Grand Finals go. This will be the fourth St Helens v Leeds Grand final in four years. This one is really difficult to call and is far from being another boring Leeds v St Helens final. There is an air of excitement and unpredictability about this that I have not felt for a long time. I think Leeds will go into this game the more experienced side but I really like the way Saints are playing at the moment. I am not going to call this game, it's just far too close to call. I am going to sit back and enjoy what will be a wonderful occasion. It will be the first time the Grand Final is shown in 3D and will be a very special occasion.