Real Steel contenders
The Man of Steel, the play-offs and the success of State of Mind all make Brian Carney's Set of Six.
Last Updated: 15/09/11 8:16am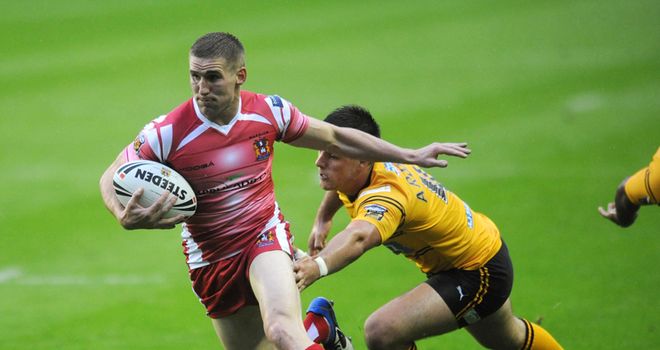 Each week Brian Carney takes a look at six moments in Super League that have made the headlines - and not always for the right reasons!
Players, coaches and decisions all come under Brian's scrutiny as he picks his 'Set of Six'.
Find out who and what caught Brian's eye this week - and then use the feedback form below to have your say...
WARRINGTON WOLVES

League leaders trophy and a landmark moment for the club. Cup wins have now been followed with league consistency. It's been a long and at times traumatic journey from the old Wilderspool ground to the new Halliwell Jones Stadium. The club have worked hard off and on the field and will, as an organisation, see this first league trophy as a well-earned reward.
PLAY-OFFS

it took until the last round to sort out the top eight. Does anyone see a credible threat coming from outside the top three this year? Huddersfield have had a poor final quarter of the season, Leeds have pedigree but are hit and miss this year and both Hull clubs have gone as far as they will go. Catalans Dragons can possibly cause an upset but they also have the unsettling (for their coach) tendency to concede a lot of points in 80 minutes. Just my opinion and if I'm wrong it means that we will have had the thrilling underdog wins that we all love in sport.
CASTLEFORD

One team that missed out. They were in the top eight all year and miss out on the play-offs in the final round. A disappointing end for their departing coach, Terry Matterson, however he must be satisfied with the effort his injury-hit side put in against Hull KR - brave is the word that springs into my mind. If they produce that with a full deck they will be hard to beat next year.
MAN OF STEEL

Who is your tip? Rangi Chase? Sam Tomkins? Michael Monaghan? All have shone for their clubs and have at times this year been head and shoulders above anyone else on the field. Match-winning performances have rightly seen these three installed as award favourites. Chase and Tomkins have been spectacular but my vote goes to Michael Monaghan. I see him as so integral to Warrington playing so well this season. Smart decisions at dummy half and a strong defender means I rate his all round game as the best in the league. For that reason, not just excellence but few weaknesses, he's my Man of Steel.
VOTING SYSTEM FOR MAN OF STEEL

A lot of different voting systems have been tried and now the vote rests with the players of Super League. If the RFL want stick with that then fine, but I have reservations about it. The award should recognise excellence throughout the season. Players play a game and can watch two others on a weekend (providing they are not playing in the televised game). That leaves a minimum of four, possibly five games that players don't see and can't know how other players have fared. That means they vote essentially on who plays well against them. A publicised voting system like the Dally M awards allows for year-long promotion of the award ( sponsorship opportunity?). The RFL would need to assemble a credible panel of weekly assessors (media, former coaches/players, fans), allocate them each a game and publicise the weekly results.
STATE OF MIND

I spoke last week of the State of Mind campaign. Round 27 dedicated as the State of Mind round was an overwhelming success. National television and print media coverage during the week leading up to the games was excellent as was Sky Sports coverage of the campaign. Special credit should go to Angela Powers and her moving piece featuring Dale Laughton, Kris Radlinski and Adrian Vowles. All three spoke from their own personal experiences about the pressures facing retired rugby league players and struck a note I'm sure with many. It is hoped that State of Mind will continue to promote mental health amongst the rugby league community for years to come. For more information go to http://www.stateofmindrugby.com