A sad farewell
Brian Carney pays tribute to Wigan and Matt King and says farewell to one of life's true gentlemen.
Last Updated: 22/06/11 10:08am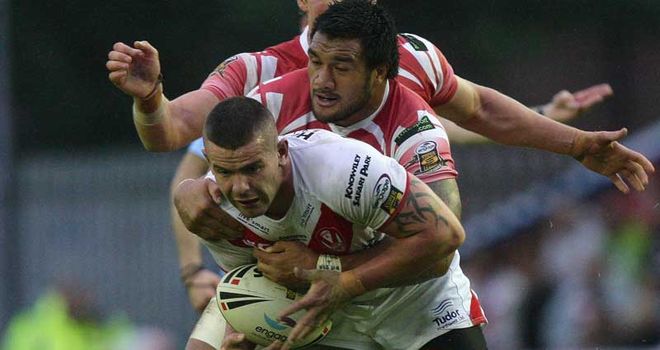 Each week Brian Carney takes a look at six moments in Super League that have made the headlines - and not always for the right reasons!
Players, coaches and decisions all come under Brian's scrutiny as he picks his 'Set of Six'.
Find out who and what caught Brian's eye this week - and then use the feedback form below to have your say.
WIGAN V SAINTS

The Sky 3D cameras were out in force on Friday for this game and while it was not the most spectacular game I had ever seen, there was something very special about Wigan's' performance. It was not a case of Saints playing badly but rather Wigan just not letting them play at all. Saints had next to no possession in their opposition's half and every time they tried to bring it off their own line Wigan dealt with them. The defence of Wigan was just spectacular, especially close to the Saints try-line. I have played in a couple of those games before when you try and take the ball from you own line but you are not making any meters. The ball is slow getting back and the next runner is getting bashed and you end up kicking from your own 40 and your opposition is running the ball back from the half way line. It is a bit soul destroying and hats off to Wigan for doing that to Saints.
WARRINGTON

St Helens will want to bounce back this weekend when they take on Warrington but it is going to be tough as Warrington are on fire. I know they had a slip-up a couple of weeks ago when they lost to Salford. I don't want to take anything away from Salford but I think that was more down to Warrington's carelessness. They really got back to winning ways against Hull KR where they piled on plenty of points. They just love to score tries so expect plenty of against St Helens.
MATT KING

Matt King scored a hat-trick for Warrington on Sunday - him and his wife have just had their first baby so what a great way to celebrate your first Father's Day! I was talking to him the day before the game and he was saying he was a bit worried about the game. He said he was not as nervous as he usually is because he was so focussed on his little girl. He said the things that you worry about as a player pale into insignificance when you have a little baby crying out for attention. Fatherhood obviously suits Matt King - he is one of rugby league's nice guys and he fully deserved his hat-trick.
CASTLEFORD FINE

This is not a pop at Castleford, far from it, but I just think that their £500 fine for breaching operational rules was ridiculous. We watched the whole kit farce unfold on the country's biggest sports network and ended up with one of our Super League teams playing in the kit of a team in a division below. I am not saying that I want a fine that would bankrupt a club but I don't think £500 is enough for bringing our game into disrepute and certainly does not act as a deterrent. Once again I really want to emphasise that this is not having a go at Castleford club, rather at the fine.
LONDON

I really did not fancy their chances against Wakefield but they certainly proved me wrong. After Wakefield beat Huddersfield I fully expected them to go to London and win. London had not won in 12 games and I feared for them. But that was a very special win for them and I hope they are able to back that win up this weekend against Hull KR. Losing can become a habit so good on them for breaking that streak and let's see them get into the winning habit.
PAUL DARBYSHIRE

I was incredibly sad to hear about the passing of Paul. He was diagnosed with motor neurone disease in September last year, and died peacefully in his sleep this week. He was a tremendous servant to Warrington both as a player and as a coach. I got to know him when I played union at Munster and we shared a house together and he was one of life's true gentlemen. He made a huge impact at Munster and turned down the job as the Irish strength and conditioning coach because he had built up such a strong relationship with the Munster players. Some of the greatest rugby players in Irish history like Paul O'Connell and Ronan O'Gara have paid tribute to Darbs and have said what a huge impact he had on them. It is a sad loss and all my condolences go out to his wife Lyndsay and their four children. I believe Warrington are going to have a tribute for him on Friday night which will coincide with some of his colleagues from Munster cycling from Cork and will finish in Warrington.