Nowhere to hide
Missed tackles, thinking on your feet and the Halifax kit lady all make Brian Carney's Set of Six.
Last Updated: 07/06/11 5:04pm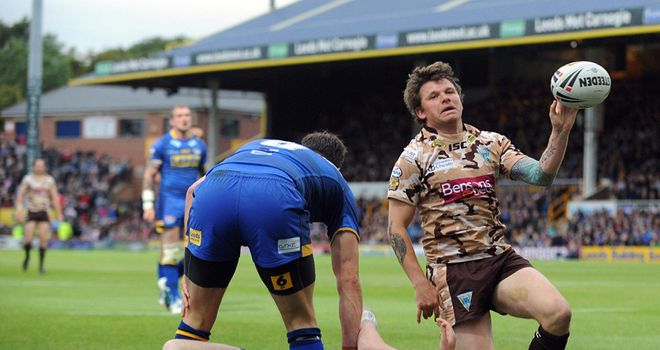 Each week Brian Carney takes a look at six moments in Super League that have made the headlines - and not always for the right reasons!
Players, coaches and decisions all come under Brian's scrutiny as he picks his 'Set of Six'.
Find out who and what caught Brian's eye this week - and then use the feedback form below to have your say.
ONE-ON-ONE TACKLES

We talk long and hard about structure in defence and coaches and backroom staff spend a lot of time talking about the fundamentals of tackling. Good technique is obviously needed to make sure you get your man in those one-on-one situations but at the end of the day it is your own determination not to let him pass that counts. Over the weekend we saw how not to do it - there were some shocking tackles. There will be no hiding from missed tackles at the video-analysis sessions and they can be very lonely when your missed tackles are up on the screen, but not as lonely as when you miss your one-on-one tackle and look around to see your opponent 30 yards down the pitch heading for a try - you have got to make your tackles!
LEE BRIERS

Of course good running lines make point number one much harder and when you have a player like Lee Briers putting you into space, well that can cause havoc with any defence. The touches he showed against the Crusaders were unbelievable and there is no better natural passer of the ball in the game than Lee Briers. If you don't believe me then just ask Andrew Johns. He watched Briers in action in pre-season training and he was that impressed that he just sat back and applauded.
THINKING ON YOUR FEET

Well done to Salford who were fantastic in attack against Wakefield. The Reds worked out that the Wildcats had a weakness down the right edge and boy did they expose it. They showed their ability to assess a situation and exploit it to their advantage. They have got some smart players like Daniel Holdsworth and Matty Smith and I think both sides would have learnt a great lesson about playing what is in front of you.
CATALANS DRAGONS

It was a brave decision for the Dragons to move their game to Montpellier but it paid off as they entertained a healthy crowd. More importantly they got a well-deserved win against Wigan. They need all the help they can get though and I think people forget that they are still in their infancy. They spend around €350,000 on travelling a year and get no help from the RFL. That is money that could be spent on developing their youth and really establishing the game in France. If we want to expand our game then they need assistance.
HILDA

What a farcical event at the Shay Stadium that did the image of rugby league no good! Huddersfield were playing Castleford but a mix-up meant that both sides ran out in white strips and neither had brought alternative kit. Halifax kit lady Hilda Hardy was rushed in to save the day as she lent Castleford some Halifax shirts but this should never have happened. I really think it has brought our game into disrepute and the attention to detail and professionalism was certainly missing.
THE EXILES

They have finally arrived! We have asked for a fixture like this for a long long time and I really hope it takes off. It really needs a healthy five figure attendance though and I urge fans to support this - it could become a unique event with some of the best players in the world wanting to play. How about you pick your best Super League XVII and see how many of your team have made the England or the Exiles team.