Hooked for life
Brian Carney reinvents Super League, lauds Saints and looks forward to the Anzac Test in his Set of Six.
Last Updated: 03/05/11 3:00pm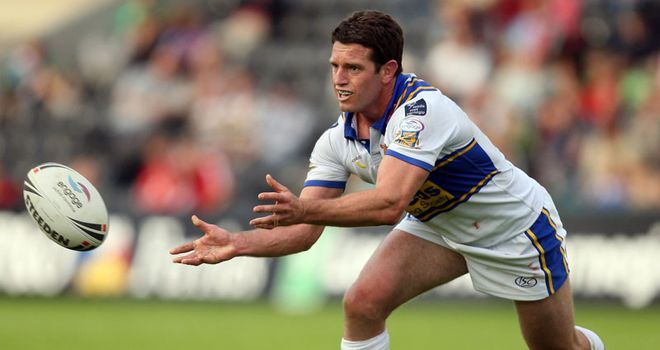 Each week Brian Carney takes a look at six moments in Super League that have made the headlines - and not always for the right reasons!
Players, coaches and decisions all come under Brian's scrutiny as he picks his 'Set of Six'.
Find out who and what caught Brian's eye this week - and then use the feedback form below to have your say.
HOOKERS

Hookers play a crucial role in any team; if you've got a good one on your side, the chances are you've got a good chance of winning. There are essentially two types of hooker, each with their own merits. On the one hand you have the ball-players - guys like Danny Buderus, Michael Monaghan, Julien Rinaldi and Matty Smith from Salford, who do a lot of great work around the ruck and create space for the wide men by tying up space before passing. On the other side of the coin you have the strong, quick, running hookers like Wayne Godwin, Michael McIlorum, Paul McShane of Leeds and - probably the best example of all - James Roby of Saints. They cause defences a lot of trouble by picking the ball up quickly, darting in behind the ruck and driving their team forward.
WAKEFIELD FANS

Wakefield secured a great 26-24 win against Hull KR, who are now third from bottom and in a bit of a trouble.
Wildcats head coach John Kear is again doing wonders with limited resources, but for me the significant part of the game was the 7,283 attendance. A lot of people are talking about Wakefield being the team to miss out when the new licences are handed out and I just wonder what sort of an impact this will have. You'd imagine teams like the Crusaders would love to have the core support of the Wakefield Trinity Wildcats. What's going against them, by all accounts, is how their finances have been and not having a suitable stadium. This is not the fault of those loyal supporters - more the fault of the people responsible for running their club.
SAINTS' COMEBACK

St Helens found themselves 18-0 down to Hull FC but came back and could have won the game before ending up with a draw. The four youngsters Saints brought in were outstanding and when you consider the players that Saints are missing, their position in the league table and the quality of the young players they are blooding is a real credit to Mike Rush and the development team. Whatever he's being paid, he's worth it.
ANZAC TEST

Friday's match should be a very interesting occasion for all fans of international rugby league, particularly with England due to face the Exiles in June. I'll be monitoring the standard of play very closely because that's the level the rest of the world will have to match. There are some exciting prospects making their debuts on each side and it all points towards being a great game.
PEACOCK & MAGUIRE

Leeds must be delighted to have these two players back on the field. They proved their worth by combining brilliantly for a McGuire try and I would be very surprised if Leeds don't kick on this season now that these two are fit and healthy again.
BARRY HEARN

I was watching the Snooker World Championship last night and listening to the players talk about the transformation of their sport under Hearn. Like snooker and darts, rugby league is crying out for reinvention. I'm pretty happy with the rules of the game as they stand and games lasting 80 minutes. But the new ideas that Hearn brings to sports and the festival atmosphere he creates is sorely needed in Super League. Think back to the launch of Super League and the hype and excitement at that time; we need that back but it's not going to happen unless somebody with the ability and the experience - who is outside rugby league and therefore unaffected by bias - oversees it. I'd love to see Hearn offered a seat on the board of rugby league.