Current obstruction ruling causes confusion for all concerned
When is obstruction not obstruction? Luke Dorn offers up an easier option to replace the current ruling.
By Luke Dorn
Last Updated: 05/06/14 1:27pm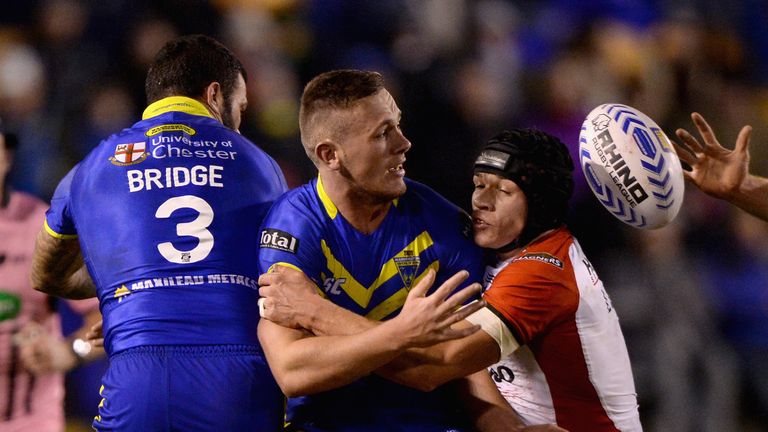 Rules should be black or white. It is either a forward pass or it isn't. You're either offside or you're not. The issue when it comes to obstruction, however, is that it seems too subjective, meaning we are finding some inconsistencies and that is leading to frustration within the game, in both hemispheres, too.
It used to be that obstruction, or a shepherd as it was known back in the day, occurred when you picked up the ball behind someone and used them as a shield to block off the oncoming defenders. It was something akin to when you were a kid and opted to hide behind your dad if you were confronted with something a little threatening!
Now, though, there is a lot more subtlety in the game, a lot more intricacy, as teams try to break down opposing defences, which these days are just so good.
Let me just be clear - I'm all for the obstruction rule in general. You cannot be using players as a human wall to gain an obvious benefit. But the defenders have to be held accountable as well.
Luke Dorn
The obstruction rule nowadays is a little confusing in my opinion. As far as I'm aware, it occurs when you come behind one of your fellow players with the ball, thereby affecting the defender's attempts to stop you. You shouldn't have to take into account someone getting in your way as you look to make a tackle.
The way I have always interpreted it is that if you catch the ball well and truly inside the person (as in before going behind them) and then run around them, it is fine. The issue now is that the margin for making the catch seems to be millimetres.
What it is doing is costing some teams from being awarded perfectly good tries. It is simply too defensively weighted, allowing players to get away with making poor decisions as to when and where they come out of the line to try and make a tackle.
Let me just be clear - I'm all for the obstruction rule in general. You cannot be using players as a human wall to gain an obvious benefit. But the defenders have to be held accountable as well.
A lot of the time - especially now in Super League - they are saying that if you make the catch behind a player then it is instantly a penalty. That is irrespective of whether the defensive player has moved three metres to one side to make the tackle on a dummy runner.
If you catch it a metre or two inside the player in front of you, then you're obviously gaining too much, and that is an issue. But if you are taking it behind, or marginally behind, then I think that is fine, so long as that dummy runner doesn't run into a defender and knock them over.
If a defender has come from the outside in and made his decision early, then for me it should be play on. They took that option to step out, and should not be let off the hook for reading the situation incorrectly.
Easy excuse
Every team runs set plays. You are trying to outwit the defence and find a way to create space to score. Teams pick on players to exploit, but that is now being taken away a little bit because defenders can use the obstruction rule at times as an easy excuse to get away with their own shortcomings.
Everybody is doing the same thing; it is just a matter of timing. And having mentioned timing, there is nothing we can do about changing the rule right now, midway through a season.
It does, though, need to be altered in the future. Some tries are being pulled back when they shouldn't be. Video referees are being used to look at where they caught the ball, rather than where the defensive players are stood as the attacking play is developing.
Maybe we make it like a forward pass. In that way we put it in the hands of the referee and his touch judges, rather than sending it to those that are able to use video technology (and I have already written this year about the the television official not being available at every top-flight match).
The non-televised games might let it go, but in the end all anybody wants is consistency. I think right now that is the best solution, to put it in the power of those officiating on the field.
When you think about the run-around play, where you use the first receiver almost as a wall to bounce a pass off, if you do that move and then receive the ball when he is slightly inside your line, then that should be deemed a penalty if you go by the letter of the law.
For that often-used move to be legal, the man receiving the ball would have to turn 180 degrees before offloading, and that extra split second or two would lead to the defensive line rushing up and cutting the move off in the early stages.
We need to find a way to make it better for the game, make it so that it is more transparent and clear cut. And that is not just for the fans but also the players themselves.
I know that on nine out of 10 occasions when obstruction wipes out a try, the coach of the team that would have conceded would be more bothered about the defensive breakdown rather than the obstruction by the attacking team.
Whether it is the right or wrong call, we want everyone to know where they stand (or shouldn't stand, as the case may be with obstruction).