Jamie Peacock and Paul Wellens a credit to the sport, says Dorn
Luke Dorn on the dangers involved in tackling and praises two legends of Super League.
Last Updated: 08/04/14 9:25am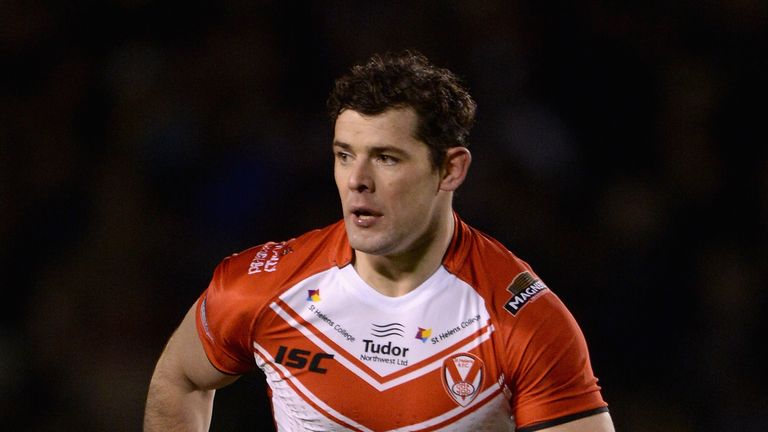 The one handed out to Huddersfield's Brett Ferres during the cup clash with St Helens was certainly warranted, though in saying that Brett is a nice guy and no player ever goes out to do anything to hurt someone deliberately.
He simply got his opponent in the wrong spot and at the wrong time. There was no malice in it, it was an unfortunate situation where a player was put in danger and it was only correct then that strong action was taken by the ref.
Being sent off is a huge punishment, particularly in such a close game, and he will feel terrible for having cost his side. But that is life - you are on the edge in this sport and you have to be punished for your actions if they are deemed to be dangerous.
It is not always the case that losing a man results in defeat, though. I remember playing reserve grade at the Roosters and we had a man ordered off after 15 minutes against one of the top teams, yet still ended up winning.
Work harder
It is amazing that when that happens there develops this back-to-the-wall mentality amongst the 12 left on the field. There should be more space for the opponents but the team short-handed works even harder to make up for the numerical disadvantage.
Tackling had already been headlines news in rugby league before the weekend, particularly Down Under after Newcastle Knights forward Alex McKinnon suffered serious neck injuries in an NRL game.
It was a freak occurrence and everyone acknowledges it is hugely unfortunate what has happened to Alex. I can't recall an incident as serious as this in our sport for some time at the very highest level.
Matt King was seriously injured while playing in the junior ranks at the London Broncos, and in the amateurs you sometimes hear of horrific injuries. At the professional level, though, it doesn't seem to occur as much, thankfully. I only wish it never occurred at all, at any level of rugby league.
I've seen probably around a hundred of those tackles that McKinnon was involved in already this year, so it was just an unfortunate thing that happened.
It is also a reminder of just how physical this sport is. As a player you don't really think about the risks too often; it certainly hasn't crossed my mind during the build-up to matches.
That doesn't mean that there aren't moments when you are involved in a tackle and suddenly find yourself in an uncomfortable position, perhaps you're off the ground and out of control, and it can be scary for that fraction of a second. You just have to hope it will be okay, because it is out of your hands.
I've really never thought about the perils of playing, outside of those situations. Physicality is one of the most important things in rugby league, alongside skill.
You go into rugby league as a child understanding that you will learn how to protect yourself, as well as improve your fitness and strength. Coaches will always teach you have to minimalise the risks and the proper techniques for both tackling and dealing with being tackled.
I played with Chad Randall at the Broncos - his father, Terry, is one of the Manly greats, and he talks about the games they used to play in. Basically it was thuggery. There were a lot of high shots, quite deliberate ones at that, and it makes you think how hard it must have been to play in such an era.
Now the game has evolved into this professional age where you have pure athletes, competitors who train five or six times a week and their skills are honed, with the help of video analysis, so they learn how to get better.
The incident in the NRL is hopefully a one-in-a-million case. In fact, I hope it isn't even that. I wish Alex all the best in his recovery; it was heart-warming recently to read of his engagement, and his determination to walk his bride down the aisle.
Milestone moments
As I've already said, his injuries remind us all just how tough this great game is. With that in mind, we are set to see two remarkable achievements in the game in terms of longevity in Super League. Jamie Peacock and Paul Wellens are both set to bring up personal milestones in terms of appearances.
The amount of games in a year, and the amount of finals and international fixtures these two have played in, means making it to 500 games is a truly amazing achievement. They should be hailed by all those who have played or watched the game over the years, whether they played for your side or not.
What makes them even more special is they are two of the good guys - you never hear of any trouble with either of them. They are role models for our sport, the type who make kids want to play it and make parents happy to let their youngsters take part.
It can be a short career in the end, and in truth it usually is. To see players who can go on for so long, as a fellow professional it is just a great thing to see. I hope to play in a few more games myself yet, but I won't get anywhere near the numbers those two have piled up.
Instead of playing on for too long I will hang up the boots and take out the clubs instead. Golf always comes to focus at this time of year with the Masters, and here to another Australian donning the famous green jacket on Sunday night. C'mon Aussies, c'mon, c'mon!