Luke Dorn discusses the problems at Bradford and Steve Prescott's legacy
Luke Dorn feels sympathy for the fans and players at Bradford as the club goes through hard times.
Last Updated: 06/03/14 11:27am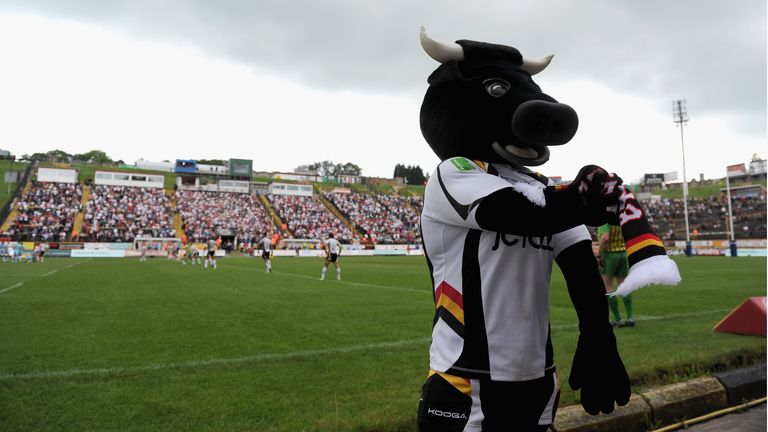 The people I feel most for are the players and fans. To get docked points again is tough. It's particularly tough for the guys who donated money to the campaign to save Bradford previously.
Ex-players gave up their Grand Final rings and jerseys that they worked so hard to get, and yet that money seems to have disappeared somewhere. Now they are back in the same situation.
The fans have given their money too, because they love their club and don't want to see it die. They are amazing to give up their hard-earned money beyond what they normally pay out. The premise the first time around was that it was being done to make sure this didn't happen again.
Tough
And yet here we are again. It's tough, really, to understand how it has happened.
Where I do feel a bit for those in charge at the Bulls is that the decision to dock them points seemed to be dragged out a little. Players and coaching staff had done nothing wrong, neither had the fans, so I wonder how it can take that long to investigate what has gone on.
Instead a couple of games into the start of a long, tough season and they find out just how many points they will be docked. Could that not have been done before the first ball was kicked?
If the rules are set in the stone, then that's how it has to be. It's unfortunate for the club, of course, but I don't think dragging it out helped anybody involved.
Now we are seeing some players leaving Bradford, and who can blame them for that? These guys have families to support, mortgages to pay. Any person that goes to work and you're told you might not be paid has the right to look around for something else.
This is not something either the players or the supporters want to see. They are not leaving because they've suddenly been offered a big contract from a rival. They've been through a tough pre-season (and I talked last time around about just how tough it is) and gelled as a squad. You work hard for each other in that period, but sometimes you have to take that out of the equation and look at how you're going to do best for yourself. Even simpler than that - you have to look at how you're going to pay your bills. You have to make sure there is money coming in.
No one wants anyone to leave their club during the season, but no one is going to say anything bad when it is circumstances such as these.
The concern is that eventually some players may just leave the game entirely. The uncertainty of rugby league at times can be concerning. Instead of battling away, some may decide that it's better to go and work a job where there's more long-term security.
We came through such an amazing World Cup and the growth and interest of the game has grown because of it. Then we had the announcement of the new television deal and the buzz around the sport continued to grow.
But then we hear these financial problems at clubs every so often, and I'm not just talking about Bradford now, and it is a bad look for the sport. Everyone deserves better - from the kids who wears their team's jersey, to the supporter who pays his money, to the players who put their bodies on the line.
This doesn't mean that the Bulls are doomed, though. Well, not in terms of relegation from Super League at least. We've seen already that they can win games this year.
Another win and they get back on an even keel so to speak, and that will be important mentally as much as anything else. It's going to be a scrap down there, that's for sure.
Sunday action
To matters closer to home, and with three wins from three things are going well for us at Castleford. We probably have actually been a bit under the expectations we set ourselves in terms of performances, but we have been working hard and doing our jobs.
It's been an exciting start and something we are happy with. But it's just a start - there is a long, long way to go.
When you're playing well and you're confident you want to come up against the best. We've had three tough games already, every week we've been challenged. This week will be no different when we face the reigning champions and the Challenge Cup winners in Wigan.
We're under no illusions as to what we are up against. Hopefully our efforts so far can help attract a healthy, healthy crowd to the Jungle and we are certainly excited about facing the Warriors.
Finally for this week, a mention about the decision to add Steve Prescott's name to the Man of Steel award.
I never met Steve or knew him, but for someone to have such a huge effect on the game I think it's fantastic that we have put his name now on something that means so much to the people who follow rugby league in this country.
It seems appropriate, too, that Prescott will now be forever linked with Man of Steel, considering what he went through in his life. It was never about him, always about everyone else. That's an inspiration for us all, both on and off the field.