Luke Dorn talks about the start of the new season and life back in the north
Luke Dorn starts a new year of his blog talking about his return to Castleford and a tough pre-season.
Last Updated: 26/02/14 7:23pm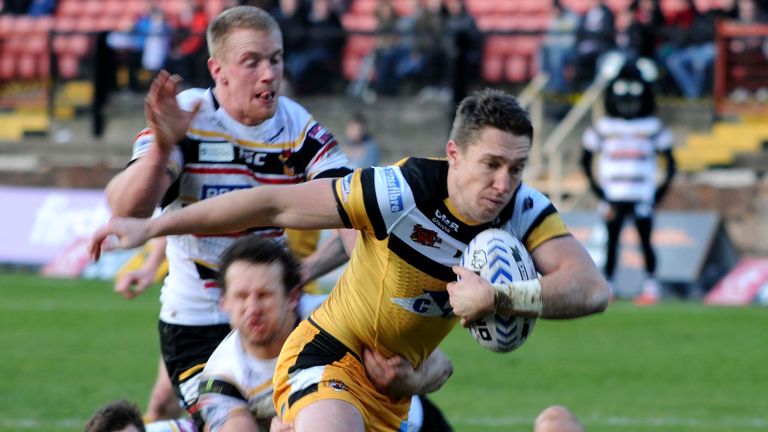 In truth, it was just nice to get out there and take the frustration of all those weights sessions, all those long runs, out on another team.
This is my second go around at Castleford. Last time it was just me and the wife but now we have a little girl, so we've got a bigger house to give us more space as a family. The people have been lovely since the move up from London, just about every workman - whether it's been to fix the phone line or install Sky - we've had come to the house has been a rugby fan and has wanted to talk about the game, which is a vast difference to life down south.
So, too, is the coffee. Not as in the taste, but as in the distance you have to travel to get it. We've found a couple of shops up here now, but we have to get in the car to reach them. That wasn't quite the case in London, where we had places at the bottom of our road, or just around the corner. Thankfully, though, now there is a golf club is just around the corner from my house instead!
While week one may be done, the preparation actually started towards it when we returned to training in the last week of October, pretty much for six days a week. Early on it was all about doing weights, heavy weights at that, and running. Basically, you're just trying to build up your cardio levels and conditioning. They (the club's coaching staff) are building you from the ground up during an eight-or-nine week period on the run up to Christmas.
We did hill work every Saturday morning at 8am, in the cold, which wasn't very pleasant. Yet all of that, all those treks in the rain and reps in the gym, help to mould the culture of the squad, help decide how tough you are going to be for what faces you in the future. It's very demanding physically and mentally to be doing two, three, sometimes four sessions a day and then go home and realise you're back up at 8am the next day to start again. The first week in particular is horrendous.
Everyone does a little bit of training to keep on top of things during the break, but that still doesn't stop you from hurting. Your quads are stiff, your chest feels like it's having knives stuck in it because you're back lifting those heavy weights and doing a lot of repetitions. There are times early on when you wonder if you're going to get through it, but as the weeks go by and it gets closer and closer to Christmas you realise you're getting that step nearer to playing again.
The Dorns spent Christmas here in England, but this year - my 10th in Super League - I had to play on Boxing Day, so I had to go steady away with what I ate (not too many potatoes with the turkey) and definitely no alcohol. It was quite a strange feeling for me, a new experience even at this stage of my career.
By the festive period things have begun to become more focused on the team in terms of working out the way you want to play. Of course you're still keeping up the fitness work, but there's more ball work and a stronger focus on defence. You're jumping out of conditioning to go and work the coaches on combinations and skills. Everyone starts to break it down into their specific roles within the squad.
A lot of the work has to be done on artificial pitches, as opposed to running in the mud and trying to hone your talents. That makes a difference, because you can focus solely on getting better, rather than coping with the conditions (under foot, at least).
Pre-season can feel long, very long, and I've usually had enough of it by the second week of November. But once you're about a month away from playing the time seems to go really quickly and the excitement seems to build. We were actually fortunate in the fact one of your friendlies got cancelled due to the conditions. Not playing gave us extra time to have another tough week, and in a way that has helped us be in good shape for the start of the new campaign.
And then finally, FINALLY, opening weekend comes around.
To be honest, our first regular season game against the Bulls was a little scrappy, particularly in the first half. We came home with a bit of a wet sail when we started to find our groove. But it was still good that we were able to grind out a win when we weren't quite at our best. When we had played Bradford the last time, in pre-season at the same venue, there was about 1,800 people watching, there was no music, to be honest no nothing really.
Second time around there was something like 9,000 in attendance. That, plus the pre-match fireworks and the realisation there were two precious points on the line, created a real atmosphere. You could certainly feel that on the pitch. Both sets of fans were great and it made for a really good day.
Of course, it is only two points. As for the long term at Castleford, our aim for 2014 is to get in the top eight. In fact, that's a bare minimum for us - we all hope we can get a bit higher up than that. We have got pretty high expectations within our squad, both individually and collectively. But then that's what you do all that work in the winter months for - to gain success on the field.