After cup defeat, what next for Broncos?
London's semi-final defeat has been tough to take for Luke Dorn and the rest of the Broncos squad.
Last Updated: 09/08/13 2:05pm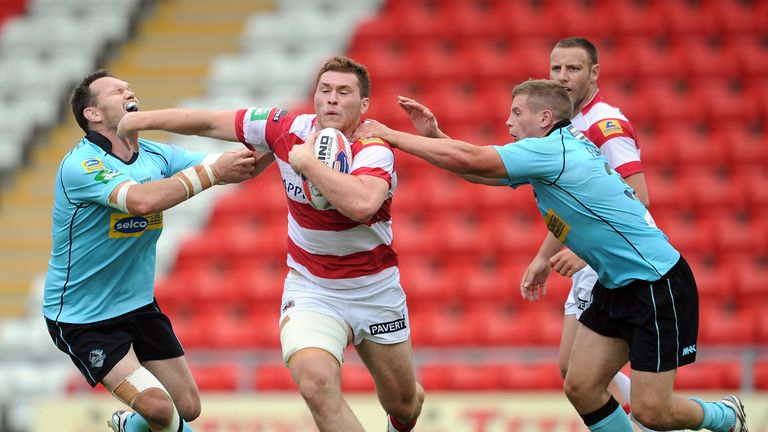 The defeat has had an impact on the players, without a doubt. It was an awful day for us, particularly as we'd gone into the game confident of performing well.
We were under no illusions about the task in hand, but everyone is beatable. Now we are feeling the pain of that loss. It's been an emotional disappointment to get over.
What is worse is that the result - in terms of the actual score - just allowed the 'I told you so' people to get up on their high horses again and say how they'd been right about rugby league in London all along.
Sadly, we just haven't been consistent enough in Super League. Now, with the licensing system set to be scrapped and the top flight to be cut down from 14 teams, the Broncos face an uncertain future.
I think the Rugby Football League have some questions to answer over London. It seems to me, from what I've seen, that the Broncos haven't been given a great deal of direction over the years.
It just seems like the governing body have been happy to take a back seat because they know there have been some fairly wealthy backers in place. With David Hughes there, they've been happy to let it go.
Perhaps they should have been more involved, been a more dominant voice. Maybe they needed to say 'this is how we feel the game should be going in London', or 'we feel you should be playing here'.
Don't get me wrong, there have been phenomenal steps taken in London. I've seen first hand that the junior system has done tremendous work and those efforts have started to bear fruit. Just last week our under 19's defeated Leeds. That is a huge result against such a massive club.
But while all that is going on, you've got to be winning games on the field.
I think it's been a big flaw in that regard that London haven't been able to bring in an Englishman in the prime of their career. It would help make it feel like it is a London club. Many detractors point out that whilst it's based in the capital, it still actually seems to have very strong Australian roots.
That has been the biggest pitfall since I've been here, in that would have had a snowball effect in helping to bring more on through the junior system if you had such a talismanic signing. It also helps put more on the gate.
Expensive
It doesn't help that everything is more expensive in London. That has to be a factor in trying to attract players from competitive rivals. In the AFL Down Under, for instance, the Swans have been given salary-cap dispensation in the past because of the cost of living in Sydney.
But that's not making excuses for any of us players - the bottom line is you have to win games. That would make the current situation a lot less scary if we were sitting in fourth or fifth place in the table.
Now it's a chicken and egg situation - what needs to come first for success to be had in London? Would a good team help push the club forward, or does it need stability off the field to lay the platform for strides to be made on it?
There have been issues, too, with putting down roots and in that respect, perhaps the RFL could've helped out. They could certainly have taken a little of that financial burden off David's' shoulders.
The movement around London, the change of colours and names, hasn't allowed potential supporters to really forge a connection, grow an affinity, with the club.
There definitely needs to be some sort of action taken now, otherwise it could be the end of London. It just seems a very uncertain time for the club at the moment, and that's scary for all concerned. For their fans that uncertainty is not what you want going into what could be a huge season in 2014.