Luke puts forward the idea of England going on a mid-season tour
Could a mid-season tour benefit England and the international game? Luke Dorn wonders...
Last Updated: 21/06/13 1:45pm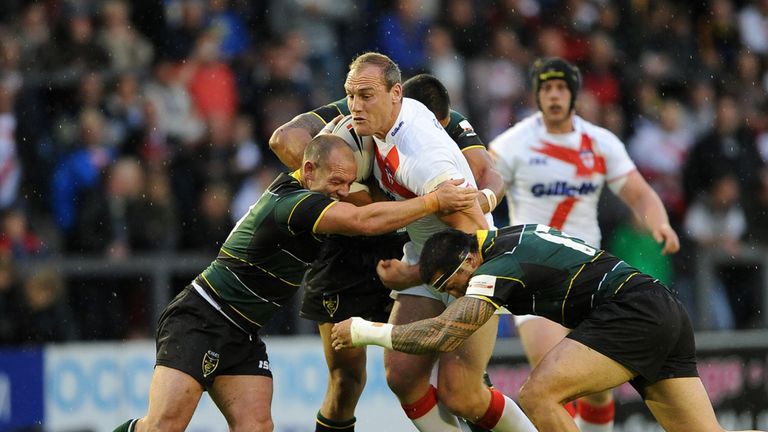 The fourth edition of the concept saw England come out on top in Warrington, but perhaps a crowd of just under 8,000 wasn't quite what was hoped for. It was, as it happens, up on the figure for game two of the series in Huddersfield last season, but the numbers have dwindled considerably since its inception in 2011.
So what else can England do to give themselves some meaningful opponents midway through a campaign? Personally, I think the concept is still good. The key to it, though, is making it popular with the fans, and that perhaps means changes are needed.
Having empty stadiums is not good for the game, especially if they are televised. Obviously some matches are well attended and some clubs attract sizeable attendances, but the numbers coming through the turnstiles has to be a concern for the game moving forward.
It's a bit concerning when it's the pride of a nation against the best from overseas, a Barbarians team if you like, and we can't sell it out. It's disappointing, particularly for the players as they would love to be appearing in front of packed houses.
However I don't feel scrapping the game is an option. I think it's vital for England to play someone like the Exiles. And the players who take part for the Exiles say it is a great honour to be selected in a representative team, giving them a chance to play against a national team in a one-off fixture.
Perhaps it's about finding the right time of year, or the right venue. I suggested on Twitter, tongue-in-cheek of course, about playing the match at a pop-up stadium in Shepherd's Bush to attract some away support.
But seriously, perhaps playing it in London isn't a bad idea? I know some people may mock that suggestions because Broncos games aren't strongly attended, but maybe a game like that would attract those from Down Under who have heard of the likes of Steve Menzies and Brett Hodgson and want to come along and see them play.
England need some sort of hit-out - Yorkshire v Lancashire tried and failed in the not so distant past, while there's no point playing France or Wales at the moment. None of the sides involved got any real benefit from those matches.
Away days
So what about this - rather than taking on the Exiles here, England instead travelled for a tour of Down Under, though not to face Australia.
A mid-season break in Super League (and they are talking about cutting down the number of games anyway, so that shouldn't be hard to organise) would allow the national team a three-week period to travel to Australia and play opponents during the time State of Origin is on.
New Zealand would have players available during that time, while Samoa and Tonga could be possible opponents too. I know they are trying to put a lot into the island nations and something like this would surely aid their development in both the short and long term.
By doing this, national boss Steve McNamara could also have his NRL players in camp and although not all of them might be able to play due to their club commitments, it would at least allow the entire squad to get together.
They currently manipulate the NRL fixtures around the Origin games, giving byes in those weeks to the teams that are most affected by absentees, so it wouldn't seem impossible to adapt it further.
The break would also allow those not involved with England to re-charge their batteries for the second half of the season (though could that then bring in club v country issues?). Like any walk of life, rugby league players work hard at their jobs and it can be as mentally draining as it is physically.
Obviously a lot of things would have to coincide for this to happen. The RFL and the NRL would have to come to some agreements over their schedules to make space.
But even if England only get to play two games, against say a New Zealand XIII and Samoa, then that would surely be of benefit to both them and also the international game as a whole. It could be Australia 'A' are selected from those that aren't taking part in the Origin Series to take on McNamara's men.
Like I said, I'm not saying the Exiles game should be buried in a hurry. But perhaps the international game could do with a boost, and a mid-season tour might be just the shot-in-the-arm it needs.