Apart from Salford City Reds, there seems to have been little to excite in 2013
Luke Dorn reflects on what he feels has been a rather unspectacular start to the 2013 season
Last Updated: 21/03/13 11:11am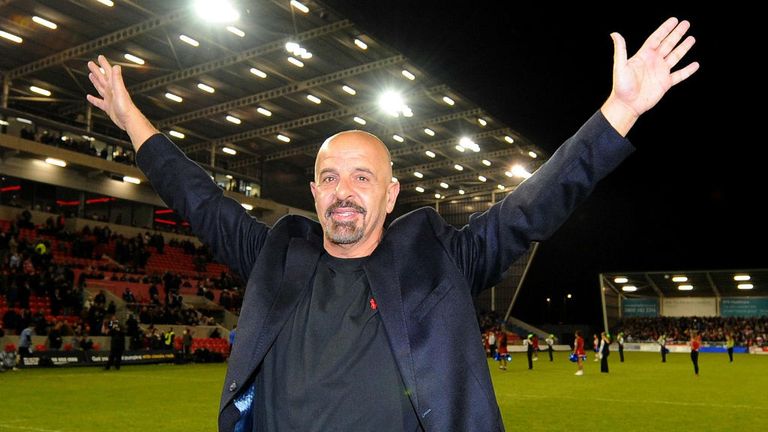 It hasn't really hit the heights yet. Don't get me wrong, we've had some good games, but in the past few years we seem to really have hit the ground running. As yet, no one has really stamped their authority on the competition.
Even at the teams that are doing well early on, no one is getting ahead of themselves. Nothing is won in February and March. It's more about performances, and making sure attitudes are in the right place. As long as everyone is putting in, then the coaches are relatively happy.
Obviously Huddersfield are sitting pretty at the top and performing well, but everybody else is beating each other, making it a strange old opening couple of months.
Perhaps it's because that although we are now considered a summer sport, in truth we have to play two different types of rugby during a season. The cold, wet conditions don't allow for expansive rugby that's for sure, and are perhaps a major reason for the lacklustre beginning.
I do think that people are now less concerned with how they begin the year. Leeds have taught us that it is not how you start, more about how you finish that matters.
Obviously every single game you go into you want to win, that goes without saying, but at this point of the new it's very much about picking up some points and staying in the top eight or in the top four, about not losing too many bodies and looking to peak later on.
You want your squad to be relatively fresh and find yourself comfortably in the top eight about three quarters of the way through. It's a very, very long season and it definitely takes its toll on players and fans alike.
Perhaps now it's a bit like boxers using a bit of ring craft, feeling their opposition out in the opening rounds and not wanting to go too hard, too early and running out of steam.
With technology these days, with GPS systems able to track just how much work a player does in training and a game, clubs are really able to look after their players.
You don't want to burn anyone out with plenty of rounds of Super League, as well as the Challenge Cup, to come. A lot of teams have young squads and don't want to put too much on them too soon.
There definitely seems like there's a warming-up period but Super League is ready to explode - we're going to get more upsets, more outstanding games and more cracking individual performances.
Red all about it
The one major talking point so far in 2013 has been the Salford City Reds, from the serious threat about their future to the arrival of a new owner in Dr Marwan Koukash.
No one likes to see a coach get sacked but it's not for anyone else besides the people involved to decide what is best. I thought Phil Veivers had done an amazing job probably under the most difficult circumstances a coach can face - he wasn't able to sign players and he had to try and keep guys focused and motivated when they weren't sure whether they'd have a job beyond the end of the week.
In truth, it's unfortunate that he lost his job but that the nature of the beast now.
We have a little bit of that football culture sneaking into our sport where results are what matters, and the people that have the power and put in the money are entitled to do what they like.
I don't want to say too much more on the matter to be honest, just in case the new owner comes out and criticises me...