Did the shoulder charge need to be banned? Luke Dorn's not sure...
Luke Dorn gives his take on the shoulder charge ban, and explains the need for an 18th man.
Last Updated: 22/02/13 1:22pm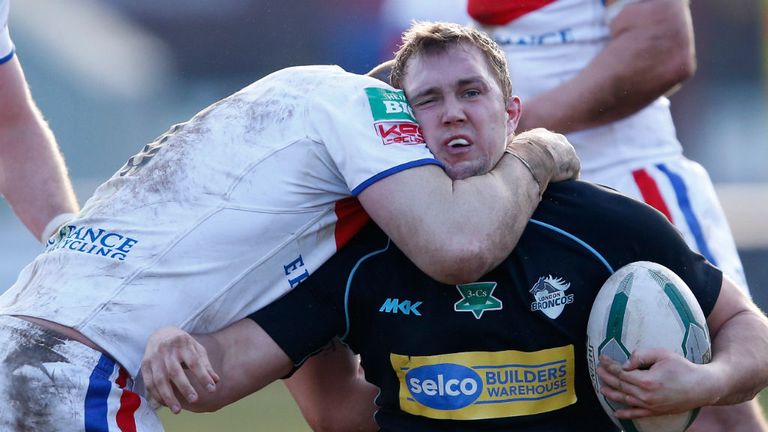 Obviously with me being a big shoulder charge exponent, it's going to have a big impact on my game...but, in truth, it will now be in the back of certain players' minds.
Now players getting hit in the head is a real concern, but so too are high tackles, and they are much more frequent in our games. I suppose people will say you have full control over a shoulder charge, whereas sometimes with a tackle an arm can slip up. They also might say that if you're going into a tackle without the intention of using your arms at all, then you're guessing a little bit.
But I still don't really understand the necessity for it to be banned. Punishment in terms of suspensions and monetary fines seemed adequate enough, just as it does with other elements of our game.
Supporters and player alike, whether you're watching a game or actually involved in it, when you see someone deliver a good shoulder charge and sit an opponent down it is a pretty exciting part of the sport - something that makes it unique.
We keep saying that we don't want the game to become dangerous, which is obviously true. But the prevalence of the charge is minute - you may not see even one in every game you watch. It does seem to be taking an exciting element out of the game unnecessarily.
There's no way in the world, for instance, that the tackle of Salford's Theo Fages by Julian Bousquet of the Catalan Dragons should be considered a shoulder charge. That is a late tackle that got severely dealt with.
And that, really, is the best way to deal with something. Impose heavy fines and suspensions. Then, if someone contemplates a shoulder charge, they understand that if they make any contact with the head then they will get punished without even going to the judiciary.
The people that are being forgotten about with this sudden rule change are the referees, as if they don't have enough to deal with as it is. They now have to determine on the field, in a split second, what is and isn't a shoulder charge. And in what way do they punish such an offence? Is it a sin-binning? Or is it just a penalty? That's something that doesn't seem to have been fully outlined.
With not every game being televised, officials find it hard enough without the assistance of the video referee. Now they have something else to be concerned about. This could have serious consequences in determining matches and, quite possibly, a team's season.
Hopefully it doesn't detract from our game too much, it will be interesting to see how it goes in the next few weeks.
Extra man
To refer back to the hit on Fages, I don't think we do enough to help the team that has been sinned against in those situations.
Yes, the Dragons had a player sent off and had to spend the rest of the game down to 12 men. But Salford suffered too; they were down a man in terms of their 17-man squad as Fages was unable to continue, despite doing nothing wrong.
I think the RFL could perhaps introduce a new rule where the team that has been dealt such a blow is allowed to bring an 18th man into the game. Should you lose a player to injury from an incident that saw an opponent placed in the sin-bin or sent off, why should they not be allowed to draft another player in to put them back at a full complement? Not only do they get the numerical advantage on the field, they also have the full 17-man squad to use in that situation.
Now this rule would only be in place if a player was injured through foul play from the other team, and the offender was suitably punished by the referee. At no other time can it be used, stopping it from being open to abuse. Perhaps it could also be extended to incidents put on report, too.
If, however, you lose a man just through injury, then that's just part of the game. That team then has to go through adversity purely through an accidental incident, not due to foul play.
Let's finish this week focusing on something positive - the World Club Challenge. Weather-permitting, my heart says Melbourne. But, having lived here for so long now, I know it's tough to ever count against Leeds. I've backed against them too many times now.
You always think the Australian team will have too much, but the weather is a great leveller at this time of year in England. I think it's probably best I sit on the fence with this one. Let's just hope for a great game (minus any shoulder charges, of course...)
You can follow Luke on Twitter @lukedorn