Luke Dorn returns for the new season!
While the season didn't quite start as they'd hoped at London Broncos, Luke Dorn explains why there's no reason to press the panic button just yet
By Luke Dorn
Last Updated: 08/02/13 5:52pm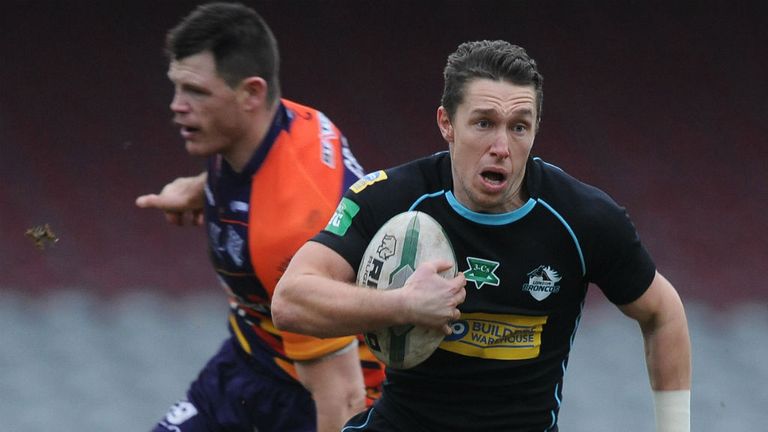 We have high expectations for our individual performances this year and especially being the first game of the season and at home, we were very disappointed to lose to Widnes.
We were outplayed and didn't step up to the mark. We didn't get going until the second half and before then we had been tentative, which is unlike us.
Widnes, to be fair, played a good style of footy; they threw the ball around and asked plenty of questions. They've made some quality signings and still have some big names, Kevin Brown and Gareth Hock, to come back in as well.
Yet while it is not the start we wanted, it is only one game. It's something we have learned from already.
We are looking for improvement from last year, which was obviously a disappointment. But 2012 has now gone and this is a year for optimism.
If you're not aiming to make the play-offs and win the competition, I don't really see the point in taking part.
We haven't set down any specific goals for the campaign, but everyone in their mind knows that coming eighth is a bare minimum requirement. If we don't achieve that, we will be seriously disappointed.
We are confident, though, that we can surpass that mark and put our stamp on the competition. It didn't get off to the start we wanted, but every good team has had to overcome a loss.
Surprises
Plenty has been said about some surprising results in round one of the competition. Perhaps, though, it's too early to say after just one week; players have come and gone from clubs, plus there are new coaches in place, so it's hard to know really what is an upset at the moment.
What we can perhaps surmise is that Super League is getting closer between the top and the bottom. With each year that passes it appears more teams are challenging, and that can only be a good thing overall.
I guess the fact that the Australian market has dried up has played a part in that. There aren't many coming over from the NRL now, and that will probably remain the case until the British pound improves against the Australian dollar.
Also, clubs Down Under now have larger salary caps than before, thanks in part to the competition being awash with money after a new TV deal.
To recruit big names in the past you normally had to look overseas, but that's not so much the case now. Obviously Hull getting Gareth Ellis - an Englishman returning home - was the marquee acquisition of the off-season, but there hasn't been a great deal of major signings.
Instead there's been a realisation by clubs that they now have to develop their young players, to grow from within for long-term success.
Everyone's academy systems are getting stronger and stronger, and with the way the RFL have set things up, with so many juniors having to be included in squads, there is a lot more time and funding being put into junior players. The competition, and the game itself, will eventually bear fruit from it.
You can follow Luke on Twitter @lukedorn