Brad credit reading
Bradford's financial problems have left Luke Dorn with a lot of questions - and sympathy for their fans.
Last Updated: 16/04/12 12:26pm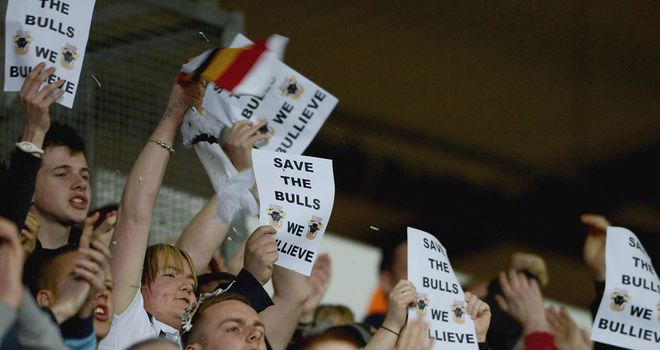 A Super League season is always a long battle. Right now, though, Bradford are facing a real fight just to survive. It is a worrying time, not just for the Bulls but also for the sport as a whole.
No one wants to see a club go to the wall, particularly not when it is a club steeped in such tradition and history. This is, don't forget, a team that has been Grand Final winners three times since 1998.
They came through the licensing system last year, as you would expect, and yet in the space of time since that decision and now, they've got themselves into trouble. Now either someone knew about these financial problems and hasn't picked up on it early enough, been proactive rather than reactive, or they've buried their heads in the sand.
Now, though, someone just needs to admit they've gone wrong, and show exactly where.
I have questions - lots of them. Why is it £1 million that's required? Why the sudden date being set? What happens if they get £750,000? Where does that money already pledged go if the target isn't reached? Would that just be it for Bradford? What is this money that's being raised going to pay for? And, perhaps even more importantly, are those that have allowed Bradford to get into such a state going to be the ones trusted to spend it?
Even more importantly, it just seems to me that while the fundraising has gone on, no one has really taken any responsibility for the perilous position that the Bulls have seemingly suddenly found themselves in.
I know that some will point to there being warning signs - the sale of their ground just before the season got underway, as well as the fact that they cashed in on prized asset Andy Lynch during the winter.
Supporters
I feel for the players because of the uncertainty, but the people I feel for the most are the fans. They are the ones who buy their season tickets, their memberships, pay out for the jerseys and the merchandise, yet now they are being asked to dig deep into their pockets again to save the club they love.
It's always the fans that are asked to get their team out of trouble. But if they are paying their money, they deserve to know where it's going and to know that measures are being put into place to make sure this situation doesn't occur again.
The supporters should be able to voice their opinions and concerns. They need to know who they are putting both their faith and finances in to take better care of Bradford.
The response from former Bulls, and the rugby league community as a whole, has been outstanding. I've seen on Twitter that former players like Shontayne Hape, Stuart Fielden and Jamie Peacock have been giving up their time, and some of their prized possessions such as Grand Final jumpers and rings, to try and help their old club. That is a tremendous personal sacrifice; they are not expected to do such things.
I worry, however, that this is just a band aid for the Bulls, a short-term plaster placed over the top of a deep wound. That's how it seems to me anyway.
I'm one of the strongest advocates for the licensing system, but this - after what happened with Crusaders right before the announcement last year - doesn't say much for it. If you're going to make a farce of it, then just get rid and go back to promotion and relegation.
We need to make sure that this doesn't happen again. Perhaps it's time for the Rugby Football League to get involved. To let one club go broke does not look good, to let two go in the space of six-to-eight months is just a disaster for the competition, and the sport, too.
If a club the size of Bradford is in such danger, what does it say for the rest in the competition? Is there a bigger issue in Super League?
With the Crusaders it was brushed aside a little because it was an expansion club, so people just said that the RFL should go back to their northern roots. I heard the RFL say they don't micro-manage clubs, which is all well and good. But surely someone has to oversee the way they are being run?
At the very least, the fans have a right to know.
You can follow Luke on Twitter @lukedorn