Royce rolled out
Luke Dorn tries to work out St Helens' decision to part ways with their coach so early in the season.
By Luke Dorn
Last Updated: 23/03/12 12:34pm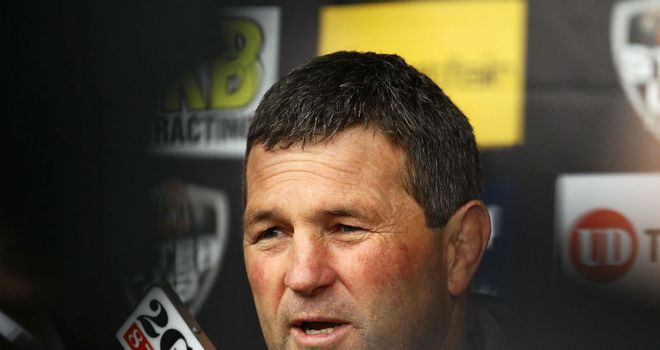 The departure of Royce Simmons from St Helens seems a little bit bizarre to say the least. Cause and effect always has a place in rugby league, but here is a man that missed out on winning a Grand Final last year by 17 points.
He was obviously considered the right coach at the start of 2012 to take the club into a new era with their move to Langtree Park, yet here we are, just seven games into the season, and he's out the door.
Now, I don't know if there was more pressure on his shoulders because of the stadium move to get off to a good start, but it's unusual in the sport of rugby league for a man not to be given time to turn things around.
If they had someone lined up to take over who was free and what they wanted long term, then you could see why this decision had been taken so early in the season. Perhaps they do have someone in mind, but coaches don't often become available midway through a campaign.
But what makes this even more strange is that it hasn't been like Saints have been playing that badly. They were pipped by the Dragons on the final play, then last week scored two tries just like Bradford but still came up short.
Obviously the absence of a player like James Roby makes a difference, though you also have to look at what Royce did last year during their injury problems. They spent the second half of their season with two young English half-backs (Lee Gaskell and Jonny Lomax) in their line-up, unearthing a combination that might go on to serve country as well as club.
Royce is perhaps wondering now just what else he could do to keep his job. Without knowing anything more than the facts, and not jumping to conclusions, it seems there may have been a little more to it than just the last few results.
Lofty goals
As for the future? Saints now have time, and a head-start over any possible competitors, in their quest to find the right man for them.
I'm not sure what coaches (apart from Nathan Brown) are out of contract at the end of the season, either here in Super League or Down Under, but at least they don't have to be in a rush.
Whoever is next in charge at Saints, the target seems a lofty one. The last man in the post took the team to a Grand Final (as well as the last four of the Challenge Cup) and that still wasn't enough to keep him in his job. Do they HAVE to win something every year?
That is something we've become more used to in football, particularly at somewhere like Chelsea. And just how is that working out for them right now (except for those sacked managers who keep getting huge pay-offs)?
Interestingly, you don't see too many coaches on the opposite end of the spectrum. Where are there four or five-year contract extensions when their team has hit a good run of form?
Perhaps it's because the coach is seen as someone who can be replaced fairly easily. At the highest level their job is more about man-management than being a tactical genius. It's about getting the best out of each individual player on a match-day, making sure they are prepared in the best possible way for what they will face. Recruitment is also a big thing these days.
What clubs need to show is patience. Midway through last season some Leeds fans thought Brian McDermott might not be the right man for Leeds. We all know how their season finished up...
Sports fans, and I include myself as one of them, are very, very impatient. It's about short-term success, not long-term benefits. It's hard for a supporter to stomach three seasons of failure just because the club is being rebuilt.
Yet despite the perils of a career in coaching being highlighted again this week, it's still a move I'd be keen to make after my playing days. I've worked with the London Broncos' Under 18's for the past three years and I've loved seeing the players come through the club and develop into first-teamers.