Pitches and points
The Broncos may not be off the mark yet in 2012, but Luke Dorn insists that there's no reason to panic just yet in the capital...
Last Updated: 02/03/12 6:31pm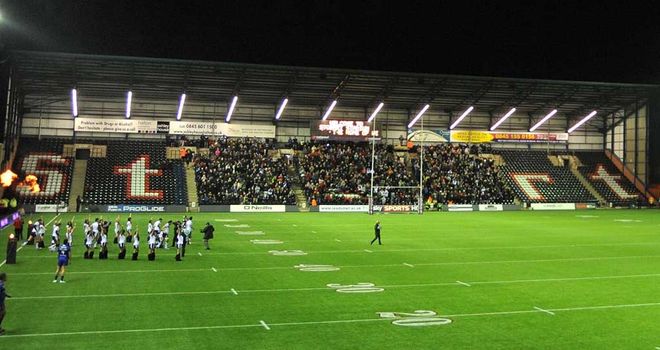 It's obviously been a very disappointing start to the season for the Broncos. We are getting there, slowly but surely.
It's easy to say the fixture list has maybe been a little harsh on us with our opening four games, but you've got to play everybody at some point. We've simply had a tough initiation back as the London Broncos.
We've played some quality teams, there's no doubting that, but it's given us a yardstick of where we need to be as a team. We now know we've got to be as good, if not better, than those sides we've played against.
Like every side, we have plans in place that we think will make us better as a team. Each week we've sort of got better at one thing and then dropped away at another. We've lacked consistency, what we need to do is get all the pieces together at the same time.
There is, however, absolutely no need to panic, not this early on in the season. We are still well within touch of everybody - Catalans started off slowly last year and yet still comfortably made the play-offs.
Talking points
As for the Stobart Super League in general, the two biggest talking points so far seem to be pitches and points.
Widnes' playing surface has had plenty said - and tweeted - about it in the opening month.
You cannot argue against the fact that it looks fantastic. The adverse weather probably played a bigger part on that opening night than we initially thought, because what I've heard and read in the weeks since is that it's not too bad.
After that first week against Wakefield, I was apprehensive about playing on it. But, as the weeks have progressed, I'm not too worried about it anymore. I'll just have to don the full-body skins and get on with it!
I think most of the players were concerned after that first game though. We are going to get grazes on any pitch, but we as rugby players are tough enough to handle that. However, the difference from other sports that use an artificial pitch is how much time a league player spends on the ground during a game.
In truth, the Salford game in round one - when their new Barton home was covered in snow - didn't look any more unsafe to me than the 'i-pitch'. Perhaps we needed to be smarter as a competition and call both those games off because of the conditions.
Whether the Magic Weekend is a better way to start the season I'm not so sure. There is not much that you can do about the weather though, and unbelievably the only game to be cancelled came in Perpignan.
With these new stadiums being built it seems strange they don't put in under-soil heating, though I'm not really able to comment on the financial implications that would have on clubs in installing it (plus we are meant to be a summer sport!).
It could just be an unfortunate coincidence that there have been a lot of injuries at the Stobart Stadium too, as in general there have been plenty suffered all around the country. It's not like the pitch is solely to blame, but it is always going to come under more scrutiny because it's a one-off.
Yet despite the cold snap, there have still been plenty of points scored through the opening four rounds of the 2012 campaign.
Warrington seem to have set the trend over the last few years of throwing the ball around, and I think that's now caught on with the rest. They do say that imitation is the best form of flattery.