An Origin-al recipe
Luke Dorn says the Exiles game is a win-win situation for Steve McNamara and his England team.
Last Updated: 10/06/11 12:46pm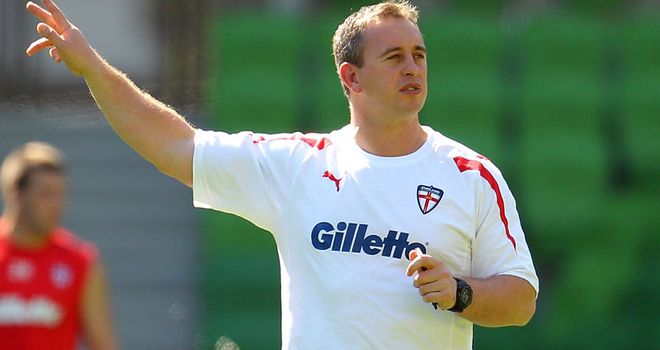 All the focus right now is on the inaugural International Origin match between England and the Exiles. As I've already said this year in a previous blog, I'm all in favour of the concept.
I know some may feel it should be a stand alone fixture, but because it's not a fully-fledged international fixture I can understand why Super League is not taking a week off.
The Brisbane Broncos in the NRL have taken a policy of resting any of their players who play a certain amount of time in State of Origin during midweek, but there are also a lot of Origin players who back up from a Wednesday to a Friday night. Besides, Super League clubs can always use the round of fixtures to blood some of their younger players.
But, while I'm all in favour of this new International Origin concept, I'd still like to see another rep game take place, almost in the way of an England trial.
Talking to other players at Quins it seems the idea of a one-off 'East v West' fixture would be popular, splitting the country down the middle and teaming London and the south up with Yorkshire.
This fixture could take place a month or so in advance of the International Origin game, giving national coach Steve McNamara the chance to have a good look at plenty of players in a competitive match situation.
As for Brian McClennan's Exiles squad, I wondered if there could have been a bit more spread of the talent. They shouldn't have to pick one from each team, of course, but perhaps it could have been spread around a little more. There was a limit to picking only three from each team and perhaps that could have been lowered to two.
However, what you don't want is the top players missing out simply because the rules said there wasn't room for them. It's a tough balance to get right, I understand that.
What I did like, though, was the way information about the Exiles' squad was drip-fed through over recent weeks, keeping it in the spotlight for longer.
It was a similar process with the selection of the all-star team Down Under, where the fans got involved at the initial stage before the coach or selectors makes the final calls. What you don't want is for the Exiles being picked entirely on fans' votes, though, meaning we have the danger of the same faces appearing in the team, year after year.
Tough calls
Some - such as Catalan Dragons' Scott Dureau - may have been unfortunate to miss out, but it's still a very strong 18, with plenty of NRL, State of Origin and international experience.
It became that tough for McClennan that he even had to leave out the likes of Michael Monaghan, Brent Webb and Steve Menzies (who I, personally, would have included in the final squad).
In truth, you could pick a couple of sides of overseas talent from Super League and it would still make for a fascinating spectacle against England.
One thing is for sure about this Origin game - you can expect it to be a full-on battle.
It's very difficult to even play an exhibition game at the top level, particularly at this time of year when everyone is so competitive and looking ahead to the run-in.
Make no mistake; the Exiles will be out to make an impression. For many it is another, unexpected, chance to play representative footy again.
England, likewise, will not want to be beaten on home soil by a team made up of Australians and New Zealanders.
Really, though, it is a win-win for McNamara and his players. They will be up against strong opponents (rather than thrashing France, as they have done for the last few years) and it will give them a chance to work on the style of football they want to play in the end-of-season Four Nations; the result may not really be the most important thing to take out of the 80 minutes.
It is a shame too that both Danny Brough and James Roby are missing. They are great players and you want to see the best of the best in action at Headingley.
And a prediction? I have to go for an Exiles win, don't I? I may be a bit biased, but I think the men from Down Under will come out on top.