Australia ace Billy Slater features in first episode of new look rugby league show Super League Super Stars
Angela Powers lifts the lid on our new show Super League Super Stars, which starts on Thursday night.
Last Updated: 28/02/13 11:11am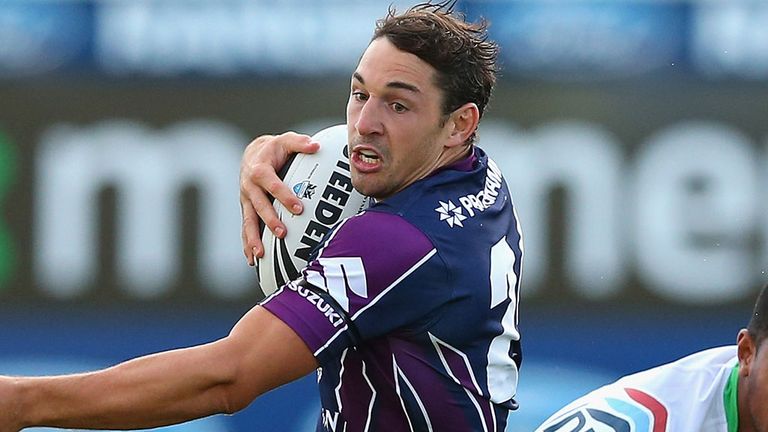 But next week, it's back, with a new title, a new look and a whole new roster of talent to chat to.
Super League Super Stars kicks off with one of the biggest names in world rugby league - Melbourne Storm, State of Origin and Australia star Billy Slater.
He is one of the most in-demand players in the game, but he took time out of his recent visit to England to talk to Brian Carney about how he gave up school to work in horse racing, but somehow got bitten by the league bug instead.
He opens up about the salary cap scandal that ended up costing Melbourne two NRL titles, and the effects on the team and himself.
It's a really enlightening interview, not just because of the subject matter, but also because we get an insight into his personality. He may be serious out on the pitch but he has a twinkle in his eye and a ready smile that make him a pleasure to watch.
For the last three seasons, Brian Carney was the presenter of Super League Super Men, and, although he opens this new series, he won't be the only rugby league presenter turning his attention to the big sit-down interviews on Super Stars.
Terry O'Connor, Barrie McDermott, Jon Wells and Phil Clarke will also be meeting up with players past and present to give each individual show a different look, feel and perspective. They come to the programme not only with their experience of broadcasting but also with decades of playing experience between them, from amateur, professional club and international levels.
And joining them in the presenter's chair will be, myself, Sky Sports rugby league team reporter Angela Powers. I'll be on hand to introduce the show each and every week.
So there'll be different faces, different voices, but one aim - to get up close and personal with some of the biggest and brightest names in the game. It's a series not to be missed.
Super League Super Stars kicks off on February 28, at 6pm on Sky Sports 4 HD, when Brian Carney meets Billy Slater.