Tonga braced for appeal
Nation attempting to overturn Moimoi and Tuiaki bans
Last Updated: 11/10/08 4:21pm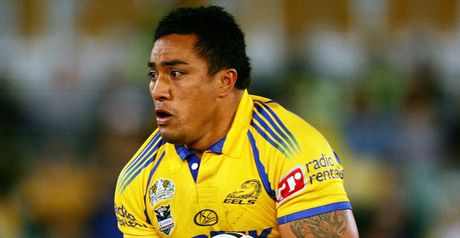 Moimoi: Ineligible
Rugby League Betting

Rugby League Betting

Bet with Sky Bet
Tonga will challenge the ruling which has deemed NRL duo Fuifui Moimoi and Taniela Tuiaki ineligible to play for the nation in the World Cup.
Parramatta's Moimoi and the Wests Tigers' Tuiaki were selected in Tonga's 24-man squad for the tournament which kicks-off on October 25.
However, the Rugby League International Federation deemed that the duo cannot take part after electing to play for New Zealand last year.
Under RLIF rules, players who are eligible to play for more than one country can make one application to switch their allegiance in any two-year period.
The news came as a major blow for Tonga, who had already lost Anthony Tupou to Australia following reclassification and they are now assessing their options.
Tongan tour manager and director William Edwards said in the Sydney Morning Herald: "My board has informed me they have engaged legal counsel and will take the matter before the courts.
"They are being denied their right to play. My board have taken the view that Fuifui and Taniela should be wearing a Tongan jersey."
Emerging
Tongan coach Jim Dymock had approached New Zealand counterpart about selecting the duo and had been given the go-ahead.
"I just don't understand," Dymock said in the Sydney Morning Herald.
"I've spoken to Steve Kearney and he's more than happy for them to play for us. I don't see where the damage is. It's not hurting New Zealand. I don't know who it's hurting.
"More than anything, we've got two quality players who will be sitting in the grandstand when they could've been helping out an emerging nation."
RLIF chairman and tournament director Colin Love sympathised with Dymock but insisted the rules must be applied.
"We'd love to see all the best players in the tournament," he said.
"But you can't just break the rules, you can't turn it into a farce."