Fiji pray for Oz upset
Islanders bless pitch ahead of semi-final clash against Australia
Last Updated: 15/11/08 10:53am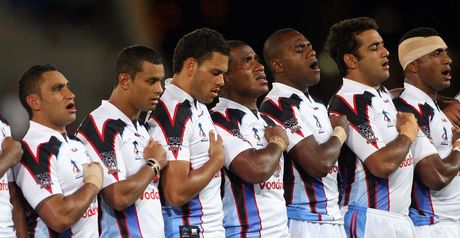 Fiji: Praying for win
Rugby League Betting

Rugby League Betting

Bet with Sky Bet
Fiji are calling on everything they can as they prepare to tackle Australia in the World Cup semi-finals.
The religious squad prayed together at the Sydney Football Stadium the morning before the biggest ever match in their country's rugby league history - and are now ready to go.
"We just blessed the ground today and come tomorrow we've got nothing to lose," said coach Joe Dakuitoga.
"If you look back to the start of this competition everybody wrote us off. We came as underdogs, so to be here is a big boost to our development back home.
"To come this far is a blessing from God.
"Before we came here we set a goal to reach the final so now we're in the semi-finals and we'll see how we go.
"We're going to come and give 110% against Australia."
Headstart
The optimism of the Fiji camp is not matched by the bookmakers though. Australia are being given a 50-point headstart by some, but Fiji have been there and overturned that already this tournament, albeit not against Australia.
"It's a blessing in disguise," added Dakuitoga. "This is what they did to us against France but we managed to come out on top."
One thing that is assured though is the response back home. The once union-mad nation are turning to the other code and cannot wait for the fireworks to begin against the Aussies.
"They have closed all the roads just to put in big screens so everybody can come and watch the game," Dakuitoga revealed.
"Everybody is talking about it back in Fiji. It's now the number one game.
"I think the boys are ready for Australia."