Rugby League Expert & Columnist
Phil Clarke: Leeds Rhinos' Jamie Peacock shows age is just a number
Last Updated: 03/09/14 12:25pm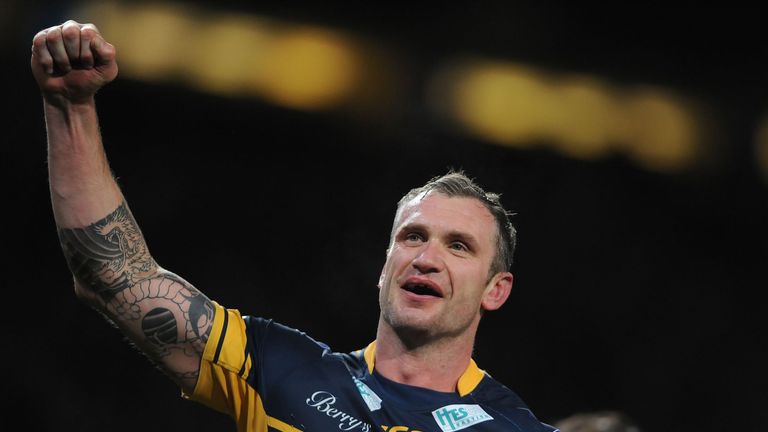 If you have followed rugby league in this country for the last few years you'll be familiar with one name: James Peacock.
Born in December 1977 and better known as Jamie, he has enjoyed a glittering career at Bradford and Leeds, during which he has won all the trophies you can win in domestic rugby league.
Watching him play for the Rhinos last Friday in Leeds – when he made more runs, tackles and metres than any other player on the field – you'd be forgiven for thinking that it couldn't be the same player who ran on to play for the Bulls at Odsal over 15 years ago.
In 2003 he won the Man of Steel award and for three years from 2005 he made the World XIII. He's played over 500 games at the highest level and is still one of the best players in the country.
At this time of the season, people start to speculate about the Super League Dream Team and the Man of Steel. JP would certainly be a strong candidate for both, but I think he's more than that  – he's a game changer.
My colleagues, Eddie and Stevo, made reference to his age last week but, a little like Ryan Giggs proved in the Premier League, the myth that players can't play on after their 34th birthday has now been shattered.
Like Ryan Giggs proved in the Premier League, the myth that players can't play on after their 34th birthday has now been shattered.
Phil Clarke
Triumphant
For those of you with long-term memories, you might recall watching a certain Brisbane Broncos player in the mid-1990s. Brad Thorn also played for Queensland and Australia as well. If you went to watch the World Club Challenge between St Helens and Brisbane in 2007 you will have seen him playing in the second row for Wayne Bennett's team.
He'd already once switched to play rugby union in New Zealand before returning for a second spell at the Broncos, and since going back to union he has been good enough to win almost 60 caps for the All Blacks, forming part of their triumphant 2011 World Cup squad.
Last week, at the age of 39, he signed for Leicester Tigers, one of the most professional rugby clubs in the world. His aim is to play the game at the highest level when he's 40.
Just like Jamie Peacock, Brad Thorn has proven that it's possible to be one of the best in the world when the common consensus is that you're finished. I wonder if JP will still be playing in Super League when he's 40?
There have been many players who have stood out for a season or two, but few with the longevity of the lad from Stanningly. He played in 29 games for the Rhinos last year and has featured in 25 so far in this, his 16th Super League season.
Over the course of the last 14 seasons, he's been voted as one of the best players in his position on nine occasions, and I've got a feeling that he'll make it 10 this month when the Dream Team is announced.
There have been some other great players this season but if he doesn't win your vote for Man of Steel this year, who does?