Rugby League Expert & Columnist
Phil Clarke: Who will win the League Leader's Shield?
Last Updated: 27/08/14 5:51pm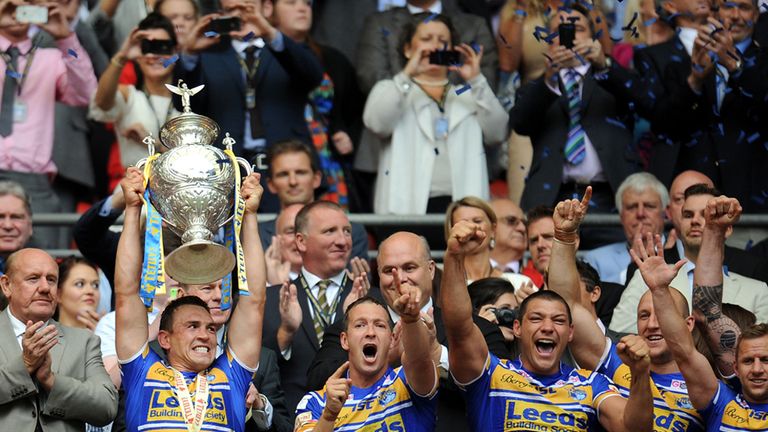 There can only be one.
Pick a winner, go on, tell me which of the top six teams will actually finish at the top of the table after Round 27? It's impossible and I could put a case forward for all six of the teams. If you support a club then you will obviously think that it is going to be your team's trophy this year, but the people responsible for compiling the fixture list this year have appeared to come up with the perfect formula.
It seems sensible to think that the team at the top after 24 rounds are the favourites. St Helens have a three point advantage over the rest but with the injuries that they have suffered, clearly the worst of any team in the competition, I doubt that they will be able to win all three which will put them under some pressure.
Saints face a massive challenge this week at Leeds, against a team who have just been successful and will be keen for some more. Some teams might struggle the week after playing in the Cup Final but the Rhinos have proved themselves to be mentally stronger than the rest and have a score to settle with the Saints after the Round 7 clash in March. Thomas Makinson scored a spectacular and dramatic try to win the game for St Helens in the 78th minute, and what seemed to make it even more remarkable was the fact that the Saints had seven of their first choice players missing. It sounds familiar but can lightning strike twice in one season? If St Helens win this game then I feel that they will go on to win the League Leader's Shield but I do not fancy their chances in Leeds.
So if Leeds win this week does that mean that they then have the momentum to add a second trophy to the one that they have just collected in London? Well you could say YES, but they will need to win away at Wigan in Round 26 to do so and then most likely finish off with a win over Hull.
Backing up and playing well one week after a Wembley Final is possible for Leeds, but you sometimes find that it is the second week when it hits a few players. They would need all 17 to fire to win at Wigan. It is currently one apiece so far this season between the two teams who have made a recent habit of lifting the trophies. The next game between them could be a season defining one for both.
As I have said recently, most people can't remember all of the results throughout a season, but they can remember the ones at the end.
Tiger, Tiger
It would be great for the Tigers and the sport if they could end the regular season on a high with three wins. You could say that they have the best chance now against three teams outside of the Top 6 but their next match is perhaps their hardest. I doubt that any team would now want to play against the Bulls after the revival that they have enjoyed under James Lowes.
If the Tigers do win that then in theory all they have to do is beat Wakefield and Catalans to lift the League Leader's Shield. Could anybody have imagined that this would have been possible when they started the season with their second half demolition of the Bradford Bulls? I need to ask Rod Studd what the odds on that would have been.
If you stuck the colours of all six teams onto a dice and rolled it you would be as close as anybody else at guessing the Top Team at Tea Time on Sunday 14th September.
Phil Clarke
Which then leaves us with the teams in fourth and sixth. They have had very few headlines this year, get little attention and yet could finish the season in first place. Rugby league has a habit of making predictions look stupid but something inside me says that one of them will. This year has been one of those races when the pack has stayed close together and either of them could strike now that the finishing line is in sight. 
I can't decide who I think will win this Thursday night between Warrington and Huddersfield and have seen both of them look ordinary at times this year. But I can also remember seeing the Wolves destroy St Helens at the start of the season and the Giants being too good for Wigan and Leeds in the middle of the competition.
If you stuck the colours of all six teams onto a dice and rolled it you would be as close as anybody else at guessing the Top Team at Tea Time on Sunday September 14. It's a great climax to the regular season and in some ways it's a shame that we never had a competition as close as this before we moved to a Grand Final.
In some ways the Play Offs and Grand Final start this week. Twelve of the teams have had their last rest for the season and this is what all the work has been about.
Go on, roll the dice - and tell me who comes top.