Rugby League Expert & Columnist
Super League Playoffs: Phil Clarke considers the contenders
Could an eighth-placed team win it?
Last Updated: 09/07/14 4:01pm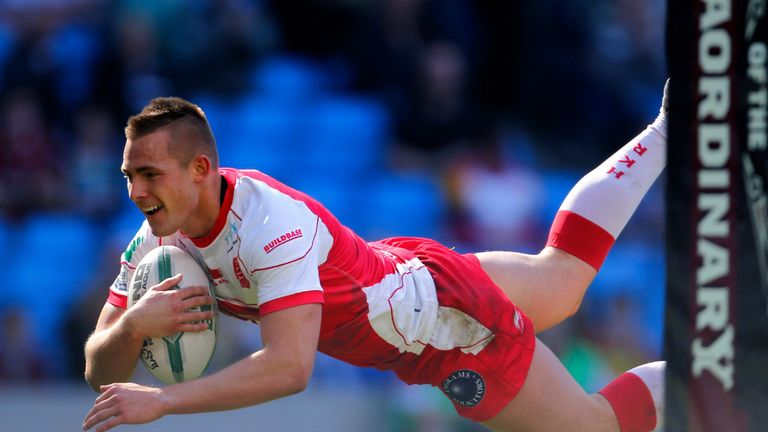 Could anyone ever win the Grand Final from eighth place? Well I suppose that the answer to that has to be YES - although it's highly unlikely!
Just because it's never happened doesn't mean it won't happen in the future, although I am a believer that recent performances are indicative of future results in rugby league.
Last Friday on Sky Sports, we saw the 11th placed team Wakefield beat the team lying second, Leeds. It was a game where the defences of both teams played better than the attacking part of their game (Leeds made over 400 tackles and only missed 16) but the end result made me wonder about the first team to win the Grand Final from eighth place.
With eight games still to go the pressure seems to be on the Widnes Vikings to hold onto their play-off place. Will they do it?
With eight games still to go the pressure seems to be on the Widnes Vikings to hold onto their play-off place. Will they do it?
Phil Clarke
Despite a great win over Huddersfield, I can't see the Salford Red Devils making the top eight this year. I hold my hands up and admit that I got it wrong. They won't win the Grand Final. When I made my bold prediction back in January, I'd gambled that they'd finish around seventh or eighth and then have a great month of glory.
They would now need to win seven of their last eight games to make the top eight by my calculations, and beat Leeds, Wigan and Catalan in three consecutive games. Bear in mind they haven't won seven games this season yet. Their next two games are four pointers. They need to beat Hull FC and Hull KR to keep their dream alive and give themselves a chance before they meet the Big Teams.
If you look back over the last five years you'll see that, to qualify for the play-offs, you normally need a minimum of 26 points on the league table. There was one exception when in 2010 the North Wales Crusaders finished eighth with just 24 points from their 12 wins, but I doubt that will be enough this year.
The way I see it is we have four teams chasing one place. I've made the assumption that the Catalan Dragons will pick up at least three wins from their last five remaining home games, which leaves Widnes, Hull KR, Hull FC and Wakefield with an outside chance of playing games at the end of September.
Challenge
The Wildcats have the hardest challenge, not just because they're six points or three wins behind Widnes, but because they have to travel away to France in Round 21 and then face Warrington, Huddersfield and St Helens in three consecutive Rounds. If they don't beat Widnes on Thursdays in Round 20, they can start to plan for 2015.
The Vikings also have some difficult fixtures and a points difference which is over 200 worse than Hull FC. On most occasions, the points difference column is a good guide to the rankings that the teams will finish up at after Round 27. It would be an amazing achievement if the Vikings made the top eight and leap frog the two teams from Hull, an indication of how much they've improved in 12 months. If you try to break it down into smaller goals or targets, they need to win four of their last eight matches. That doesn't sound too bad but I think that they've 'hit the wall'. They haven't beaten a team in the top half of the table since Round 10, and have four of their last eight matches against teams in the top half of the table. A win at Wakefield is essential, although perhaps unlikely.
If I had to guess today, and my tips with Brian Carney every Friday haven't been very accurate this season, I'd say that it will be a team from Hull who fills the eighth spot on the ladder, but which one?
Hull FC have been very unlucky this season, they've lost seven games by seven points or less and have drawn recently with Wakefield. They've scored more points and conceded far less than both Widnes and Hull KR who sit above them. In my opinion, they were the best team last weekend against Warrington, but came away with nothing. Are they capable of winning six of their last eight games? Probably not, which means that Hull KR are my tip to finish eighth. The arrival of a new coach, even though he's been there already, has proven successful for the Wildcats and after a 40-10 win against St Helens this weekend, Chris Chester appears to have found a new spirit in the dressing rooms. The Round 25 clash against their arch-rivals at the KC Stadium could well be the match that put them into the play-offs.
So, could a team win it from eighth? Well, Hull KR beat the top of the table last weekend, scoring eight tries to two. I know that they would lose home advantage for three weeks, but sooner or later it just might happen. This Thursdays match on Sky Sports is a sudden death game.
Most rugby players love a challenge and the thought of doing a 'mission impossible' by winning four consecutive play-off games is an appealing one that one day will be achieved.