Rugby League Expert & Columnist
Phil Clarke wants an end to mid-season transfer announcements
News distracts from on-field drama
Last Updated: 02/07/14 1:20pm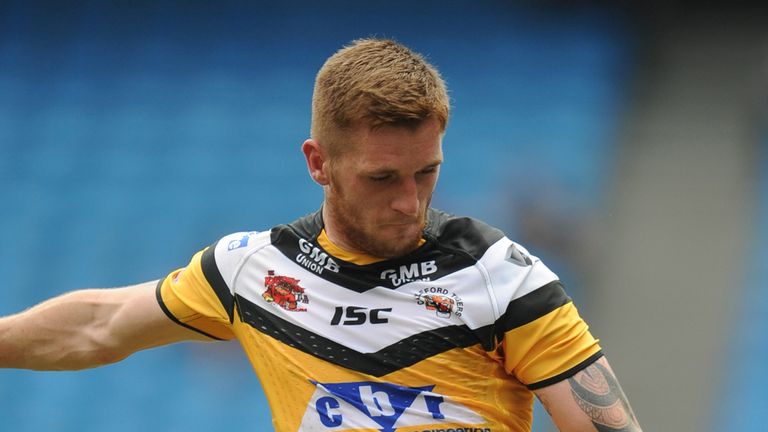 No, no, no, no, no! I sound like a grumpy old man complaining again but I feel as though my point just isn't being heard. Does anybody care?
It's been announced this week that Daryl Goulding will play for Hull KR next season, Leon Pryce will leave the Dragons to go to the KC Stadium and Marc Sneyd (having an amazing season with Castleford) has been sold by Salford to wear the Black and White kit alongside Pryce in 2015.
These are not the only announcements that have been made public as we reach the middle of summer. There are several other names that could be added to this list and I don't see how it benefits the game in anyway. It's like telling me how many days there are until Christmas when I'm still filling the paddling pool in the back garden.
What good does it do Tigers supporters to be told Marc Sneyd won't be playing for them next year?
Phil Clarke
I understand and appreciate that clubs and players need to look to the future. Some of the more advanced clubs are already looking to recruit players for 2016 and I applaud them for having a long term plan and wanting to build the strongest squad possible. But I think that we should do more to maintain the pleasure and enjoyment of every club's supporters by keeping the focus on the here and now.
We have nine rounds left to play in Super League, four teams with a chance of winning at Wembley and a play-off competition and Grand Final to conclude the year.
Let's imagine a typical Tigers fan for example, say one who has followed the club over the last 15 years. He will have seen his team lose more games than they have won if he has followed them home and away. He or she has been there when the team were relegated for the first time in their history, and again shortly after when they lost in what was called the Battle of Belle Vue to Wakefield. They have had little to cheer about and have seen their current ground slowly deteriorate as they continue to hear stories of a new ground in Glasshoughton.
So, with their team fourth in the table (second only to Wigan in terms of points scored) and just 80 minutes from an appearance at Wembley, what good does it do their supporters to be told that Marc Sneyd won't be playing for them next year? 
Some of their supporters have waited for over 20 years for their team to play as well as they have this season. Some have spent money having SNEYD put onto the back of their replica shirts and kids have started to imitate his kicking action when they play rugby after school. He's a hero in the town at the moment to some people and they look forward to watching him play. Why kill that pleasure and ruin the fun?
The game's administrators need to get their heads together to find a way of keeping the focus on the present. I could possibly find an example of a player who has agreed to join a rival team in 2016 but do any of us need to know right now?
Last weekend was one of the best I've ever seen in Super League. Five of the seven games held your attention until the hooter sounded. Living in the moment is what "life" is supposed to be about and for 10 of the 14 teams every second of every minute mattered in Round 18.
Ban
Perhaps I am being naïve and idealistic - I'd welcome your feedback here - but it would seem possible for all of the clubs to agree to a ban on official announcements until Round 27 has been played. It would be even better if we could hold it off until after the Grand Final.
I know that some people will already know, or have a very good idea, if a player has signed for a new team.  It could be a staff member at the club, or a family member who gets over excited and says something; news leaks out.  But I still maintain that it would be far better to make all official announcements when this season is over. Speculation is great, official announcements are not, in my eyes.
Each club still has the option to announce the players that they have re-signed when they extend the contract of their own players. They have lots of times in the season when they can release these stories if they feel that they need to.
The creative thinkers out there could turn the event into our equivalent of the Transfer Window in Football which keeps the fans talking about who their team might be bringing in. In the NFL they have massive media attention when their annual "draft" of new players takes place.
I understand that it won't be as big a deal as the deals have already been done but strongly believe that the end of the season is the right time and place to tell us about new signings.