Rugby League Expert & Columnist
Phil Clarke believes Bradford need more than new coach to survive
Last Updated: 25/06/14 3:43pm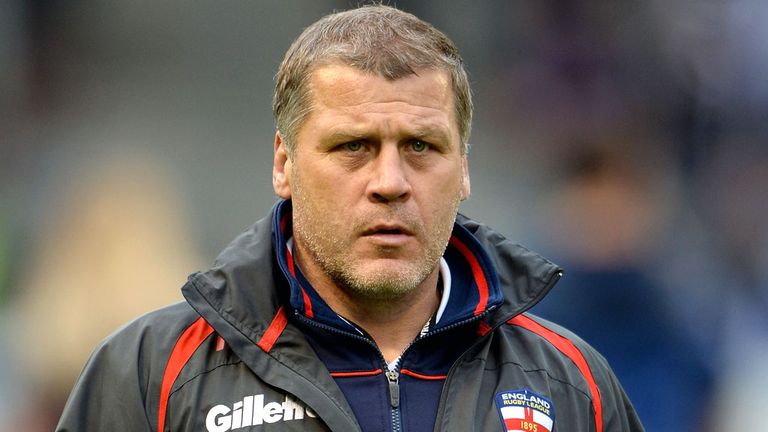 The Bradford Bulls looked in desperate need of a vet last Friday, or somebody who could put them out of their misery.
It's almost unbelievable that they used to be the strongest club in Super League 10 years ago because it was like watching a dying animal struggling on valiantly.
There were mixed emotions of sympathy and admiration, but their survival in the top division of rugby league appears over for me now.
Okay, with 10 games still to play they can still win another 20 points, but I think that that is unlikely. They've managed just two wins from their last 14 Super League games and must be physically and mentally bankrupt. They've lost some of their better players, many of their hardcore supporters and last week lost their first-team leader and coach.
I do not know Francis Cummins very well but have observed from a distance an intelligent and methodical approach to his coaching. His post playing career began briefly at Leeds and he moved to join the Bulls as an assistant in 2011.
It must have been a shock to leave a club as successfully run off the field as the Rhinos. It's fair to say that the Bulls have had off-field issues affecting their on-field performances for about the last eight seasons. It's amazing in some ways that they've been able to hold it all together for as long as they have.
They've had points deducted for Salary Cap breaches and for going into administration, not once but twice. They haven't finished a season in the top eight places since 2008.
Two years ago they had fans fundraising to keep the club alive and coaches working on a voluntary basis. This is incredibly admirable, but no way for a professional sports club to operate.
A new coach is just one of ten things that the Bulls need to get right if they are serious about becoming the Champions of Super League again.
Phil Clarke
The repeated changes of ownership have made it difficult to keep track of who is in charge and although he might not think it yet, Cummins will see that the club has done him a favour.
The experience of being sacked in professional sport is awful. It's embarrassing and depressing. It makes some people feel bitter and causes others to change direction with their career. I know this because I was effectively sacked as the Chief Executive of Wigan in 1998.
In my opinion, both Francis and the Bulls needed a change. I believe that both of them will be successful in the future, but it might take some time.
The talk on the terraces at Odsal last week centred on the 'new coach'. Would it be a return for Brian Noble? Another chance for James Lowes? A new opportunity for Glen Morrison? In the end the club opted for their former hooker who, like Denis Betts and Daryl Powell, has been improving his coaching skills at a rugby union club.
However, my experience tells me that one player can't make a team and one man can't make a club. A new coach is just one of 10 things that the Bulls need to get right if they are serious about becoming the Champions of Super League again.
They did it four times in less than 10 years when the sport switched to a summer-based season, but they're a long way from a fifth title at present.
Team behind the team
We only get to see 17 men take the field, and a coach and his assistants in the stands but the 'team' behind the 'team' are just as important in a successfully run rugby club.
If you've ever watched any of those films or documentaries about NASA sending astronauts to the moon, you'd be aware of just how many people were involved in getting a small group of men into space. A club needs strong foundations nowadays if it wants to have a chance of walking out at Old Trafford.
As a starting point the Bulls need some of their own players, and not ones loaned to them when they're not ready to play for their parent club.
The current owner appears to be an intelligent and sensible man whenever he has been interviewed. He has a very wise operator in Steve Ferres and a charismatic CEO in Robbie Hunter-Paul alongside him. After almost a decade of decline though I think that even the most optimistic Bulls fan would accept that it is going to take time to rebuild.
If the club gets relegated this season then they need to work out how to avoid repeating the experiences that Leeds United have had just along the M62 from Odsal. Both clubs' problems began at a similar time and have had some of the same problems. Lessons learnt at Leeds may prove beneficial to Bradford.
In some of the weekend newspapers there were articles about the future of the England football coach, Roy Hodgson. Some pundits and journalists thought he should stay, others that he should be removed. Our concentration and attention seems to get shorter and shorter to such an extent that we want an answer or solution in one sentence, one name.
It's the same at Bradford, sacking Cummins and replacing him with world's best rugby league coach (whoever that is) won't save the Bulls this season, in my opinion. Just as replacing Roy Hodson wouldn't make England World Cup winners.
The infrastructure behind a winning team is significant from both a performance side and a financial one. Unless the club fixes its off-field issues, it stands very little chance on it.
Don't forget, they had the current England coach there not that long ago, Steve McNamara, who was followed by Mick Potter (the current Wests Tigers coach) and neither of them were able to guide the team into the top half of the table by the time that they got to Round 27.
I don't want to be negative or pessimistic, I enjoy going to watch games at Bradford, but the introduction of a new coach isn't the answer to their problems. Just look at how many Leeds Utd have had.
If this article offends anyone at Bradford and acts as a red rag then good. I hope that they can stay up as it would be great rugby to watch and would add a positive story after the years of turmoil.
If not, then I hope that they're back in Super League in the near future and don't fade away as a nostalgic memory of what rugby league was like when they started playing it in summer.