Rugby League Expert & Columnist
Phil Clarke wonders if Hull FC and Huddersfield can bounce back from Cup defeats
Last Updated: 09/04/14 4:15pm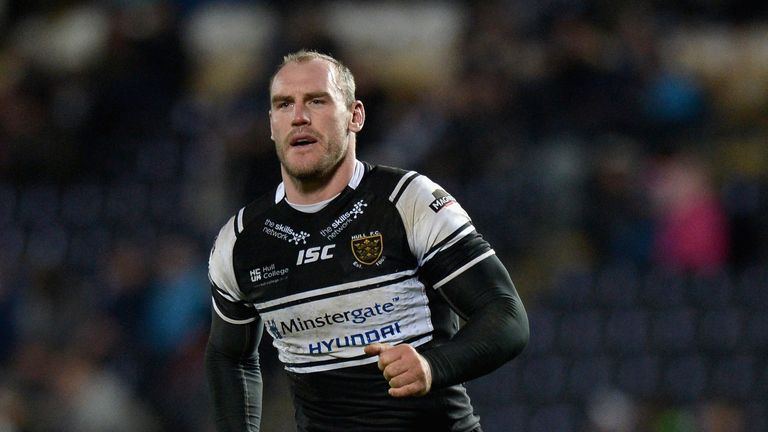 "Up for the Cup" is an old saying in rugby league. I think that it referred to a team that raised its performance and confidence before and after a good win in the Challenge Cup. Fans felt that it was their year to go to Wembley and lift the first of the two big trophies in the season.
So what happens when you are knocked out in the first Round? Does the feeling of being down and out ruin a Super League season? Is there a hangover when people feel sorry for themselves and are still reliving moments from last weekend's games? 'If only' is a very dangerous thought to carry around with you in sport. You need to delete it, and then delete it from your deleted items!
We will get a great chance to find out this week on Sky Sports when we watch two teams who suffered the cruellest of defeats in last week's Challenge Cup games. Never before have two teams played on Sky the week after losing in the Cup by a drop goal.
For Hull it was an experience that ruins their chance to return to Wembley and avenge last year's Cup final embarrassment. I say embarrassment because they know that they were capable of playing far better than they did. 
After comfortably beating Salford in Round 7 it must be hard for them to reconcile with how they lost in extra time. If you take a look at their results this year you see the volatility of a mid-table team at best. In Round 1 they managed to score 36 points when they narrowly beat Catalans by two points, but failed to score at all when they took on the Vikings in Round 6. They look like an amateur darts player who can sometimes hit the Triple 20, but on other occasions miss the board.
Passing the ball does not always make you the best team in Super League, or help you to score the most tries, but it generally makes you harder to defend against, if the passes are made to players moving at speed. If you look at the passes made by all 14 teams in Super League this season you see an average of about 200 a match. Some teams make a lot more like Leeds and Wigan at 250, but the other teams range from 180 to 210. Hull are the only team to average less than 160 passes per match. I don't know if this is a conscious thing or not, but I do know that it has made them easier to cope with.
Fit and healthy
I am not sure what their best team is, and of course they need their players fit and healthy like every other team, but their response to what happened in the 88th minute of last week's Cup tie will certainly show us what character and will to win they have this season. If they do not "compete" on Thursday then I am worried that 2014 is another one of those "transitional years" that people talk about in sport, which is gibberish for "we have no chance this year" but will try better next.
The Giants supporters might feel even worse than the ones who turn up in Black and White on Thursday. Some of them will believe that they should be involved in the next round of the Challenge Cup, although they can have no qualms about losing one of their better players when he was sent off. The League table is the simplest way that teams are measured and their drop from first last year to eighth at present is one that quickly catches the eye. Everybody wants to know what has gone wrong and there are loads of theories and solutions debated by all and sundry. Has the bubble burst? Have teams worked out how to play them?
At this time last season they had won six of the seven games and sat at the top of the table. In terms of confidence, they had beaten St Helens, Wigan and Leeds and yet had a strange set-back when they lost at home to the Bulls. They have scored a similar number of points this year but conceded far more. In fact they have the seventh best defence in terms of points conceded. Several soft tries in 2014 were not seen in 2013. Why?
I think that they have been unlucky and will finish the season in about fourth spot. They have shown us by winning at Wigan, drawing with Leeds and almost beating St Helens that they can match the best that this competition has to offer and I think that they will win big at the KC on Thursday night. So here goes, what do Hull have under the jumper? Do they have the spirit to fight against a team that have a point to prove and are currently below them in the table?
Trips to the KC Stadium are an enjoyable occasion, but Lee Radford's team need to end that for the Giants this week. The only way to show that the Black and Whites have something worth fighting for this season is to fight as if their lives depend on it. This fixture will only earn them two points on the table but it is worth so much more in the hearts and minds of everyone at the club.
For me this is a season defining game for Hull and I can't wait for it.
PS  Thanks for all of the comments about Ray Unsworth last week, it underlined what a wonderful man he was.
Just for clarity, that was the Ray Unsworth who taught in Wigan for many years and was Secretary of English Schools Rugby League not the one who Coached at Wigan and worked for the RFL. He is alive and kicking at Sale Sharks at present !